850 CCA batteries have relatively higher starting power when compared with most other batteries on the market that are used in start-stop applications. They are particularly required in regions with extremely cold weather, where higher cold-cranking amps are required to start vehicle engines.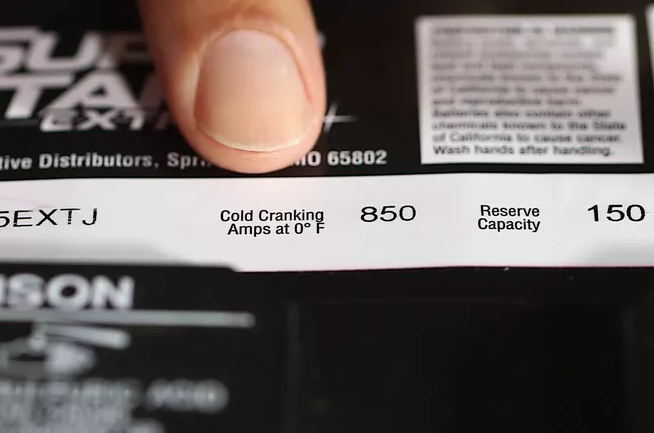 Best 850 CCA Batteries: Our Top 5 Picks
There are a good number of 850 CCA batteries on the market. And if you're not in the know, making the right choice from the pack can be quite difficult. And that's why we've put together reviews of the five best options on the market — carefully handpicked by our research team based on performance, durability, specs, buyer reviews, and brand reputation.
1. Odyssey 94R-850
Odyssey's batteries are known to deliver optimal performance for the modern vehicle. If you're looking for a battery replacement with a great charge reception and enough power for onboard accessories in today's vehicles, the Odyssey 94R-850 is one of the best models on the market.
70 percent longer cycle than conventional deep
can store on open circuit up to 2 years
capable of 100 percent recharge in 4-6 hours
can be mounted any position except inverted
Key specifications
Weight: 26. lbs.
Dimensions: 12.36 x 6.85 x 7.47 inches
Voltage: 12 volts
CCA: 850 A
Reserve capacity: 150 minutes
Warranty: 3 years
The Odyssey 94R-850 offers engine-cranking pulses up to 1,500 amps for the first 5 seconds, after which it drops to a consistent CCA of 850 amps. Like its siblings from the manufacturer, it boasts excellent battery life longevity, energy delivery reliability, and outstanding deep cycle capabilities.
Construction-wise, this battery is comprised of 99.99 percent pure lead flat plates that have been made thinner to allow a greater allocation into it as well as Absorbed Glass Mat (AGM) separators to hold in the acid and prevent it from leaking or spilling while it is being transported and during use. As a result, there's no cause to worry should you decide to install the battery on its sides.
Also, the Odyssey 94R-850 has more power and reserve capacity as it is able to deliver up to 150 minutes, so you can find your way to your mechanic in the event that anything goes wrong. It can also store on an open circuit for up to two years and attain 100 percent recharge in 4-6 hours.
In all, the Odyssey 94R-850 is the middle ground for those who require everyday usability and ruggedness without too much cold-cranking amps or reserved power.
Pros
More powerful than most OEM batteries
Built for extreme duty
Recharges fully within 6 hours
Can store on open circuit up to two years
Cons
2. Odyssey Battery 34R-PC1500T
The Odyssey 34R-PC1500T is an automotive battery that you can count on to deliver in any weather condition to get your vehicle functioning optimally. It is designed for both modern and conventional vehicles and can deliver express recovery, incredible deep recycling abilities, and plenty of starting power for your automobile.
Faster recharge
Mounting flexibility
Vibration resistance
Limited 3 and 4 year full replacement
Special Shipping Information: This item cannot be returned and has additional shipping restrictions
Key specifications
Weight: 57 lbs.
Dimensions: 12.4 x 7.4 x 6.9 inches
Voltage: 12 volts
CCA: 850 A
Reserve capacity: 135 minutes
Warranty: 4 years
Constructed from virgin lead plates, this battery can deliver twice power and 3 times of service life than the standard batteries. It boasts a pulse hot cranking rating of 1,500 amps for the first 5 seconds, after which it drops to a consistent CCA rating of 850 amps.
In addition, this battery provides a reserve capacity of 135 minutes, which is sufficient time for it to sustain any load before it is fully discharged. The 34R-PC1500T guarantees up to 80 percent discharge depth with 400 cycles, meaning longer and stable power. On average, the recharge time is about 5 hours, making it one of the fastest.
Away from its performance features, Odyssey also comes with an AGM design that gives it vibration resistance to ensure that all its connection inside and out remains intact. This means you don't have to worry about changing or refilling the water or cleaning the terminals.
And to crown it all, the Odyssey 34R-PC1500T comes with 3-10 years of service life, making it a long-lasting marine battery. The manufacturer stands behind this product with 4 years full warranty.
Pros
High performance
Fast recharge
Easy to mount
Extended life cycle
Cons
3. Odyssey Battery 35-PC1400T
By now, you're probably seeing a pattern with how powerful Odyssey's batteries are. If you're looking for a reliable, powerful replacement battery for your vehicle, the Odyssey 35-PC1400T makes a great buy. It promises high-quality performance and more-than-sufficient starting power.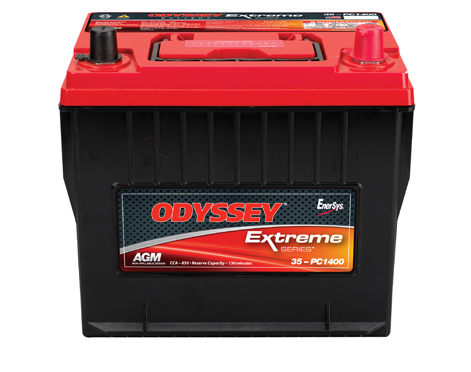 Key specifications
Weight: 50 lbs.
Dimensions: 13.5 x 11.0 x 9.8 inches
Voltage: 12 volts
CCA: 850 A
Reserve capacity: 130 minutes
Warranty: 4 years
Its construction is unique in the sense that it has a higher number of plates than traditional batteries and this means more surface area and more power for your vehicle. It is equipped with 1,500 A Hot Cranking Amps and 850 A Cold Cranking Amps to ensure that you will have plenty of power to get your car up and running.
Also, the Odyssey 35-PC1400T contains up to 400 cycles with an 80 percent depth of discharge. It can produce a high, stable voltage for longer periods of time than conventional batteries. The manufacturer claims that the battery lasts 70 percent longer than other brands.
As far as design goes, the 35-PC1400T adopts an AGM design that protects it from vibrations and shocks while eliminating the worry of electrolyte spillage. Therefore, you have mounting flexibility in the sense that you can mount in a wide range of positions. What's more, it is tolerant of extreme temperatures, allowing you to use it in both cold and humid regions.
Another reason to invest in this battery is its extended service life, which ranges anywhere from 3-10 years. It can also recharge to a 100 percent within four to six hours, which is quite fast when compared to other batteries on the market.
Pros
High recharge efficiency
Long lifespan
Mountable in many positions
Temperature tolerant
Cons
4. NorthStar NSB-AGM94R
if you're looking for a replacement battery with top-notch performance, the NSB-AGM94R is a great option to consider. Unlike most conventional batteries, NorthStar batteries use pure lead plates, thus allowing for greater power capacity and years of faithful service.
Pulse Cranking Amps: 1,650 A
CA/MCA at 32°F: 1,030 A
CCA: 840A @ 0°F
Reserve Capacity: 158 min
Capacity: 76Ah @ 20 Hour Rate
Key specifications
Weight: 57 lbs.
Dimensions: 12.4 x 7.4 x 6.9 inches
Voltage: 12 volts
CCA: 880 A
Reserve capacity: 158 minutes
Warranty: 4 years
This battery is a great choice if you own an off-road vehicle, a classy SUV, newer vehicles that come with Start-Stop technology, or one that requires a high CCA. It boasts 1,430 pulse cranking amps for the first five seconds of operation after which it drops to a consistent 840 CCA rating.
As the name indicates, this is an AGM battery and that means you won't have to check water levels or clean the terminals like you would with conventional batteries. The casing is made is of advanced plastics for durability, performance, and heat resistance, so you're free to drive on the roughest terrains without worry about spilling or the battery being damaged by continuous vibration.
Furthermore, the NSB-AGM94R can run for up to 158 minutes before it dies; a feat not so common among traditional batteries. It also offers a faster recharge rate than some of its contenders on the market that need almost an entire day to have full juice.
A drawback to this battery is that it is slightly heavy and this might make it a little hard for transportation. Otherwise, the NSB-AGM94R is an incredible power source that you can rely on for good service life and superb performance.
Pros
Durable
Long shelf life
Resistant to heat and other weather conditions
Performance is off the chart
Cons
5. NorthStar NSB-AGM78
The NSB-AGM78 is another excellent battery from NorthStar, delivering superior cranking power, unrivaled cycling life, and a faster recharge rate than most of its rivals with a similar CCA rating. It is designed to exceed the need and provide years of worry-free operation.
NSB-AGM78 Pure Lead AGM Battery
1050CA, 880CCA, 134RC, 65AH
Group 78 Front Thread Terminal
Key specifications
Weight: 50 lbs.
Dimensions: 10.9 x 7.01 x 7.13 inches
Voltage: 12 volts
CCA: 880 A
Reserve capacity: 133 minutes
Warranty: 4 years
With the NSB-AGM78, you will not experience any starting problems even in bad weather, thanks to 1500 pulse cranking amps which lasts for 5 seconds after which it drops to a consistent 880 CCA rating. This makes it suitable for newer vehicles equipped with Start-Stop technology as well as any vehicle that requires high CCAs.
Its AGM construction means it is entirely spill-free and there are no water levels to check or terminals to clean. Another perk of the construction is that you can mount it in any position without any problems. The advanced plastic design helps to protect the battery against mechanical vibrations and impact for durable performance and heat resistance.
Going further, this battery cycles over 400 times to 80 percent of depth discharge and can operate in harsh conditions. It also recharges fast, requires minimal maintenance, and is built to exact BCI standards so it is OEM fit. Plus, it comes with a 4 year, full replacement warranty.
Pros
Lasts longer than even OEM batteries
Phenomenal cranking power of 88 CCA
AGM design
4 years warranty
Cons
Can easily get damaged if charged incorrectly