The performance and maintenance of your lawn mower hinge largely on the state of its battery. This explains why you shouldn't skimp on your battery when it's due for replacement.
While there are many other factors to consider when looking to buy a replacement battery for your lawn mower, the voltage is the most distinguishing factor that you need to get right. Typically, lawn mowers run on 6V or 12V small-sized seald lead-acid (SLA) batteries.
In this post, however, we'd be looking at some of the best 12V lawn mower batteries.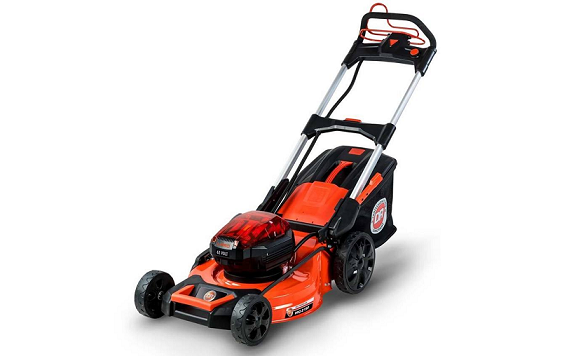 Best 12V Lawn Mower Batteries: Our Top 5 Picks
The market abounds with more-than-countable 12V lawn mower batteries by several different brands. While this sounds like some good news, for someone who doesn't know what exactly to look for, it's not. And it's much easier to wind up with the wrong option.
But we're here to help you make the right buying decision. Our research team of battery review experts spent several hours comparing different 12V golf cart batteries in terms of performance, other specs (CCA, etc.) durability, brand reputation, buyer reviews, and pricing.
And here are our top 5 recommendations.
1. ExpertPower EXP12180
When talking about premium lawn mower batteries with top-notch performance, it is so easy to see why the ExpertPower EXP12180 comes to mind.
The ExpertPower EXP12180 is a sealed, lead acid battery with valve regulation that is maintenance-free and very easy to install. The fact that it is sealed means you can mount it in any way without worrying about damage. The battery uses B1 terminals.
One of the best things about the ExpertPower EXP12180 is its wide operating temperature range. This means it will deliver power even in unfavorable weather. It also employs Absorbed Glass Matt (AGM) technology. All these make for a highly durable battery that will give you long operating time and the best performance at all levels.
Another thing you will enjoy about this battery is its rugged construction. It features an impact-resistant battery case constructed of non-conductive ABS plastic. This material is sturdy and built to resist shocks, chemicals, heat, and vibration.
The battery measures 7.12 x 3.03 x 6.3 inches which makes it an easy fit for any lawn mower type. More impressively, it weighs just only 12 pounds.
The ExpertPower EXP12180 has a capacity of 12 Volt/18 Amp Hour. This should give you enough runtime with your mower before needing a recharge. Being a sealed lead acid type battery, you won't have to always recharge after each use. And it has a low self-discharge rate. Unlike other battery types, it will hold a charge for many days and is less likely to get damaged in storage.
Pros
Sealed construction makes it spill-proof
Very affordable
Weighs just 12 pounds
Non-conductive ABS plastic exterior makes it resistant, sturdy, and durable
Cons
Performance declines in low temperatures
Amp-hour capacity is slightly smaller than others in the same category
2. Chrome Deep Cycle SLA Replacement Battery
Another lawn mower battery that racks up a good performance is the Chrome Battery Deep Cycle SLA Replacement Battery. This battery is sealed, charged, and ready to use so you won't have to make constant checks or filling. Its maintenance-free feature is promoted by the use of lead calcium alloy and AGM in its construction.
In addition, the battery is also easy to install. It can be mounted in any position. All you need to do is place it in the right position and connect its terminals and you are good to go.
The Chrome Battery Deep Cycle SLA Replacement Battery can be recharged up to 2,000 times in its life cycle, and it comes with a 12V 35AH rating.  This is a lot higher than most within its category, however, this extra power does come at a price. The extra performance means that the battery costs a lot more than its counterparts.
This shouldn't sway you as the battery has one of the best ratings and reviews ever, many of them citing its high-end performance and durability. It is also versatile so you can use it in a variety of applications. The Chrome Battery Deep Cycle SLA measures 7.68 x 6.46 x 5.12 inches and this makes it a great fit for most lawn mowers. It is also lightweight, weighing just 21.71 pounds. You also get an 18-month warranty on this battery.
Pros
Heavy-duty construction
Vibration and shock-resistant
User-friendly
Lightweight and compact
Cons
Costs fairly more than similar batteries
3. Universal Power Group 12V 35AH Battery
The Universal Power Group 12V 35AH Battery will cost you some extra cash, but it offers a great value. This battery packs most of the features we have seen in other high-end batteries, including a 1-year warranty to guarantee you of the best performance.
This battery is perfect for lawn tractors, most especially John Deere lawn garden tractors/mowers. It measures 7.75 x 5.19 x 7.13 inches and weighs just about 22.5 lbs. The Universal Power Group 12V 35AH Battery can be mounted in any position and is also very easy to install. It has a capacity of 35AH which should deliver a good runtime. To boost the battery life, it is recommended that you avoid totally discharging it while it is in use.
Its long list of features includes SLA/AGM technology. SLA means sealed lead acid which is one of the best types of batteries in the market. They offer the best performance and with them, you won't have to clean, check water levels, and monitor for leaks. They are literally maintenance-free and spill-proof.
The Universal Power Group 12V 35AH Battery has a low self-discharge rate which makes it easier to store. Additionally, it features a sturdy build. When it comes to replacement batteries, a sturdy and durable build is very necessary. This ensures that the battery would be resistant to shocks, vibration, and heat that would otherwise damage it and reduce its lifespan. This battery comes with a float service life of 5 years. However, you should expect to replace it within 3 years especially if you're a heavy user.
Pros
Resists shocks and vibrations
SLA/AGM technology
Maintenance-free, spill-proof battery
Handles that allow for easy handling
1-year warranty
Cons
Should be fully charged before use
More expensive than alternatives
4. Mighty Max Battery ML-U1 12V 200CCA
The Mighty Max Battery ML-U1 comes with a capacity of 12V 200CCA which is quite different from the value that is most common in the industry. If you don't know, CCA refers to cold-cranking amps. This determines the ability of the battery to start your engine at different temperatures, but it doesn't say much about its capacity. To know that, these figures would have to be converted to AH and that gives you 27AH. This is fair enough considering the price tag.
In addition to this is the AGM technology. AGM technology is the leading battery type in the industry. As an AGM/SLA battery type, the Mighty Max Battery ML-U1 is spill-proof, maintenance-free, and provides the best performance across a wide range of operating temperatures. It also has a long service life of 3-5 years. Regardless of the lawn tractor or mower design, you can mount this battery in any position without worries. It is also 100% resistant to shocks and vibration.
Maybe the most amazing feature of the Mighty Max Battery ML-U1 is its weight. This battery weighs just 12.89 lbs which is surprisingly small considering its specs and amp-hour capacity. It measures 7.75 x 5.11 x 6.25 inches and comes with a 1-year warranty.
The Mighty Max Battery ML-U1 has a solid build made with the highest quality pure virgin lead and this guarantees a durable, long-lasting power source.
Pros
Can be mounted in any position
Features tough AGM separators and high cell composition
Wide operating temperature range
SLA/AGM spill proof battery
Resists shocks and vibration
Cons
Float service life could be improved
5. Mighty Max Battery ML18-12 – 12V 18AH
The Mighty Max Battery ML18-12 – 12V 18AH is one of the most impressive lawn mower batteries on the market. This battery comes with a small capacity of 18AH, but it does have other specs that are quite impressive.
The Mighty Max Battery ML18-12 features a heavy-duty, state-of-the-art, calcium-alloy grid. This gives the battery a long service life in both cyclic and float applications. This also ensures that the battery delivers exceptional performance at all times. The battery is rechargeable and can be mounted in any position of choice.
Another outstanding feature of this battery is that it comes with AGM technology with a valve regulated design. This allows the battery to be used in enclosed and indoor environments without spillage, leaks, or requiring constant maintenance.
This also means the battery will provide superior performance at all levels and in many applications. This is not limited to lawn mowers and tractors, but also golf carts, electric vehicles, motorcycles, toys, portable tools, and more. It measures just 7.13 x 3.01 x 6.57 inches which further confirms its compatibility with other machinery. Lastly, this battery can resist shocks, vibration, and other surges that could easily damage and shorten its lifespan.
Attached is a 1-year warranty which is pretty much common with batteries. In this case, the warranty is full-on all parts and this signals a genuine standard product.
Pros
Can be used in a wide range of applications
Can be mounted in any position
Resists shocks and vibration
Delivers high-performance in high and low temperatures
Cons
Related