Most cars require batteries that provide low to moderate starting power. This explains why most mini SUVs, sedans, hatchbacks, and other small vehicles come with batteries with cold-cranking amps ratings (that's the measure of battery starting power) ranging between 500 and 750.
In this post, we'd be reviewing some of the best 650 CCA batteries on the market.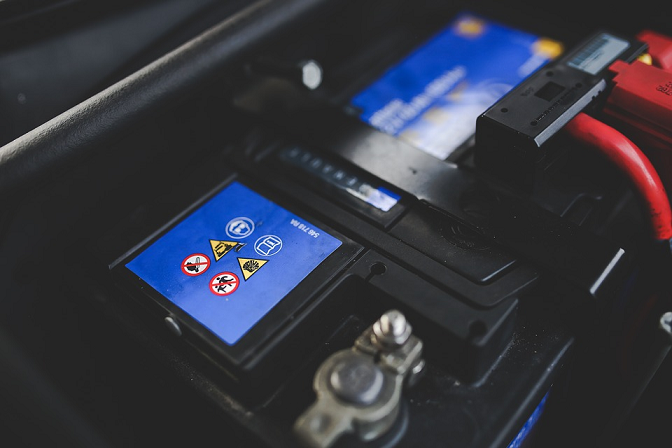 Best 650 CCA Batteries: Our Top Recommendations
If your car comes with a 650 CCA battery, then it goes without saying that you should replace it with a battery of the same rating. However, you can go slightly higher or lower depending on the climate in your geographical location. If you live in a place where the weather is warm for most of the year, your car would still do very well with a 630 CCA battery. But if you live in a cold region, consider going slightly up to anything between 670 and 700 CCA (but whatever the case is, don't go below the recommended 650 CCA).
So, we scoured the market in a bid to help you make the right buying decision. We found and compared batteries that would work perfectly with vehicles requiring 650 CCA batteries. And here are our top recommendations — carefully selected based on CCA, performance, durability, brand trust, and buyer reviews.
NOTE: These recommendations are not exactly 650 CCA batteries, as we couldn't lay our hands on those to review. Their CCA figures are slightly different, but they would work perfectly in place of 650 CCA batteries.
1. Delphi BU9035 MaxStart AGM Battery
Extended cold cranking amps delivery means more power for today's demanding electronics
Group 35 battery with 680 CCA (cold cranking amps) and 100 R. C. (reverse capacity)
20x the vibration resistance of conventional batteries and designed to perform in extreme temperatures
Superior vibration resistance, optimized component compression , and fortified posts, straps and welds
Superior corrosion resistance sealed housing with manifold venting system
Fit type: Vehicle Specific
The Delphi BU9035 AGM battery is designed to give your vehicle powerful performance right out of the box and it comes armed with a range of features to ensure you get just that. With cold-cranking power of 680 A, this battery will ensure optimum performance under any unpredictable conditions while also boasting a reserve capacity of 100 minutes that allows you to drive to your mechanic in the event that something goes wrong.
Key specifications
Weight: 52 lbs.
Dimensions: 9.01 x 8.99 x 8.2 inches
Voltage: 12 volts
CCA: 680 A
Reserve capacity: 100 minutes
Warranty: 3 years
As applications go, this battery is suitable for powering various cars and a range of on-board electronics available on the market. In other words, it can supply all the power needed to keep your vehicle's appliances running including headlights, heated seats, DVD players, power windows, and a stereo.
Unlike most conventional batteries out there, the Delphi BU9035 has a rugged corrosion-resistant housing design and fortified internal elements contributing to its superior anti-vibration capabilities. As its name indicates, it adopts a sealed Absorbed Glass Mat (AGM) design, which provides the enduring outer structure that ensures its sustainability, protects against spillage and repels shocks.
To guarantee a long life cycle, the robust envelope separator with low-resistance promotes acid circulation to provide the much-needed cooling while equally safeguarding it from shock. This helps ensure that its performance is not compromised even in harsh weather conditions. Plus, its solid design allows for anti-rust and anti-vibration, which enhances its durability.
Whether you need a battery can power your vehicle's appliances or you just need a battery that offers incredible power, the Delphi BU9035 is an affordable yet high-quality battery that you can rely on. Remember to always check the dimensions of this battery in advance to confirm that its compact size will be the right fit for your vehicle.
Pros
Compact size
High CCA provides more power
Excellent vibration resistance
Superior corrosion resistant
Cons
Not universally compatible with all vehicle with group 35 specs
2. NorthStar ELT-AGM65 AGM battery
In case you need to replace your vehicle battery with a new one that's strong and durable, the NorthStar ELT-AGM65 battery is the perfect unit to choose. It is designed to delivered high-power starting ability even in bad, cold weather, thus guaranteeing an optimal starting performance at superior levels compared to the competition.
Key specifications
Weight: 57 lbs.
Dimensions: 11.8 x 7.3 x 7.4 inches
Voltage: 12 volts
CCA: 675 A
Reserve capacity: 134 minutes
Warranty: 4 years
Suitable for tough performance, this deep cycling battery can produce 675 cold-cranking amps for performance and stop-start technology applications while its reserve capacity of 134 minutes is way higher than other batteries on the list, giving you enough time to drive your vehicle to the mechanic in the event of an unforeseen issue.
In terms of design, this battery is a sealed construction, meaning t it doesn't require maintenance or water level checks. It is made of a puncture-resistant back that allows circulation, prevents battery damage, and keeps it cool and safe. The non-spill gel feature with heavy copper-clad connectors helps to keep everything in place, even when you go running wild with it under the hood.
A unique feature of this battery is its internal construction, which consists of zero additives. It has 99.9 percent pure lead electrochemistry, which contributes to corrosion resistance and temperature.
Apart from the fact that the NSB ELT-AGM65 supplies power fast, it also charges faster, requiring a shorter time to get fully recharged. This is because the battery has three charging modes – the constant current, the constant t voltage, and the float charge.
When you plug your batter, it charges extremely fast in the current mode until it reaches 0.25 volts, and then it switches to the constant charge mode that continues until it's over 14 volts. The float mode begins when the battery is almost fully charged.
Overall, if you're on the look for a battery that provides maximum safety with plenty of power for your car's electronics, the NSB ELT-AGM65 is an excellent option to choose.
Pros
Has built-in capacitor to prevent overcharging
Can withstand inactivity for a long time
Has a long life cycle
Requires little maintenance
Excellent reserve capacity
Cons
Battery is a bit heavy
Does not come charged
3. ACDelco 47AGM Battery, Group 47 Battery
ACDelco is a popular player in the industry with a reputation for producing original equipment parts for vehicles at competitive prices. The 47AGM is easily one of the best-rated car batteries that delivers a high level of performance and also lasts long. It boasts high-cycling capacities and is highly-charged receptive.
Key specifications
Weight: 39.2 lbs.
Dimensions: 9.5 x 6.9 x 6.9 inches
Voltage: 12 volts
CCA: 630 A
Reserve capacity: 100 minutes
Warranty: 42 months
The ACDelco 47AGM is equipped with a vent cap to prevent acid spillages and extreme shock while the calcium lead positive grid ensures low resistance and maximizes the conductivity. You can mount it in a range of different positions. Its casing also lends to the durability of the battery as it has been tested for electrical shorts to ensure that the battery lasts as long as possible.
With 630 cold-cranking amps, this battery will get your car up and running in no time and it can produce higher voltage for longer periods than its competitors. As per usual, the reserve capacity is 100 mins. Its well-made casing is entirely leakage proof and stands for durability.
Going further, the unit also comes with an envelope separator and a puncture-resistant back that doesn't just avoid shorts but also increases acid circulation and helps the battery to stay cool. Plus it sports an oxygen recombination feature, the ACDelco 47AGM reduces water loss, which means you don't have to frequently add water to the battery for continued performance.
With regards to longevity, this battery promises a longer shelf-life as the high-density negative paste used in these models aids both performance and battery life. And it is strong enough to power all the electronics that you might have installed in your vehicle.
In all, the internal setup of this battery is great and you can expect a better and maintenance-free performance from this unit than other similarly priced batteries. Be sure to charge to the max before you start using it.
Pros
Totally maintenance-free
Spill-proof and leak-proof
Mounting flexibility
Vibration resistance
Lightweight
Cons
Things to look out for when buying a 650 CCA battery
There are many things to look out for when buying a car battery and some of them include
Size: Refers to the width, length, and height of the car. It should be the perfect fit for your vehicle's battery tray. So look out for the body dimensions and compare it with that of your car's OEM battery.
Shelf life: It shouldn't have been on the shelves for more than six months. The longer batteries stay on the shelf, the more they lose their strength. So look out for the stamp code to see when it was manufactured.
Maintenance: Some batteries require the addition of water often while others have no such requirements as they are constructed to prevent loss of water. So consider whether you want maintenance-free batteries or batteries that require some sort of maintenance.
Reserve Capacity (RC): This refers to the number of minutes a fully charged battery can run using its power alone before it is fully discharged. In other words, it's how long a fully charged battery at 80 degrees Fahrenheit will discharge 25 amps until the battery drops below 10.5 volts.
Strong warranty: Reputable battery manufacturers typically offer at least a three-year replacement warranty. It shows that the company is certain about the quality of their product and that if it dies within a certain time, you can get a replacement.
CCA: This means the maximum current transferred by a battery during several seconds for engine starting. The amount of CCA you should consider largely depends on the size of your car and the specific weather condition of the region you're staying. If you're staying in colder areas, you might need to get a battery with 650 CCA or higher with a voltage of 7.2 volts (12 volts battery.)
650 CCA Batteries: Other Stuff You Should Know
Having reviewed the best 650 CCA batteries, let's move on to the questions car owners have when they're in search of a new automotive battery like the ones above. this
What is the meaning of CCA and why is it important?
Fully known as Cold Cranking Amps, CCA is a rating used in the battery industry to measure your battery's starting performance. In other words, it refers to your car battery's ability to start your car in cold weather conditions.
Generally speaking, it is easier to start an engine in a warm environment than in a cold one. So if you stay in a region with a cold or icy climate, you need a car battery with high CCA. The higher the CCA of a battery, the easier it will be to start the vehicle.
If you're having a hard time knowing which CCA rating is good for your car, confirm the rating on the OE battery and make sure the one you're settling for is equal or higher than it. That way, you won't have to worry about your car not starting when you need to hit the road in cold weather.
Are all car batteries 12 volts?
The simple answer is no. Admittedly, there are many 12v batteries on the market and that's only because it is now the standard for automotive batteries in today's vehicles. In the previous decades, a number of cars came equipped with 6-volt car batteries but these have been phased out.
Notwithstanding, some hybrid vehicles come with a high voltage battery that can be as high as 300 volts in some instances. As a result, you need to check the voltage when you read reviews of the best car batteries to confirm that it lines up with that of the original battery of your vehicle.
Can I replace my car battery myself?
Many car owners often ask if it is dangerous to change a car battery. While there are risks of battery acid leakage, most car batteries today come with an AGM design that makes them spill-proof and leak-proof. So, the risks are minimal, which means you can change your car battery yourself.
Wondering how to change a car battery? Here's a short guide to help:
Put on insulated gloves and pop the hood with a rod, if necessary.
Locate the battery. If you're having troubles finding it, consider consulting your owner's manual.
Loosen the nut and disconnect the cables from the battery. Also, remove the clamps that hold the battery in the battery tray.
Remove the battery from the vehicle and replace it in the tray.
Clean the terminals to remove corrosion and then reconnect the positive cable first after which the negative cable is next.
Now close the hood and start your vehicle.
Is it possible to use a marine battery in my car?
The answer to this question depends on a number of factors. For instance, if the marine battery is a 12-volt battery, then you can use it for your car. Also, you need to take into account the size because the dimensions must match that of the specs of your car's OE.
However, it's important to note that marine batteries are not recommended to power cars for a long period of time, hence their lower amperage output. You may use a marine battery if your car's battery suddenly goes dead but using it for a long time may lessen the lifespan of your car's electrical parts.