Every golf cart requires a battery to work. And the performance and maintenance of your golf cart hinge significantly on the battery. With a good battery in place, your golf cart would run at peak efficiency and ultimately reduce your maintenance costs.
Golf carts usually run on small sealed lead-acid type (SLA) batteries, which come in different voltage ratings. In this post, we'd be looking at the 6V options.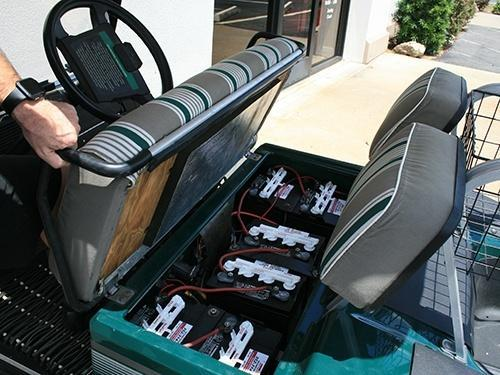 Best 6V Golf Cart Batteries: Our Top Picks
Buying the right 6V battery for your golf cart can seem confusing, considering the tons of options available. Worse, these options look very similar, figuring out their distinguishing features can be challenging.
Thankfully, we're here to make things easier for you. We've scoured the market for the best 6V golf cart batteries — carefully selected based on performance and durability, other specs, brand trust, and buyer reviews. So, if your golf cart requires one or more 6V batteries, you won't go wrong with our top recommendations.
Now, let cut right to the chase.
1. VMAXTANKS 6-Volt 225Ah AGM Battery
9.5″*7.3″*11″h Heavy Duty 6V AGM DEEP CYCLE BATTERY with Float Service Life span of 8 to 10 years.
Electrolyte Suspension system VMAX tanks utilize an electrolyte suspension system consisting AGM (Absorbed Glass Matt) of a high porosity that totally absorb and contain the electrolyte. No silica gels or any other contaminants are used.
Heavy Duty Grids: VMAX heavy duty lead tin alloys provide an extra margin of performance and service life in either float or cyclic applications, even after repeated over discharges.
# Maintenance Free Operation: There is no need to check specific gravity of the electrolyte or add water to VMAX tanks during float service life. In fact, there is no provision for this type of maintenance.
Measuring 9.5 x 7.3 x 11 inches, the VMAXTANKS MB6-225 is a high-grade 6-volt golf cart battery packed with many impressive features. The battery is capable of deep cycles – meaning it has longer charging and discharging cycles. It also features heavy-duty lead-tin alloys which boost the overall performance of the battery and prolong its service life. This feature ensures the continuous discharging and recharging of the battery doesn't damage its overall life cycle.
The VMAXTANKS MB6-225 can hold and supply a battery capacity of 225Ah which offers a fairly good runtime before requiring another recharge. The best thing about this battery is the technology it utilizes. The MB6-225 is an Absorbed Glass Matt (AGM) lead-acid battery – a battery type considered as one of the best in the industry. The battery employs the use of an electrolyte suspension system that uses the AGM to contain and absorb the electrolyte.
Basically, this is what you should expect from AGM-type batteries. This battery is spill-proof and resistant to vibrations which is essentially what you need for your golf cart. It features a rugged build which makes it less prone to damage especially when moving over rough terrains. This also boosts its lifespan.
This battery comes with a float lifespan of 8 to 10 years. Though this lifespan is very impressive, you should note that the actual lifespan would depend on your usage. Regardless, VMAXTANKS batteries are very powerful and should last you a while.
Another outstanding feature of this battery is its ease of maintenance. You won't have to constantly add water or check the specific gravity of the electrolyte as with other batteries. The only issue with this battery is its weight. The MB6-225 weighs about 300 pounds which is pretty heavy.
Pros
Maintenance-free operation
High performance
Features AGM technology
Long float service life span
Cons
Quite expensive (worth the price, though)
Very heavy in terms of weight
2. Trojan T-125 6V 240Ah Deep Cycle Battery
Trojan T-125 Deep-Cycle Flooded/Wet Lead-Acid Battery
This is the 240mAh, 6-volt deep cycle battery from Trojan, in the popular "Golf Car" (GC2) size. These can be used in RV's, homes, cabins and most renewable energy systems.
BCI Group Size: GC2 – Dimensions: Dimensions Inches (MM) – Length: 10.30in (262); Width: 7.13 (181) Height 11.15 (283) – Weight: 66 pounds
Trojan T125 are recomended for the following and more : Golf Car, RV, Marine, Solar & Wind Energy, Floor Machine, Man Lift, Aircraft Tug & Truck.
Another high-capacity deep cycle battery that will give you the best performance is the Trojan T-125 6V 240Ah Deep Cycle Battery. The Trojan Company is one of the leading manufacturers of deep-cycle technology batteries in the world.
This battery is perfect for solar applications and golf carts. It comes with a 240Ah capacity that gives you enough running time before needing a recharge. The Trojan T-125 can deliver long-lasting performance and exceptional value. The flooded acid battery is perfectly built to withstand any strains and stress during use on the golf course or in any other terrain.
It also packs a good battery life. It comes with Trojan's proprietary Maxguard Advanced Design Separator which maximizes its battery life cycle. There is also the Exclusive Alpha Plus paste. This increases the overall life of the battery. All these specs plus the durable dimensional structure will ensure that the battery lasts you through years of use.
While this battery comes with a lot of beneficial features, there are some areas that definitely need improvement. The Trojan T-125 weighs over 65 pounds which is considerably heavy, and it needs to be recharged after every use. Another issue to consider is the continuous maintenance you would have to carry out on this battery to keep it in good shape. The Trojan T-125 can only deliver reliable power and value if you maintain it by watering, equalizing charges, cleaning the top and terminals regularly, and charging it while in storage.
Pros
Durable
Power-saving features
Flooded technology makes for a high-performance battery
Cons
Requires constant maintenance
The battery would have to be charged while in storage to prevent it from getting spoiled
3. Mighty Max Battery 6V 200AH SLA Battery
ML200-6 Internal Thread is a 6V 200AH Sealed Lead Acid (SLA) rechargeable maintenance free battery – UL Certified
Dimensions: 12.05 inches x 6.65 inches x 8.94 inches. Listing is for the Battery and Screws only. No wire harness or mounting accessories included.
SLA / AGM spill proof battery has a characteristic of high discharge rate, wide operating temperatures, long service life and deep discharge recover.
Rechargeable battery that can be mounted in any position, resists shocks and vibration. Long lasting high performance in high and low temperatures.
Backed by a 30 day refund policy and full 1 year warranty.
If you're looking for a power-packed, low-maintenance golf cart battery, then this model from Mighty Max might be just what you're looking for. When buying a battery, performance is not everything even though it remains one of the most important factors to consider. You must also consider the ease of maintaining your battery.
Some batteries require constant cleaning, frequent recharging after each use, and recharging while in storage to stay sharp and deliver reliable performance, and many high-end batteries will give you all the power you need without requiring constant tender loving care.
The Mighty Max Battery ML200-6 SLA Battery is one of such batteries. It is an AGM spill-proof battery with wide operating temperatures, a high recharge rate, deep discharge rates, and long service life. It also features a durable build that can resist vibration and shocks and still offer exceptional value in high and low temperatures.
The ML200-6 has a capacity of 200AH which should give you enough running time before needing a recharge. It also features Sealed Lead Acid (SLA) technology which means it is maintenance-free and you won't have to worry about it getting damaged even in storage.
The easy maintenance structure is due to the AGM technology and a valve regulated design that protects against leaks in enclosed or indoor environments.
Pros
High performance
AGM technology and SLA design allow for a maintenance-free use
Long lifespan
Cons
4. Amstron GC2 6V AGM Golf Cart, Marine, RV Battery
Brand: Amstron
Vehicle Service Type: Boat, Trailer
Voltagez: 6 Volts
Battery Cell Composition: Lead-Acid, AGM
Item Weight: 68 Pounds
Item Dimensions LxWxH: 10.24 x 7.09 x 10.79 inches
Number Of Cells: 6
Terminal: Stud Terminal
The Amstron GC2 is another high-quality battery for golf carts that features AGM technology. Its AGM technology is already a big plus since it makes for a hassle-free experience unlike what you would get from gel cell batteries and conventional flooded batteries.
The benefits of this battery over other types go beyond watering and accidental spillage. Not only would you not have to worry about accidental spillage or maintaining water levels, but you won't also have to worry about the battery getting damaged due to low temperatures or when frozen. In addition to that, the battery is designed to reduce heat generation. This will provide you with longer cycle life.
It also has a low self-discharge rate. This is another big advantage over flooded lead-acid and gel lead-acid batteries. The low self-discharge rate means you won't have to boost-charge it before use or while in storage. Its heavy-duty design allows for less than 4% gas emission. This also allows it to withstand shocks and vibration even when used in the toughest terrains. All these features make for a long-lasting battery that will give exceptional value.
The Amstron GC2 comes with a 210Ah capacity. Amstron states that the battery would have a reserve capacity at 25A of 465 minutes and a reserve capacity at 75A of 124 minutes.
The Amstron GC2 weighs a hefty 68 pounds but this is negligible considering the many impressive features it offers.
Pros
Features AGM technology which allows for hassle-free maintenance
Operates within a wide range of high and low temperatures
Low self discharge rate
Plates are designed to withstand shock and vibration
Long lifespan
Cons
Battery is a bit heavy at 68 pounds
5. NPP NP6-225Ah 6V 225 Amp AGM Deep Cycle Battery
BUILT TO LAST: Lifespan up to 1200 cycles. NP6-225Ah keeps your critical devices powered in the harshest conditions. No maintenance needed, non-spillable and greater mounting flexibility.
100 DAY RISK FREE: Earning our customers trust is our #1 priority. 100 day hassle free no questions asked money back guaranteed along with our 12 month warranty against any defects.
QUALIFICATIONS: UL, CE, IEC, ISO14001, ISO19001, OHSAS18000, TLC certified.
WHY CHOOSE NPP: NPP is a top 5 global AGM battery manufacturer with a total of 6 mega-factories around the world. We build high quality batteries that can last and withstand demanding conditions.
NEXT LEVEL CUSTOMER SUPPORT: Within 30 minutes or less. The NPP team is here for any of your questions and concerns, giving you the support that you need within minutes.
Another battery that ticks all the checkboxes for top-notch performance is the NPP NP6-225Ah. If you're wondering, the golf cart battery also comes with AGM technology, but that's not the only perk to enjoy from this battery.
The 6V deep cycle battery features a heavy-duty build made from top-quality materials like non-conductive ABS plastic that makes for a shock-resistant, vibration-resistant, chemical-resistant, weather-resistant, and heat-resistant battery.
As with most batteries featuring AGM technology, you won't have to worry too much about maintenance with the NPP NP6-225Ah. Its sealed design means you won't have to constantly check water levels as you would with gel lead-acid batteries and flooded lead-acid batteries.
The NPP NP6-225Ah has a 225AH capacity which provides a good amount of runtime. In addition to that, it also has a low self-discharge rate. This means you won't have to recharge the battery right after each use or charge it while in storage. This makes for a long-lasting, high-performance battery that will give you exceptional value.
Aside from all these outstanding features, there are several drawbacks you should take note of before investing in this battery. First, is the price. This is not really surprising since the NPP NP6-225Ah is a heavy-duty, high-grade battery. Another thing to note is the weight of the battery. The NPP NP6-225Ah weighs 70 pounds which is quite heavy. If you can get over these limitations, then the NPP NP6-225Ah is a great battery that would give you the best value for your money.
Pros
Its spill-proof design allows for a longer life cycle and better performance
It features AGM technology which is resistant to vibrations and shock
Comes with a 1-year warranty
It can be used for numerous purposes aside golf carts
Cons
Battery weighs 70 pounds which is quite heavy
Costs a little more than others in its category