Diesel engines such as the Cummins 6.7L generally require more battery power to start up so you need a heavy-duty battery to power them, especially as they often come with a good number of extras, such as lights and pumps, that suck a lot of battery juice.
When shopping for a replacement battery for your diesel truck, you need to look for a battery with solid specs, such as high cold cranking amps and impressive reserve capacity.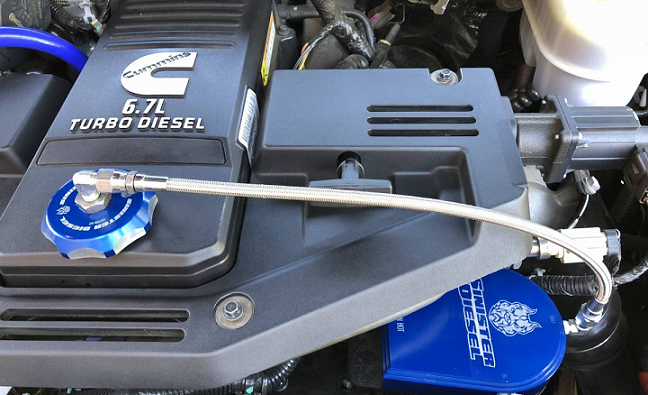 Best Batteries for 6.7L Cummins Diesel Engines: Our Top Picks
In this post, we'll be reviewing some of the best group size 94R batteries for vehicles powered by Cummins 6.7L diesel engines.
We carefully selected these batteries after hours of researching the market and comparing several different options based on cold-cranking amps, reserve capacity, durability, and other important factors.
1. Delphi BU9094R MaxStart AGM Premium Automotive Battery
Specifications
AGM design
Weight: 51.6 pounds
Dimensions: 12.5 x 7.5 x 7 inches
Voltage: 12 volts
Cold Cranking Amps: 800A
Reverse Capacity: 140 mins
Vibration-resistant
Our Review
The BU9094R MaxStart battery by Delphi has sufficient cold-cranking amps to start up a diesel engine even in extreme temperatures, and the CCA of this battery means that it has sufficient power to handle the electronic needs of your diesel engine.
This battery has a superior vibration resistance that is twenty times that of conventional batteries and comes with fortified welds, straps, and posts to ensure that there are no spills or leaks, ensuring that you can take your truck over even the roughest terrain without worrying.
It is also corrosion-resistant and low-maintenance and has a sealed housing with a manifold venting system.
What we like
Vibration resistance.
Corrosion resistance.
Spill-proof.
Perfect for rough terrains and extreme weather.
What we dislike
2.Odyssey Battery 94R-850 lead-acid battery
Specifications
Pulse Hot Cranking Amps: 1500
Cold Cranking Amps: 850
Nominal Capacity over 20Hrs: 80
Reserve Capacity: 150 minutes
Dimensions: 12.36 x 6.85 x 7.47 inches
Weight: 54.8 pounds
Our Review
The 94R-850 lead-acid battery by Odyssey was designed for power and can handle the extra requirements of an accessory-laden diesel engine with a cold-cranking amp capacity that enables an easy start-up every time.
It is designed to have a long lifespan and is seen as one of the most durable on the market, in addition to its deep cycle capabilities and high reliability.
There are a few batteries on the market that can match the capabilities of this battery, which is both spill-proof and resistant to vibration. Other advantages of this battery include its ability to hold an open circuit for about two years, and fast charge technology which makes it reach full charge between four to six hours.
Its self-discharge rate is very low and it requires no maintenance so you can use it every day or leave it for long periods without too much worry.
What we like
Deep cycle design.
Vibration resistant.
Spill-proof.
Long lifespan.
Low self-discharge rate.
Fast charge technology.
What we dislike
3. ACDelco 94RAGM Professional AGM Automotive Battery
Specifications
Weight: 51.6 pounds
Dimensions: 12.4 x 6.9 x 7.5 inches
Voltage: 12 volts
Warranty: 3 years of free replacement/limited warranty
Spill-proof
Glass mat design
Our Review
The 94RAGM battery by ACDelco has high cycling capabilities and is remarkably charge-receptive, placing it among best in the market for start and stop applications for your diesel truck.
There is also absolutely no chance of a spill or leak with this battery because the electrolyte is held in place permanently by a glass mat separator instead of flowing freely. It uses oxygen recombination to ensure that it hardly loses any water at all and has a much longer lifespan than the majority of batteries currently on the market. It is designed for durability and can be used for a variety of vehicular applications.
Constantly maintained pressure on the plates of this battery results in a reduction of the active mass lost from the grid, and a high-density negative paste leads to an increased lifespan and improved performance. A vent cap ensures that there is no acid leakage and silver calcium stamped alloy means that it had an increased cycle life, while a calcium lead positive grid ensures low resistance and maximum conductivity.
What we like
High performance.
Long lifespan.
Maximum conductivity.
Low resistance.
Very durable.
What we dislike
Not resistant to corrosion.
Limited warranty.
4. NORTHSTAR NSB-AGM94R Pure Lead Automotive Battery
Specifications
Dimensions: 12.4 x 6.9 x 7.4
Cold-cranking amps: 840A
Built-in handle
Design gel battery
Reserve Capacity: 158 minutes
Weight: 57 pounds
Copper clad connectors
Warranty: One Year
Our Review
One of the strong selling points of this battery is the unique cycling life that makes it unbeatable for powering diesel engines.
Designed using fast charge technology, it has a high cranking rate that ensures it can sufficiently support your truck's power needs, and advanced plastic packaging means that it is resistant to both vibrations and heat.
It's also corrosion-resistant, and the electrolyte is well-protected to avoid spills and leaks, so you'll never have to check water levels or even clean the terminals ever again.
What we like
Vibration resistant.
Spill-proof.
Low maintenance.
Corrosion-resistant.
High cranking rate.
What we dislike
Wrap-up
Your 6.7 Cummings diesel engine needs a reliable engine to function optimally. In this post, we have laid out the best batteries for 6.7 Cummings diesel engines to ensure that you power and safety needs are well-catered for no matter your ultimate choice.
Related