Only a few SUVs offer a perfect blend of price, practicality, and comfort like the Ford Escape does.
The Ford Escape is such an incredible automobile. But what happens when time and wear take its toll on your Ford Escape and the battery runs out?
Well, you either find a way to get it juiced up again or get a new one. And it is almost certain that you're reading this article because you're in the market for brand new batteries.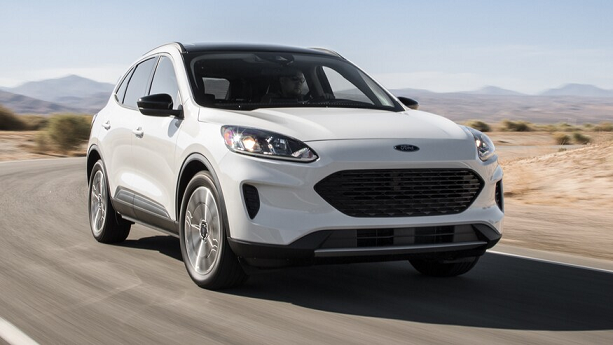 So, whether you own a 2013 Ford Escape or a later model, here are the four best batteries to choose from to get your vehicle back in top form.
Best Batteries for Ford Escape: Our Top 4 Picks
There are tons of automobile batteries on the market, each clamoring for your attention and posing as the answer to your battery-related prayers.
But in this article, we'll explore 4 of the best batteries for your Ford Escape — carefully chosen based on group size, design, performance, durability, and buyer reviews.
1. Delphi BU9094R MaxStart AGM Premium Automotive Battery
Extended cold cranking amps delivery means more power for today's demanding electronics
Group 94R (reverse terminal) battery with 800 CCA (cold cranking amps) and 140 R. C. (reverse capacity)
20x the vibration resistance of conventional batteries
Superior vibration resistance, optimized component compression , and fortified posts, straps and welds
Superior corrosion resistance sealed housing with manifold venting system
Delphi has a reputation for producing top-quality car batteries that can meet the electrical needs of your car. The Delphi BU9094R MaxStart AGM battery features several attributes synonymous with the reputable Delphi brand. Let's examine some factors that qualify this premium battery for your Ford Escape 2013:
The first thing you will notice about this battery is the design. It comes with two handles that make it easy to move the battery around when the need arises. While this is an interesting feature, the performance of the battery is what really matters. The Delphi BU9094R battery delivers extended cold-cranking amps that powers your car's engine instantly.
It delivers 800 cold cranking amps along with 140 reverse capacity. That's a lot of power for your Ford Escape. This battery also features up to 20 times the vibration resistance that you get from other conventional batteries. Asides the superior vibration resistance, it also features fortified posts, welds, and optimized component compression.
One of the commonest problems with batteries is corrosion. The BU9094R battery is designed to overcome this problem because of the sealed housing that features a manifold venting system. What you get from this is superior corrosion resistance. Now let's look at how it performs.
The Delphi BU9094R battery provides quicker recharging and longer life-cycle than other conventional batteries. With its superior cold cranking amps, your car will start instantly even in very cold winter conditions. It also ensures that the battery powers all the electricals of your Ford including DVD players and heated seats.
The leak-proof design ensures that the contents don't spill out. Everything put together makes this product a durable investment for your Ford Escape vehicle model.
Pros
Superior vibration resistance
Secure handles for easy movement
High power output
Absorbed mat technology
Corrosion and leak resistance
Affordable
Fast recharge
Cons
Not durable enough for rough terrains
2. NORTHSTAR NSB-AGM94R Automotive Group Battery
Pulse Cranking Amps: 1,650 A
CA/MCA at 32°F: 1,030 A
CCA: 840A @ 0°F
Reserve Capacity: 158 min
Capacity: 76Ah @ 20 Hour Rate
Northstar is another battery manufacturer with a good reputation in the market. The Northstar NSB-AGM94R battery provides ultra-high performance for your Ford Escape. One of the lovable features of this battery is that it is very versatile and usable for several vehicle models.
Northstar is known for producing batteries that allow for stress-free use and durability. This is what you get from the NSB-AGM94R. It delivers superior performance than what you get from other conventional batteries. This battery model is a little expensive but its life expectancy is very high with superior electrical delivery.
The cold cranking amps of this battery are very high at 840 CCA. Add this to the pulse cranking amps of 1650A and you have performance at its peak. Both the cold cranking amps and pulse cranking amps ensure that your Ford Escape starts when you need it to. Even in the coldest weather, you are assured of quality delivery.
When the battery runs low on power, the NSB-AGM94R features a fast-charge option. This means that you don't need to spend the whole day charging the battery, unlike other conventional batteries. The battery also features deep cycling of over 400 times per 80% discharge depth.
One of the attractive features of this battery is the plastic casing. Asides being quite attractive, it offers several benefits such as heat resistance and durability. The battery equally features an AGM construction. This means that you don't need to clean terminals or check water levels.
Overall, the Northstar NSB-AGM94R battery delivers high performance and is great for cold winter regions. It presents you with rugged durability even though it is a little costly.
Pros
Strong output and great design
Superior performance exceeding that of conventional batteries
Plastic housing, durability, and heat resistance
Lots of reserve power
Cons
3. ACDelco 94RAGM Professional AGM Automotive Battery
High density negative paste, improves performance and increases battery life
Enhanced life alloy or Silver Calcium stamped alloy increases cycle life and improves performance
Calcium Lead positive grid, maximizes conductivity and allows for low resistance
Robust Envelope Separator with puncture-resistant back, allows for increased acid circulation and prevents shorts. Improved acid circulation, helps the battery to remain cool, and extend battery life
Vent cap design that resists acid leakage
Note: Refer a user manual before use
When buying a battery for your Ford Escape, you need some sort of guarantee on its quality. ACDelco is one of the companies that guarantee quality performance with the 94RAGM automotive battery model. Let's show you why this battery is on our list.
For many people, this battery is one of the top-rated batteries on the market. It not only lasts for longer, it also delivers top-notch performance. This means that you need not worry about getting a replacement battery for your car anytime soon.
ACDelco is known for producing batteries that feature a vent cap design. The aim of this is to avoid leakage of the acid in extreme shock. Instead of the regular alloy plates, ACDelco uses calcium lead plates for the 94RAGM battery. With these, there is increased conductivity and reduced resistance.
Just as the name implies, it has a sealed AGM design that makes it one of the most durable batteries around. This design ensures sustainability and is a strong shield to protect against shocks and spillages.
One of the key factors to look out for when choosing batteries is the life cycle. The 94RAGM model guarantees a longer life cycle because of its robust envelope separator and a puncture-resistant back. Both features ensure that the battery has better acid circulation than conventional batteries. The circulation facilitates the required battery cooling and also protects it against shocks.
With this, the 94RAGM assures you of delivering up to 80 hours of power and 800 CCA which is impressive. This means that asides your Ford Escape, this battery will work well with sports cars and heavy trucks. The cold cranking amps that this battery delivers assures that it will perform optimally in regular and unfavorable weather conditions.
Another impressive feature of this battery is its corrosive-resistant terminals. With these, you are assured that the battery won't fail, even in adverse weather conditions. Also, the 94RAGM features oxygen recombination. This helps to minimize the loss of water from the battery so that you can use it for extended periods of time. With this battery, you don't need to worry much about maintenance.
Overall, the ACDelco 94RAGM battery is recognized for its high-performance capacity. While it doesn't look so attractive on the outside, this battery will serve for several years.
Pros
Attractive vent cap design
Calcium-lead positive grid
High-density paste
Corrosive-resistant terminals
Cons
Reduced performance with some car models
4. Odyssey 94R-850 Performance Automotive Battery
70 percent longer cycle than conventional deep
can store on open circuit up to 2 years
capable of 100 percent recharge in 4-6 hours
can be mounted any position except inverted
Odyssey is known for manufacturing top quality battery models like the 94R-850. This battery is great if you are in search of a good replacement battery that can deliver top-quality performance. With the 94R-850, you have the assurance that you will get power whenever you need it.
The 94R-850 is designed to satisfy the increasing demand for power by the electrical and electronic components of cars. This means that using this battery for your Ford Escape shouldn't be a problem. It delivers sufficient power to ensure that all the components of your car work optimally.
The cold cranking amps of this battery and engine-cranking pulses are impressive at 850 CCA and 1500A respectively. This is a lot more than what rival batteries in the same category offer. One thing is synonymous with batteries from Odyssey: long battery life. The 94R-850 does not fail in this regard and its efficient energy delivery and reliability are simply amazing.
This battery also features deep cycling capabilities. Beyond this, the battery comes with both Absorbed Glass Mat (AGM) and Thin Plate Pure Lead (TPPL) technologies. The benefit of this is that the battery holds the acid in properly to avoid spillage or leakage. So you don't have to worry when moving the battery around or when you drive on rough roads. You can even install the battery on its side because of these technologies.
The reserve capacity of the 94R-850 battery is admirable since it can deliver about 150 minutes of power. This means that even when emergencies occur, you have sufficient backup to get you out of the mess. Let's not forget the fact that you can store this battery for about two years on an open circuit.
In the end, the Odyssey 94R-850 battery is worth the investment. It was designed for high performance and it is very durable. However, we suggest that you use it as a backup battery only.
Pros
Very powerful battery
Designed for extreme duty
Very affordable
Leak-proof design
Quick recharge
Cons
Things to Consider When Buying a New Battery for Your Ford Escape
There are so many batteries in the market. Finding the best one might be quite challenging, especially if you are a novice. But not to worry, we have put together a list of things to consider when you want to buy a battery for your Ford Escape.
Battery Size
Car batteries come in different sizes based on their width, height, and length. You must find the perfect fit for your Ford Escape else, the battery wouldn't be stable. This implies that you wouldn't get the best of that battery.
The best way to find out the size of the battery is by checking the package or owner's manual. Another thing you can do is to speak to your mechanic first before buying the battery. The perfect battery size ensures that your battery sits on the tray conveniently to avoid damage from vibrations.
Reserve Capacity
This means the number of minutes that your battery can run without the engine power on its own before it discharges. Reserve capacity is one of the most important factors to consider when purchasing a new battery. This is because you need to reserve power to get out of emergencies.
For example, when you have a non-compliant engine and you need to get to your mechanic quickly. It is the reserve capacity that comes to your aid. The higher the reserve capacity, the better for you.
Power Requirement
This refers to the cranking amps (CA) and the cold cranking amps (CCA). The first ensures that your battery delivers enough power to start your car engine at 32 degrees Fahrenheit. Cold Cranking Amps, on the other hand, provides the energy to start your vehicle at 0 degrees.
You need both to be high enough, especially when you are in a location with adverse weather conditions. CCA works best for regions with very cold climates while CA is perfect for the tropics.
Maintenance
In this case, you can choose either no-maintenance or low-maintenance batteries. The former requires no maintenance because the batteries are sealed. As a result, the electrolyte runs within the battery all through its existence. Because of this, you don't have to worry about replacing the electrolyte.
Low-maintenance batteries come with caps since they are unsealed. This means that you may need to add some distilled water periodically.
Position and Type of Terminals
Where the positive terminal sits will affect the polarity of your vehicle. It also presents you with a risk of shorting should the positive terminal make contact with your car's metal shell.
This is why you need to check the position of the terminals before a purchase. Make sure that the position suits your Ford Escape. If you are not sure, we suggest that you speak to your mechanic first.
Battery Life
If you are considering buying a new battery for your Ford Escape, it is always better to check the battery life. By this, we mean that you should certify that your current battery needs a change. Sometimes, it is not your battery that is the problem, so it is best to figure out the issue first.
You can check the battery life of your present battery with a battery specialist or at an auto shop. At the end of the day, all you need might be a little maintenance.