One of the most common reasons why your Generac generator won't start is a battery failure. While batteries can fail due to other reasons such as a loose connection or a damaged charging unit, the usual culprit is a massive build-up of sulfate molecules in the electrolyte, leading to the battery's inability to provide enough current. This inevitable process that requires changing the battery.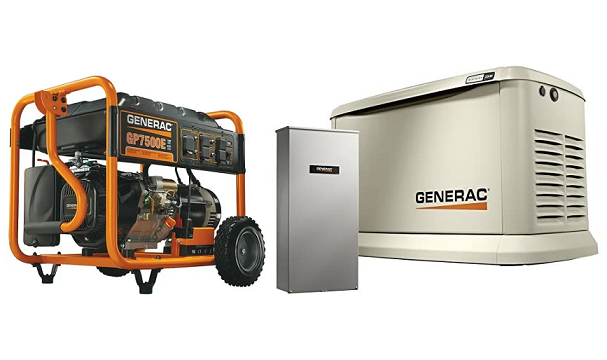 Best Batteries for Generac Generators: Our Top 4 Picks
Choosing the right starting battery for your Generac generator can be a huge challenge, considering the heap of options on the market. In this post, however, we've got you covered. Our research team spent several hours scouring the market in a bid to figure out the best replacement batteries for Generac generators.
And here are our top picks…
1. Interstate Batteries HSL1069 Generac Generator Replacement Battery
This part is compatible with models including – 005747-0,005747-1,005747-2,005747-3,005939-0,005939-2,005940-0,005941-0,005941-3,006673-0,5798-0,5798-2,5939-4,5940-0,5940-1,5941-2,5943-0,5943-2,5943-3,5943-5,GP5500-5939-4
Wear work gloves to protect your hands when installing this part
Battery 0G9449 provides the power to start the generator engine for the electric start system. Provide high percent of capacity in under 1 hour
Flexibility of mounting orientation due to AGM chemistry
The HSL1069 is a multipurpose Generac generator replacement battery compatible with numerous models of Generac generators. It is a Sealed Lead Acid type (SLA) with N and B terminals constructed with high-grade lead calcium alloy. It also features Absorbed Glass Matt (AGM) technology.
These outstanding features make for a high-performance battery that is not only spill-proof but also maintenance-free. Its high cell compression and fiberglass mat separators ensure that the battery delivers a decent battery life at all times.
There are lots of promises that are pretty much common with replacement batteries. The issue is that while these batteries claim to be mind-blowing, they usually come short. The good news, however, is that Interstate Batteries is one of the most trusted brands out there, and unlike other models, the HSL1069 is not just feature-packed but also offers great value for what it is worth.
The HSL1069 has a capacity of 12V 9AH 36W and provides high capacity in less than an hour. The battery is lightweight and compact and weighs only 5.95 lbs.
In addition to these top-notch features, the battery is very easy to install and mount due to its AGM technology. This means it can be mounted in any position which makes it perfect for a wide variety of applications.
It also comes with VGLA technology which prevents leaks. This further promotes its service life. It packs a rugged, high-grade, polished exterior that protects it from damage. It is also designed to be resistant to shocks and vibration in the most extreme conditions.
This HSL1069 measures 5.4 x 2.56 x 3.70 inches which makes it a perfect fit for not only Generac generator models but also for other applications such as farm equipment, alarm systems, electric scooters, electric wheelchairs, portable speakers, solar collectors, and general electronics.
While the HSL1069 is capable of serving much electrical equipment, you should always check the amp-hour requirement of the machine before use. This battery works best for smaller machines with a small power requirement.
Pros
Sealed lead-acid and AGM technology
Features VRLA technology which prevents spilling and eases maintenance
Lightweight and compact
Cons
2. Mighty Max Battery ML9-12
ML9-12 SLA is a 12V 9AH Sealed Lead Acid (SLA) rechargeable maintenance free battery
Amperage 9 Dimensions 5.94 inches x 2.56 inches x 3.94 inches Terminal F2 Listing is for the Battery only No wire harness or mounting accessories included
Compatibility Aqua Vu Marcum Vexilar 12VOLT Vexilar FL-8SE Genz Pack Ion Block Rocker UPS Audio HR-1234W-F2 APC BE550G Vexilar IP1212 FL-12 Ice Pro APC BACK-UPS 600 BN600 MarCum LX-5 Ice Fishing Sonar Razor EcoSmart Metro Electric Scooter Vexilar UP2012D FL-20 Ultra Pack Vision CP1272 Razor e200 / e200s / e225 / e300 / e300s / e325 Geek Squad 875VA UPS CyberPower RB1290 UPS APC BACK-UPS ES BE725BB Portable Fish Finder 570 Leoch DJW12-9 0 T2 Razor MX350 MX400 Electric Dirt Bike
Rechargeable battery that can be mounted in any position resists shocks and vibration Long lasting high performance in high and low temperatures
Mighty Max Battery is a popular household brand, and that's not just because they have the most models in the market, but it is due to the quality they offer. Mighty Max batteries are notably durable, efficient, and affordable and the ML9-12 is no exception.
If you're on a tight budget and you've been searching for a high-performance battery that won't give any headaches, then the ML9-12 might put an end to your search. This sealed lead acid type battery comes with all the outstanding features you would expect in a premium battery.
The ML9-12 costs considerably less than other brands within its category. This gives it a good advantage since it comes with the same power rating of 12V 9AH. Its weight and measurement are two areas where it also impresses. It weighs just 5.17 lbs. which is quite lightweight. It measures 5.94 x 2.56 x 3.94 inches. These dimensions are very common and so this battery should fit in most machinery.
Moving on, the ML9-12 comes with AGM/SLA technology which is practically the best in the industry. Along with its valve regulated design, this battery is 100% spill-proof and maintenance-free.
It also offers top performance in high and low temperatures. This means you would get long-lasting, high performance in the heat of the summer and the colds of the winter. Its AGM technology also allows it to be mounted in any position without leaking. This allows the battery to work well in many applications.
Another benefit of this AGM/SLA technology is that it makes the battery quite resistant to shocks and vibration. The battery also features a highly durable and sturdy casing that further promotes its resistance to damage.
You will enjoy a good battery life from the ML9-12. Like most replacement batteries from Mighty Max, you should expect a service life of 3-5 years. Note that the actual service life would depend on your usage. However, it is recommended that you avoid running the battery down completely as this would shorten its lifespan.
Overall, the ML9-12 is one of the best and affordable batteries for Generac generators that fits perfectly with numerous models and works well with many other electronics.
Pros
AGM/SLA spill-proof battery
Battery can be mounted in any position
Offers top-notch performance in high and low temperatures
Backed by a 1-year warranty
Cons
Durability isn't consistent
3. UPS Battery Center 12V 9AH Nut & Bolt Replacement Battery
100% Compatible – New replacement battery compatible with the YD-9-12 Generators
12V 9Ah Nut & Bolt Sealed Lead Acid Rechargeable Battery
Compatible with: Select models portable generators
Battery Dimensions: Length: 151mm (5.94″) / Width: 65mm (2.56″) / Height: 94mm (3.70″)
Maintenance Free & Non-Spillable, 1 Year Warranty Included!
What's so special about the UPS Battery Center 12V 9AH Battery? Well, it is a sealed lead acid type battery that provides a maintenance-free performance and without spillage and leaks. Additionally, there is a 1-year warranty that guarantees you a replacement if the battery meets the terms of the warranty.
If you've been enduring poor performance and poor battery life with other models, then you should get the UPS Battery Center 12V 9AH to know what a high-capacity battery feels like. Its power rating of 12V 9AH will give you a fairly good runtime as you can find in other batteries within its category.
Attached is a life expectancy of 3-5 years, after then you would need to get a replacement battery. Unlike other battery brands that offer a lot of promise and have nothing to show for it, you can expect what the specs tell you with this battery. This battery comes with several features that prolong the service life.
It features a durable build that allows it to withstand shocks and vibration. It can also operate within a wide range of temperatures without getting damaged or losing performance. This allows it to not only last long but to also retain its high-performance even close to the end of its service life.
The UPS Battery Center 12V 9AH measures 5.94 x 2.56 x 3.70 inches and weighs only 5.73 lbs. This makes it compatible with a wide variety of applications.
While this battery does come with a lot of high-end features, it does have some downsides. Most notable is its price. The UPS Battery Center 12V 9AH is not the most affordable option in the market. In fact, it is one of the most expensive. However, its quality, durability, and impressive build make up for the price.
Pros
Sealed lead-acid type battery
Spill-proof and maintenance-free performance
Life expectancy of 3-5 years
Compatible with a wide variety of applications
1-year replacement warranty
Cons
4. Neptune NT-1290NB 12 Volt 9AH Battery
Neptune NT-1290 12 Volt 9 Amp Sealed Lead Acid Hi-Capacity Rechargeable Battery
Length: 5.94″ Width: 2.56″ Height: 3.70″ – F2 Terminal
12-Month Warranty & Lifetime Technical Support from AAA Security Depot since 2031
Sealed AGM design makes batteries leak free, maintenance free high performance Sealed Lead Acid (SLA) batteries
Neptune batteries come fully charged and ready to go once delivered. Simply connect your battery to the application and you are ready to go
Closing this list is the Neptune NT-1290NB 12 Volt 9AH – a high-performance battery that works well with many Generac generator models. This battery features AGM technology and impressive specs with other batteries featuring the same technology.
It comes with AGM high standard separators and features valve-regulated lead-acid which makes for efficient battery life. It is also spill-proof.
All these features make the battery very safe to use in any position. This also allows it to be easily installed in a wide variety of applications. The battery case is constructed of high-quality ABS material which is resistant to fire, shocks, and vibration.
This would help the battery withstand abuse for a long time without losing power. It will also allow you to get the best out of the battery before the end of its life expectancy.
The float service life or life expectancy is 3–5 years as with most batteries in the same category. It comes with a capacity of 12V 9AH which gives a decent runtime, though the exact runtime would depend on the extent of use and the machinery it powers. Thanks to the high-grade design, this battery allows for a high discharge rate and a wide operating temperature range.
In addition to all this is a 12-month warranty and more impressively, lifetime technical support. This means you can expect a replacement if this battery gets damaged within the warranty period.
The Neptune NT-1290NB measures 5.94 x 2.56 x 3.94 inches. This is pretty much the standard dimensions for Generac generator replacement batteries. This also makes it easier for the battery to fit into other machinery. Note that it is a sealed lead-acid battery so you can place it with the right side up, left side up, or the bottom down and not worry about spillage or leaks. The battery is also lightweight and compact so it won't weigh down your equipment while in use.
Pros
Constructed of high-quality ABS material
Resistant to fire, shocks, and vibration
Wide operating temperature range
Float service life of 3-5 years
Cons
Does not come with nut & bolt terminals as advertised