Nissan gave us two beautiful cars in the Infiniti G35 and G37. Both cars are considered very reliable, each producing over 305 horsepower each and equipped with several electronic accessories as well. As a result, the power requirements of both cars are quite high so they need a battery that will meet their power supply requirements to maintain peak performance.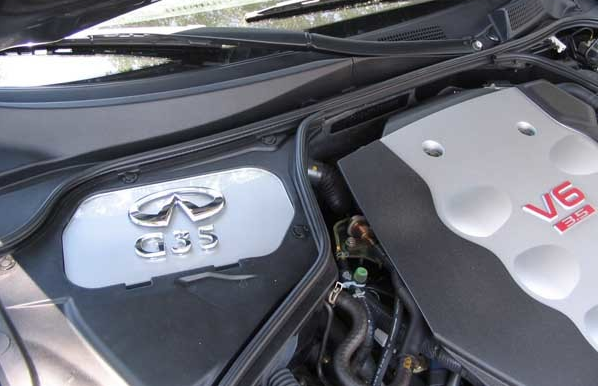 Best Batteries for Infiniti G37 and G35: Our Top Picks
Finding the right battery can be quite difficult in a market that is filled with so many different brands so we've taken it upon ourselves to help you out by putting together a rundown of the four best batteries for the Nissan Infiniti G35 and G37.
To come up with this list we did a lot of market comparison, factoring in power output, durability, buyers' reviews, value for money, and cost.
1. NORTHSTAR Pure Lead Automotive Group 35 Battery NSB-AGM35
NSB-AGM35 Thin Plate AGM Battery
880CA, 740 CCA, 115RC, 60AH
Specifications
AGM design
CCA: 740A
Weight: 49 pounds
Reserve Capacity: 115 mins
Capacity: 60Ah
Warranty: 4-years full warranty
Made in the USA
Our Review
The NSB-AGM35 by NorthStar was designed for superior starting performance and requires no maintenance costs or complicated installation. It comes with a thin plate, which gives it a high reserve capacity, cranking power, and amp-hour capacity, and stands out for its deep-cycle capabilities.
One of the most versatile batteries in its class, it can be used to power cars, buses, boats, pickups, RVs, and even fifth-wheel vehicles. It also has industrial applications and can be used in commercial oil fields.
The NSB-AGM35 battery is recognized as having a long lifespan, and high CCA and reserve ratings. It is resistant to vibrations and corrosion and is spill-proof. Designed using fast charge technology, its self-discharge rate is extremely low, making it a prime candidate for occasional use.
What we like
Spill-proof.
Long warranty period.
Designed per BCI standards.
No maintenance costs.
Low self-discharge rate.
Resistant to vibration and corrosion.
High CCA and Reserve Capacity.
What we dislike
Nothing at the moment. So far, so good!
2. Odyssey 35-PC1400T Automotive and LTV Battery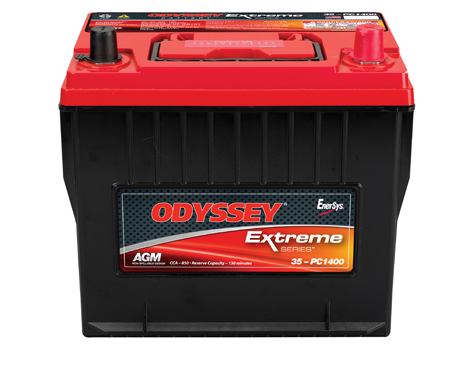 Specifications
AGM design
Dimensions: 13.5 x 11 x 9.8 inches
Weight: 50 pounds
Amp-hour capacity: 55 Ah
CCA: 850A
Reserve Capacity: 100 mins
Warranty: 3-year (limited), 4-year (full replacement)
Service life: 3 to 10 years
Made in the USA
Our Review
Odyssey is known for producing top-quality batteries and the 35-PC1400T is no exception. One of the major requirements to look out for in a battery is high starting power and this one has plenty, along with a very quick recovery rate and deep-cycling capacity. Renowned for its safety, it is corrosion and vibration resistant, and spill-proof.
The 35-PC1400T is powerful enough to meet the needs of your car and any additional electronic accessories you wish to add and it stands out because it's designed slightly differently from other batteries from Odyssey.
Its cold-cranking amps rating means that your car will start in even the most extreme weather conditions and of all the sealed lead batteries in its class, the 35-PC1400T has the highest recharge efficiency. It's also among the most adaptable on the market as you can mount it in a wide variety of positions depending on your specific needs.
What we like
Low maintenance.
Superior cranking.
Long service life.
Fast recharge.
Spill-proof.
Vibration resistant.
Corrosion-resistant.
Improved safety.
Mounting flexibility.
What we dislike
Heavy and bulky.
Quite pricey.
3. Optima Batteries 8020-164 35 RedTop Starting Battery
12-Volt, 720 Cold Cranking Amps, Size: 9.38 x 7.69 x 6.75-Inches Weight: 31.7 pounds, SAE Posts
Reserve capacity of 90 minutes for constant performance
Optimal starting power even in bad weather. Case material is Polypropylene
Fifteen times more resistant to vibration for durability
This item is not for sale in Catalina Island
Fit Type: Vehicle Specific
Specifications
SpiralCell design
Dimensions: 238mm x 171mm x 195mm
Weight: 31.7 pounds
CCA: 720A
Reserve Capacity: 90 mins
Made in the USA
Warranty: 3 years
Our Review
The 8020-164 35 battery by Optima comes is designed to provide sufficient starting power for your Infiniti G35 or G37 in all weather conditions with a powerful rush of energy on the ignition, and it manages to be both lightweight and high performance – a winning combination in our book.
It is a very versatile battery as it can be used in several vehicles asides the Infiniti G35 and G37, including SUVs, trucks, streetcars, among other vehicle types.
With fifteen times the vibration resistance of a conventional battery and several design features that ensure optimal performance every time, it stands out as one of the best options on the market today.
What we like
Spill-proof design.
A versatile design that makes it suitable for a variety of vehicles.
Efficient under extreme weather.
High vibration resistance.
What we don't like
Shelf life is a tad too short.
4. Delphi BU9035 MaxStart AGM Premium Automotive Battery
Extended cold cranking amps delivery means more power for today's demanding electronics
Group 35 battery with 680 CCA (cold cranking amps) and 100 R. C. (reverse capacity)
20x the vibration resistance of conventional batteries and designed to perform in extreme temperatures
Superior vibration resistance, optimized component compression , and fortified posts, straps and welds
Superior corrosion resistance sealed housing with manifold venting system
Fit type: Vehicle Specific
Specifications
AGM design
Dimensions: 9 x 8 x 6.5 inches
Weight: 39.2 pounds
CCA: 680A
Reserve Capacity: 100 mins
Amp-Hour Capacity: 60Ah
Made in the USA
Warranty: 3-years
Our Review
The BU9035 MaxStart by Delphi is known for its high reserve capacity and high CCA rating, making a good candidate for starting your Infiniti G35 or G37 in all weather conditions.
Even the most accessory-laden car (accessories with the highest power requirements include headlights, stereos and power windows) will have enough power with this battery. The BU9035 MaxStart is also renowned for having a long shelf-life and optimal performance under extreme weather conditions.
As with the rest of the batteries on this list, other features of this battery include superior resistance to vibration and corrosion as well as a spill-proof design.
What we like
Excellent resistance to corrosion and vibration.
Spill-proof design.
Not bulky.
What we don't like
Infinity G35 & G37 Batteries: FAQS
Now that we've reviewed the best batteries for Infiniti G35 and G37 vehicles, here are answers to some common questions that are often thrown at us about car batteries.
What does CCA mean?
CCA stands for Cold Cranking Amps. It is simply a way to measure how much power a battery has to crank the engine, especially when cold.
It is determined by taking into account the number of amps a 12-volt battery can deliver for 30 seconds at 0°F while maintaining an average of 7.2 volts. The higher the CCA rating, the easier it will be to start your car.
CCA ratings are particularly important for people that stay in colder regions, with temperatures that often drop to sub-zero degrees.
Do all car batteries have the same voltage?
No, all batteries don't have the same voltage. The reason many people assume that all car batteries are 12 volts is because it is the standard for automotive batteries today. However, cars in the previous decades used 6V batteries but they've been phased out over the years.
While you may not see 6V batteries on the market today, there are hybrid cars that demand high voltage batteries for their operations. In some instances, the voltage can be as high as 300 volts. So always do a double check that your desired replacement battery is 12V.
How do I replace a car battery on my own?
The process of replacing your car battery is pretty straightforward, thanks to the fact that most automotive batteries come with an AGM design, which makes them spill-proof and leak-proof. Here's how to change your car battery yourself:
Put on insulated gloves and pop the hood with a rod, if necessary.
Locate the battery. If you're having troubles finding it, consider consulting your owner's manual.
Loosen the nut and disconnect the cables from the battery. Also remove the clamps that hold the battery in the battery tray.
Remove the battery from the vehicle and replace it in the tray.
Clean the terminals to remove corrosion and then reconnect the positive cable first after which the negative cable is next.
Now close the hood and start your vehicle.
What factors should I consider when buying a new battery?
With a plethora of battery options on the market, it can feel overwhelming to choose which to go for. However, you can shorten the decision-making process by considering a few things like the following:
Dimensions: There are different battery groups with unique physical dimensions. So make sure that the battery you're considering has the same dimensions as the original battery you want to replace. Relating this point to this review article, the Infiniti G-series is compatible with both Group 26R and Group 35 battery sizes.
Production date: Next, you want to confirm that the battery under consideration was manufactured recently. Batteries that have sitting on the shelf for a long time typically lose some of their charge, and buying one means you will have to cope with the poor performance it offers. Find the label on the battery and you should the production date on it.
Maintenance: Some car batteries require too much maintenance, which can be quite tiring. Nobody loves to fill up their battery with water every now and then. So make sure you opt for batteries that require almost no maintenance. AGM batteries are the perfect option in this regard.
CCA: The size of your engine dictates the type of battery you need to get it started. You want to avoid the mistake of getting a battery that has a low CCA rating as that means you will struggle to turn it on many times. For the Infiniti G-series, the minimum CCA rating for optimal performance is 700A.
Reviews: You can tell how good a car battery is by the reviews from customers. Reviews typically highlight the drawback of a battery and the upsides that they enjoy.
Warranty: A decent car battery should have a minimum of 3 years warranty to show that it is well-made.
Wrap-up
There's a lot to consider when you're looking for a replacement battery to meet the power requirements of your car, be it an Infiniti G35 or G37, or something else entirely. From power and performance to safety and maintenance, if you don't consider these factors, you're likely to end up with something sub-par. This post should help you to narrow down your list and ensure that you pick something long-lasting so you won't need to go through all this again any time soon.