The Mazda 3, 5, and 6 aren't just seductive on the outside. They are among the most fun-to-drive sedans on the market — thanks to their natural-feeling steering, firm ride, tight body controls, impressive fuel economy, excellent infotainment systems, and loads of other features. And if you've been riding one of these Mazda sedans for some time, you're probably nodding in agreement right now.
Now, as cool as driving your Mazda might be, a bad battery would always give you a head-scratching experience. So, to avoid unexpected interruptions of the experience, you need to replace your battery with a new one as soon as you figure that the present one is tiring out.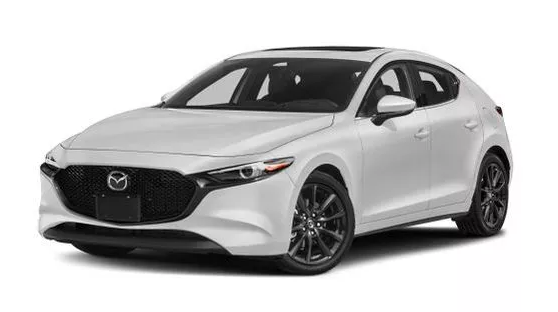 The Mazda 3, Mazda 5, and Mazda 6 models usually come packed with a group 35 size battery. So, when you're looking to replace your battery, be sure to keep this in mind. Now, the market abounds with batteries by various brands, and choosing the right one for your vehicle can be challenging.
Best Batteries for Mazda 3, 5, and 6: Our Top Picks
Thankfully, we have done all the hard work for you. We've scoured the market to compare several batteries that would fit in the Mazda 3,5, and 6 — with the aim of figuring out the best in terms of durability, power, buyer opinions, and other factors that matter.
And here are our top picks.
1. Optima Batteries 8020-164 35 RedTop Starting Battery
12-Volt, 720 Cold Cranking Amps, Size: 9.38 x 7.69 x 6.75-Inches Weight: 31.7 pounds, SAE Posts
Reserve capacity of 90 minutes for constant performance
Optimal starting power even in bad weather. Case material is Polypropylene
Fifteen times more resistant to vibration for durability
This item is not for sale in Catalina Island
Fit Type: Vehicle Specific
Specifications
SpiralCell design
Dimensions: 238mm x 171mm x 195mm
Reserve Capacity: 90 mins
Weight: 31.7 lbs
CCA: 720 A
Warranty: 3 years
Made in the USA
Our Review
The Optima 8020-164 35 RedTop has been loaded with the capacity to give your Mazda car the perfect powerful performance to make it more reliable.
The first thing that comes to mind is the burst of energy that is so powerful once you ignite your car. This battery has been tested and proven to be versatile for a range of vehicles including the Mazda 3, Mazda 5, and Mazda 6.
If you are looking for a battery that is resistant to vibrations, this is definitely what you've been searching for. Its vibration resistance betters that of most others you will find on the market by about 15 times. You can also trust this battery to perform optimally considering its design features.
Regardless of the weather, you can rest assured that this battery will provide you an easy startup. This is largely because of its reserve capacity which is up to 90 minutes.
What we like
Spill-proof.
Vibration resistant.
The versatility makes it easy to use the battery across several vehicles.
Efficient under several weather conditions.
What we don't like
The unique design makes it hard to fit into some vehicles.
2. Delphi BU9035 MaxStart AGM Premium Automotive Battery
Extended cold cranking amps delivery means more power for today's demanding electronics
Group 35 battery with 680 CCA (cold cranking amps) and 100 R. C. (reverse capacity)
20x the vibration resistance of conventional batteries and designed to perform in extreme temperatures
Superior vibration resistance, optimized component compression , and fortified posts, straps and welds
Superior corrosion resistance sealed housing with manifold venting system
Fit type: Vehicle Specific
Specifications
AGM design
Dimensions: 9 x 8 x 6.5 inches
Capacity: 60 Ah
Reserve Capacity: 100 mins
Weight: 39.2 lbs
CCA: 680 A
Warranty: 3 years
Made in the USA
Our Review
We recommend the BU9035 MaxStart AGM if you are in the market for a high-quality battery and you are on a budget. It is one of the most affordable batteries you can find for your Mazda. Don't let the price deceive you, its features are so amazing.
Your car will start up just when you need it because of the impressive CCA and the high reserve capacity of this battery. The battery has the capacity to run different electronics installed in your vehicles like your power windows, headlights, and stereo.
The shelf life of the BU9035 MaxStart AGM is also worthy of note. It is really impressive that a battery so affordable can perform at its level for long regardless of extreme weather conditions. This battery is also resistant to vibration, corrosion, and spills. No doubt, the BU9035 MaxStart AGM by Delphi is a great option for your Mazda sedan.
What we like
Excellent vibration resistance.
The corrosion resistance of this battery is better than most of the batteries in its class.
Spill-proof.
Long shelf life.
Affordable
What we don't like
Durability can be improved on.
3. Odyssey 35-PC1400T Automotive and LTV Battery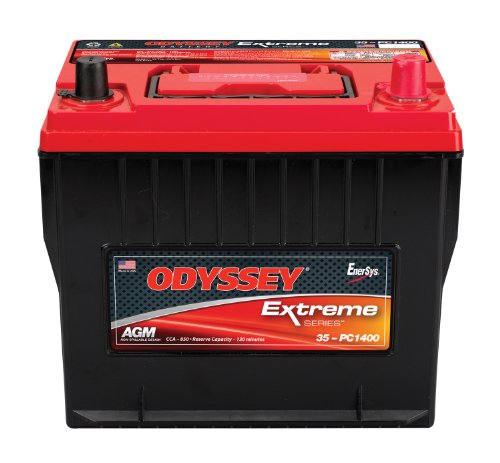 Specifications
Weight: 50 lbs
CCA: 850 A
Reserve Capacity: 100 mins
AGM design
Dimensions: 13.5 x 11 x 9.8 inches
Capacity: 55 Ah
Warranty: 3-year (limited), 4-year (full replacement)
Service life: 3 – 10 years
Our Review
Just like every other battery produced by Odyssey, the 35-PC1400T Automotive and LTV Battery possesses high starting power. And there are many other reasons why it is a great choice for your Mazda.
Firstly, it comes with a deep-cycling capacity as well as a very fast recovery rate. It is also equipped with a reserve capacity that is mind-blowing and an impressive CCA. This is really great when compared to batteries in the same class.
Regardless of the add-on electronics you might have installed in your Mazda sedan, you can rest assured that this battery has the capacity to power them without any issues. One thing you should note with the 35-PC1400T Automotive and LTV Battery is that its design is a little different from the other quality batteries from Odyssey.
With Cold Cranking Amps capacity reaching 850A, this battery is strong enough to kick up your car and get it running at any weather temperature. And when compared with its competitors, the battery produces higher voltages than its competitors over longer periods.
In addition, when compared with other sealed lead batteries on the market, this battery has the highest recharge efficiency. Again, you should know that this battery is one of the most adaptable you will find as you can mount it in a variety of positions.
The 35-PC1400T Automotive and LTV Battery by Odyssey is vibration resistant, spill-proof, and tolerant of extreme temperatures. For these reasons, we believe it is a great pick for your Mazda.
What we like
Spill-proof.
Mounting flexibility.
Superior cranking.
Long service life.
Completely maintenance-free.
Improved safety.
Vibration resistance.
Faster recharge.
What we don't like
Pricey, but worth every dime spent.
Heavy and bulky.
4. NORTHSTAR Pure Lead Automotive Group 35 Battery NSB-AGM35
NSB-AGM35 Thin Plate AGM Battery
880CA, 740 CCA, 115RC, 60AH
Specifications
AGM design
CCA: 740 A
Capacity: 60 Ah
Reserve Capacity: 115 mins
Weight: 49 lbs
Warranty: 4 years full
Made in the USA
Our Review
If you are in search of optimal starting performance for your Mazda car, then look no further than the NSB-AGM35 by NorthStar. This battery performs at a superior level compared to its competitors. What this implies is that you hardly spend anything maintaining this battery after the initial purchase.
NorthStar created the NSB-AGM35 battery to be a world leader and it is sure leading in its class. The battery comes with a thin plate to provide high reserve capacity, cranking power, and amp-hour capacity. Worthy of note is the deep-cycle capabilities of this battery. In the whole of the industry, they are regarded as highly exceptional.
Even though we are presenting you with this battery as an option for your Mazda sedan, it can be used for several other vehicles. Some of these include fifth-wheel vehicles, RVs, buses, pickups, trucks, and even boats. Beyond these, the battery is seen as very versatile as it is a perfect backup option for industrial purposes.
The NSB-AGM35 battery has a very high life expectancy rate, and its CCA and high reserve ratings are equally high. Added to all of these, this battery is vibration resistant, spill-proof, and corrosion resistant too. It is also able to charge very fast while the self-discharge rate is very low. Due to this reason, it is a great option for infrequent use.
One of the factors that cement the reliable status of the NSB-AGM35 is its high BCI compliance level. It is clear that it is not only durable, it is also safe and will serve you for a very long time. No wonder it had to feature on our list.
What we like
Low self-discharge rate.
No maintenance costs.
Long shelf life.
Leakproof
Long warranty period.
Meets BCI standards.
Corrosion and vibration resistance.
Spill-proof.
What we don't like