One interesting yet not-so-cool fact about the Nikon D3400 camera is that you can't charge it without removing the battery from the camera. In other words, your Nikon D3400 can't serve as a battery charger; rather you'd have to charge its battery using an external charger. Now, that can be quite inconvenient.
But there's a smart way around that: getting a spare battery. That way, you'd rest assured that there's a fully charged extra battery that you can quickly pop into your camera when the one you're using gets drained out.
In this post, we'd be looking at some of the best batteries for Nikon D400 cameras.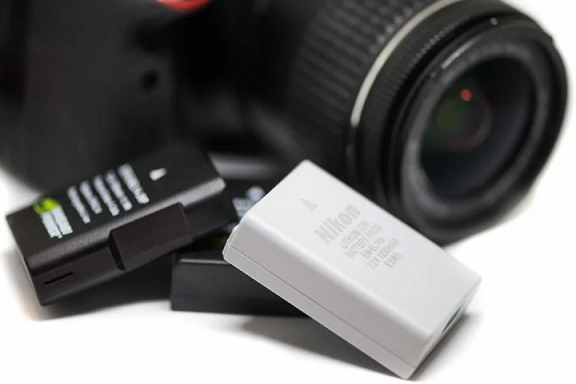 Best Batteries for Nikon D400: Our Top Picks
Whether you're looking for a replacement for your dead Nikon D400's battery or you're simply shopping for an extra battery to make for more convenient use, you'd find many options on the market. However, making the right choice from the pack can be a huge challenge.
We scoured the market to compare several batteries made for the Nikon 3400 (and other related models such as the D500). After cutting out the low performance in terms of charging and discharge time, brand trust, and buyer reviews, we were left with these top recommendations that we believe you won't go wrong with.
1. Nikon EN-EL14A Rechargeable Li-Ion Battery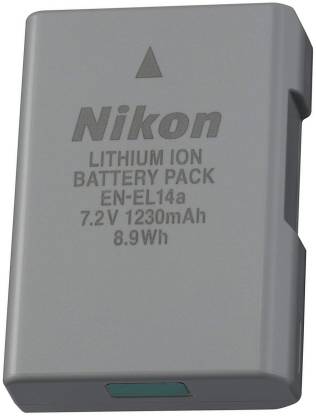 Nikon is recognized for manufacturing some of the best cameras in the world. The company also has a reputation for producing very good batteries that deliver high performance for cameras. One such battery is the EN-EL14A Rechargeable Li-Ion Battery.
This battery was designed specifically for Nikon DSLR cameras. As such, it is compatible with several models of Nikon cameras. Some of these models include D3100, D3200, D3400, D3500, D5100, Nikon DF, P7000, and Coolpix. This sort of versatility comes in handy when you have different cameras and you have to switch batteries often.
No doubt, the EN-EL14A Rechargeable Li-Ion Battery is one of the most innovative in its category. It was designed with amazing quality and technical know-how in mind. The Li-Ion technology used in this battery provides high performance. As a result, users can achieve a seamless and uniform power transfer. This in turn makes it possible to use the cameras for long hours.
Many professional cameramen testify that the EN-EL14A Rechargeable Li-Ion Battery is one of the best in its class. This is because of the amazing results they get from using the battery. It is very easy to charge this battery because it makes use of the MH-24 charger. The battery also notifies you when there is a need for calibration.
One of the advantages of this battery is its long lifespan. For averagely used cameras, these batteries can last up to 5 years. It also lasts long during use since it delivers up to 75 minutes of video recording when charged fully. When taking pictures, they can even last a whole day. The good news is that a pack comes with two Li-Ion batteries so you have a backup when necessary.
Pros
Long lifespan
Fits into the camera seamlessly
Delivers high performance
Li-Ion technology
Shows notification when calibration is necessary
Cons
2. Powerextra EN-EL14 Battery
✔ Battery Specs:Capacity: 1500mAh / Battery Type: Lithium-ion / Voltage: 7.4V / Come with CE certified. Tested by manufacturer to match OEM standard. Package includes: 2x batteries, 1x charger, 1x USB cable and 1x Cleaning Cloth for Nikon EN-EL14 Battery.
✔ Standard Compatible with Nikon EN-EL14 EN-EL14a:Ideal Replacement Battery for Nikon D3100 D3200 D3300 D3400 D3500 D5100 D5200 D5300 D5500 D5600 P7000 P7100 P7200 P7700 P7800 DSLR Cameras
✔ Upgraded Capacity:2*1500mAh capacity provides your camera with much longer working hours. Powerextra EN-EL14/EN-EL14a battery is combined with the latest battery core to deliver super power for improved performance.
✔ Safe Charge & No Memory Effect :Multifunctional charger can charge your battery via fold-out plag or USB cable. Features with four layers of protection (over-charging, short-circuit, high-temperature, and surge protection). Can be charged or discharged as needed without loss of capacity, 100% memory free for maximum performance, super long time recording and shoting.
✔ Customer Service:Powerextra is a trustworthy brand that focuses on the customer experience. If you have any questions about the product or is not clear, please feel free to contact us, we are at your service 24 hours. We listen every feedback and fine-tune every detail to ensure quality.
Powerextra is renowned for producing top-quality batteries for cameras. The EN-EL14 battery model is no different. This battery possesses several qualities that justify its inclusion on this list.
The first thing that catches the eye is that there are two batteries and a charger in the package. Along with the charger comes a USB cable that you can plug into any USB port to charge. This versatility means that you can even charge your batteries on the go with a power bank or a laptop. There is also an LED screen to indicate the power levels while they are plugged into the charger.
The battery pack is small and lightweight and you can carry it anywhere without stress. However, the USB cable is very short and may restrict you when charging. The batteries come with 1500mAh which means that you have access to more power than the Nikon EN-EL14a Battery. A little challenge with the batteries is that they are a little smaller than usual. Nevertheless, they seem to fit nicely into the Nikon camera.
The batteries charge very fast and don't discharge so quickly. This means that you have ample time to work with each battery while shooting with your Nikon camera. Another advantage of the Powerextra charger in the package is that it can charge several kinds of batteries. So if you have the original Nikon batteries, you can still charge them using this charger.
Pros
Versatile batteries
Powerful charger that can charge an array of batteries
Quick charging
Long battery life
Two batteries
Lightweight package
Very affordable
Cons
The USB charger is quite short
A little smaller than regular Nikon batteries
3. Beston 2-Pack EN-EL14 / EN-EL14a Battery Packs
Powerful and Safe: Batteries are 1100mAh true capacity, each battery offers up to 1700 shots, built-in 5 layers of protection IC (over-charging, over-discharging, short-circuit, high-temperature and surge protection)
Multi Charging Ways: Common micro-USB input makes the charger possible to be powered up by any USB 5V output, like wall chargers, power banks, car chargers, laptops etc
Quick Charge: Charger input 5V / 2A, output 8.4V / 1x 800mA or 2x 550mA, takes only 2.5 hours to fully recharge 2 batteries simultaneously, and each charging slot works independently
Fully Decoded: Work with any Nikon camera that use EN EL14 & EL14a battery: D3100 / D3200 / D3300 / D3400 / D3500 / D5100 / D5200 / D5300 / D5500 / D5600 / DF / Coolpix P7000 / P7100 / P7700 / P7800 and more
Package Includes: 2 x BESTON ENEL14 / ENEL14a batteries, 1 x USB quick charger, 1 x Micro-USB cable and 1 x travelling storage case
This battery package comes with two batteries and a USB charger, just like the Powerextra brand above.
Beston batteries have 110mAh of power. That's enough power to get about 1700 photographic shots. The batteries come with 5 extra levels of protection. This built-in protection levels prevent overcharging and discharging, high temperature, short circuit, and provide surge protection.
Another thing the Beston package provides is multiple ways to charge your batteries. You enjoy this courtesy of the USB charger. It comes with a regular micro-USB input that allows all kinds of 5V USB charging points. This means that you can charge your batteries using a laptop, your car, power banks, and regular wall chargers.
The charger cord of the Beston pack is a lot longer than what you have in the Powerextra package. The batteries are also equipped to charge rapidly. You can plug in both batteries and have them fully charged within 2.5 hours. That's very quick and suitable for work on the field.
Another major advantage of this package is the portability. It is very light so you can carry it around in your backpack or pocket. They are also versatile and can work with a variety of cameras aside from the Nikon D3400. The charger doesn't display battery levels but has an indicator to show when your batteries are full.
Pros
Very portable
Affordable package
Allows for multiple charging
Rapid charging
Long USB charging cable
Long battery life
Cons
It doesn't display battery levels
4. LP 2-Pack Battery and Dual Slot Charger
❀STANDARD COMPATIBILITY: LP LP-E12 battery & charger meet and can be interchangeable with the OEM LP-E12 battery & LC-E12 charger. Compatible with EOS M, M2, M10, M50, M100, M200, 100D, Kiss M, Kiss X7, Rebel SL1, PowerShot SX70 HS cameras and more.
❀SPEEDY CHARGER: LP LP-E12 Battery Charger can charge two batteries at once by Micro-USB devices like laptop, car charger, wall charger as well as power bank wherever you go. Ideal for travel, camping, other outdoor/indoor activities. 5V 2.1A input improves the charging efficiency and takes only 2.5 hours to fully charge 2 batteries simultaneously. Each charging slot works independently.
❀STANDARD COMPATIBILITY: LP LP-E12 battery & charger meet and can be interchangeable with the OEM LP-E12 battery & LC-E12 charger. Compatible with EOS M, M2, M10, M50, M50 mark ii, M100, M200, 100D, Kiss M, Kiss X7, Rebel SL1, PowerShot SX70 HS cameras and more.
❀100% SAFETY: LP LP-E12 battery charger set has protections for overcharge, over discharge, short-circuit, surge, overvoltage, and overcurrent with CE, FCC, RoHS Certifications, tested by manufacturer to match OEM products.
❀SERVICES: 30 Days Free Refund & 1 Year Free Replacement. Lifetime Service & 24H Promptly and Friendly Response (Weekdays). Any question or advice please contact us on Amazon.
The LP 2-pack battery package is very similar to the other packages above. It comes with a dual-slot charger, two batteries, and a USB charging cable. What else makes the LP 2-Pack battery and dual-slot charger tick?
The first thing that attracts attention to this package is the power capacity. It offers the same power capacity as the Nikon battery at 1200mAh. Just like the Beston package, this allows you to take 1700 camera shots with each battery. That's up to 3400 shots in total, the perfect backup for shooting outdoors.
The LP package comes with a charger that is equipped for rapid charging. It is versatile because it allows you to charge with an array of options. You can make use of regular chargers, laptops, power banks, and even your car. Both batteries can charge to full capacity within 2.5 hours just like the Beston package.
The batteries are certified 100% safe since they come with several layers of protection. These cover over-discharge, overcharge, overvoltage, surge, and short-circuit. The package comes with a 30-day refund policy, one-year free replacement, and lifetime service. Aside from your Nikon D3400, this package is compatible with several types of Nikon cameras.
Pros
Portable package
Versatile batteries
Long USB cord
Multiple charging options
Multiple protection layers
Very affordable
Cons
None that we could figure
5. ecoEfficiency 2-Pack of EN-EL14, EN-EL14A Batteries + AC Charger for Nikon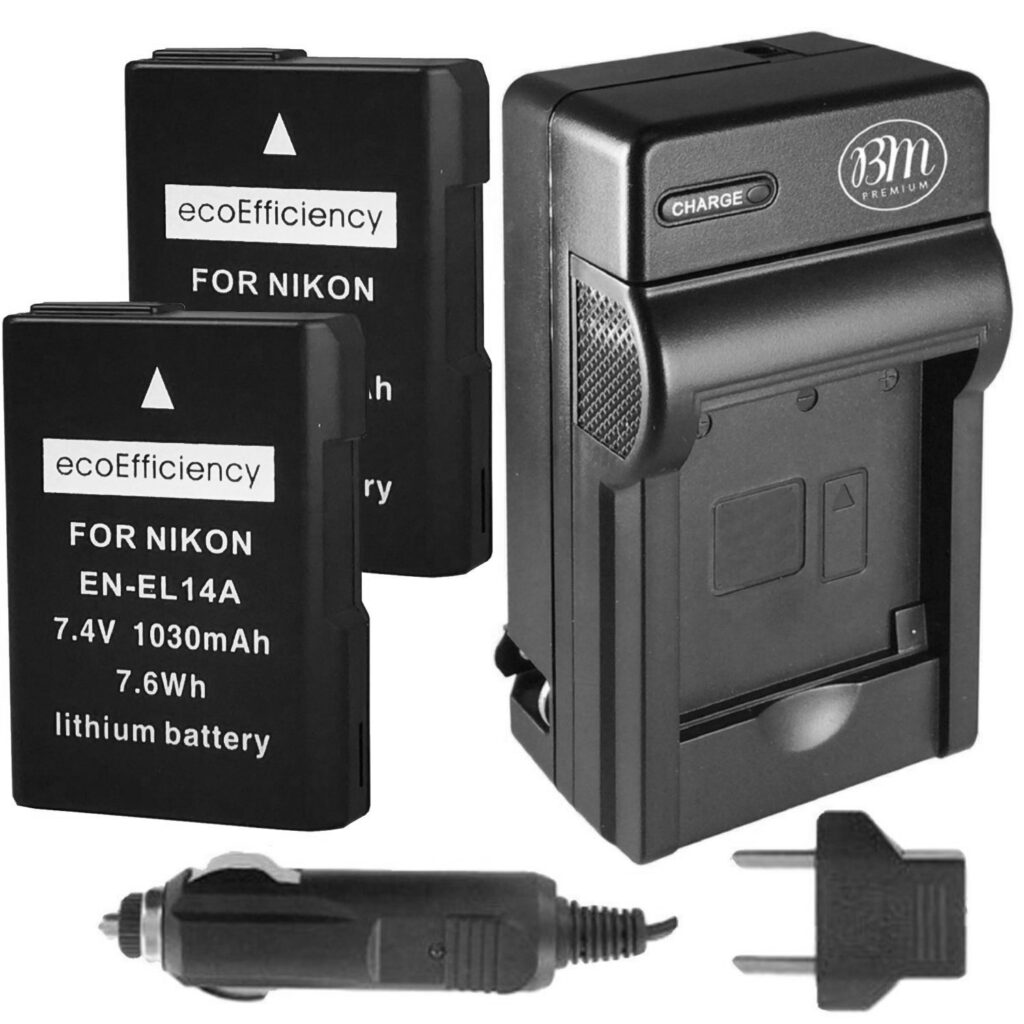 The ecoEfficiency package comes with a pair of batteries, a charger, and a car charger. This is an interesting combination even though it doesn't come with the USB option.  This battery pack has several features that endear it to professional photographers. Firstly, the battery is compatible with an array of Nikon cameras just like the other batteries on this list. This means that it will come in handy if you have another Nikon camera besides Nikon D3400. One of the advantages of this battery is the ecoEfficiency patent technology that gives this battery a long lifespan.
This battery does not provide as much power as the other battery options on this review. It comes with a 1030mAh power capacity on each battery. The charger works as an adapter so when you fit in the batteries, you can plug it to the wall socket. However, you don't have the multiple charging options that come with the other chargers above. It only comes with a car charger cable.
Because of this, this battery may not be great for shooting outdoors. Once the batteries run out of power, then you have to find a power source to get them up again. At best, we advise that you make use of this battery as a backup for your regular batteries. This is a great option since the battery is very affordable.
Pros
Rapid charging
Versatile batteries
Car charging option with car charger
Eco-friendly product
Very affordable
Cons
No USB cable
Limited charging options
Batteries don't last very long