When shopping for a replacement for your car battery, the battery group size is the first factor to consider before something else. If you buy a battery that's absolutely awesome in every other regard but belongs to the wrong group size, it's either you can't use it at all, or you have to spend some extra bucks to make it fit in your car.
Group 35 batteries, according to the Battery Council International, generally measure roughly 230mm (length) by 175mm (width) by 225mm (height). So, you might want to double-check if your current battery's dimensions are close to these figures.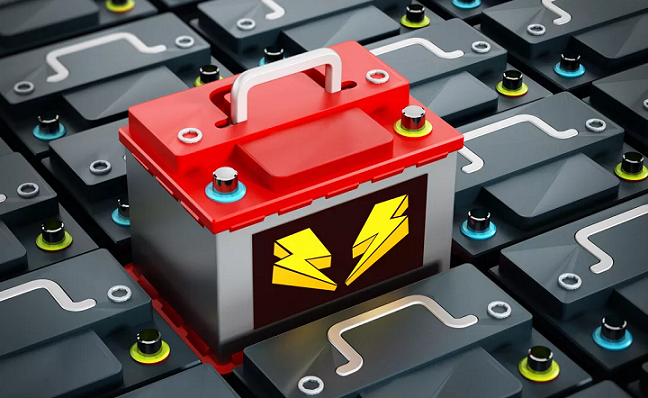 Best Group 35 Batteries: Our Top 5 Picks
The market abounds with group 35 batteries by many different brands. And making the right choice can be a huge challenge. But we've made the task easier for you. We spent several hours conducting research to figure out the best options available on the market based on specifications, durability, build quality, user reviews, and price.
Here are 5 of the best Group 35 batteries on the market right now.
1. Optima Batteries 8020-164 35 RedTop Starting Battery
12-Volt, 720 Cold Cranking Amps, Size: 9.38 x 7.69 x 6.75-Inches Weight: 31.7 pounds, SAE Posts
Reserve capacity of 90 minutes for constant performance
Optimal starting power even in bad weather. Case material is Polypropylene
Fifteen times more resistant to vibration for durability
This item is not for sale in Catalina Island
Fit Type: Vehicle Specific
Specifications
SpiralCell design
Weight: 31.7 lbs
Dimensions: 238mm x 171mm x 195mm
CCA: 720 A
Reserve Capacity: 90 mins
Warranty: 3 years
Made in the USA
Our Review
The 8020-164 35 RedTop Starting Battery by Optima Batteries is designed to give your vehicle powerful performance right out of the box, and comes armed with several features to ensure you get just that.
The battery gives a powerful burst of energy on ignition that makes it incredibly versatile and suitable for use in trucks, streetcars, SUVs, and several other vehicles.
The vibration resistance in this battery is about 15 times greater than that offered by its counterparts, and the optimal performance leaned to it by design features such as this aims to knock its competition out of the race entirely.
With a reserve capacity of 90 minutes, this battery is also capable of providing easy startup no matter the weather.
However, it's important to do your research to ensure you can use this battery's amazing capabilities to the fullest—you'll need to check if it's suitable for both your vehicle and your power needs.
What we like
Spill-proof battery.
High vibration resistance.
Versatile enough to work in a range of vehicles.
Works efficiently in different weather conditions.
What we don't like
Some users have drawn attention to its shorter shelf life compared to that of market rivals.
2. Delphi BU9035 35 AGM Battery
Extended cold cranking amps delivery means more power for today's demanding electronics
Group 35 battery with 680 CCA (cold cranking amps) and 100 R. C. (reverse capacity)
20x the vibration resistance of conventional batteries and designed to perform in extreme temperatures
Superior vibration resistance, optimized component compression , and fortified posts, straps and welds
Superior corrosion resistance sealed housing with manifold venting system
Fit type: Vehicle Specific
Specifications
AGM design
Weight: 39.2 lbs
Dimensions: 9 x 8 x 6.5 inches
CCA: 680 A
Capacity: 60 Ah
Reserve Capacity: 100 mins
Warranty: 3 years
Made in the USA
Our Review
If you are looking for an affordable yet high-quality battery, the BU9035 35 AGM Battery by Delphi could be just the product for you. It has a high reserve capacity and CCA, which allows your vehicle to start up reliably exactly when you need it to.
The battery is powerful enough to efficiently run a range of electronic vehicle accessories, including headlights, power windows, and a stereo. As well as being impressively long-lasting and capable of performing flawlessly under even extreme weather conditions, the BU9035 35 AGM Battery provides superior vibration, maximum performance, and resistance to corrosion thanks to its spill-proof design.
What we like
Vibration resistance is excellent.
Corrosion resistance is superior to most batteries in the same class.
What we don't like
Can be a bit difficult to fit.
3. Odyssey 35-PC1400T Automotive and LTV Battery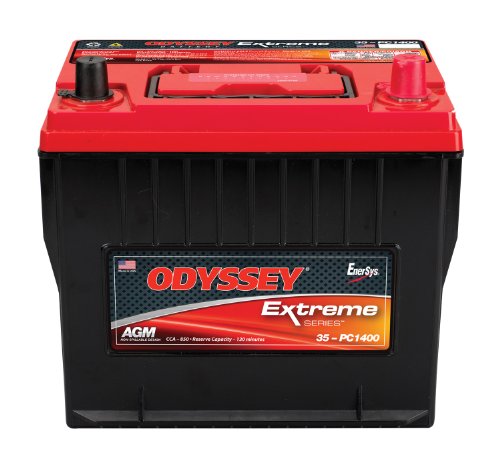 Specifications
AGM design
Weight: 50 lbs
Dimensions: 13.5 x 11 x 9.8 inches
CCA: 850 A
Capacity: 55 Ah
Reserve Capacity: 100 mins
Service life: 3-10 years
Warranty: 3-year (limited), 4-year (full replacement)
Our Review
Made in the USA just like the other batteries produced by Odyssey, the 35-PC1400T Automotive and LTV Battery is packed full of very high starting power. It is also built with deep-cycling capacity and a rapid recovery rate, as well as an amazing reserve capacity and CCA compared to other AGM batteries, which we think is a really good thing.
The battery is strong enough to power all the electronics that you might have installed in your vehicle, but it offers a slightly different design to other high-performing Odyssey batteries.
With 850 cold crank amps, this battery will get your car up and running in no time and can produce higher voltages for longer periods than its competitors.
But there's more. Overall, this battery is regarded as having the highest recharge efficiency of any sealed lead battery on the market, as well as one of the most adaptable out there; it can be mounted in a range of different positions.
The 35-PC1400T Automotive Battery is spill-proof, resistant to vibration, and able to tolerate extreme temperatures, so is a perfect fit for the more safety-conscious petrol-heads among us.
What we like
Totally maintenance-free.
Spill-proof.
Improved safety.
Mounting flexibility.
Vibration resistance.
Superior cranking.
Faster recharge.
Long service life.
What we don't like
Bulky and heavy.
Pricey – but worth the price
4. DieHard 38275 Group Advanced Gold AGM Battery
20X more vibration protection safeguards battery performance over time, 2X the cycle life extends the performance and life (compared to convention lead acid batteries)
BCI Gp 35, CCA 650, RC 100 minutes, 50 AH rating
Spill proof design provides added protection for sophisticated electronic equipment
Optimized power full-frame positive and negative plates prevent life robbing electrical shorts
Enhanced electrolyte suspension system absorbs more electrolyte and protects internal components
Specifications
AGM design
Weight: 42 lbs
Dimensions: 9.8 x 6.9 x 8.9 inches
CCA: 650 A
Capacity: 55 Ah
Reserve capacity: 100 mins
Made in the USA
Our Review
When people ask what makes the 38275 Group Advanced Gold AGM Battery GP 35 by DieHard special, the answer is obvious; the vibration resistance. This battery edges out the vibration resistance capability and versatility offered by many other batteries on the market.
The battery is also ideal for a wide range of vehicles, including RVs, trucks, watercraft, and off-road vehicles. It also works efficiently for tuner and performance cars that experience a lot of vibration when they are used.
The AGM technology ensures the 38275 Group Advanced Gold AGM Battery GP 35 is suited for the temperature demands of wherever you're driving and provides steady, reliable power that caters to your vehicle's electronic needs.
This battery is renowned for its long life at high performance and being maintenance-free. Just like other batteries in its class, it can be mounted in several positions and is spill-proof.
The amazing thing about the 38275 Group Advanced Gold AGM Battery GP 35 is that it can be used across several major car brands, including Audi, Chrysler, BMW, Volkswagen, Mercedes Benz, Porsche, Volvo, and Saab.
To provide you and your car with optimum safety, the battery possesses powerful negative and positive plates designed to protect you from life-threatening electrical shorts. Overall, this battery is engineered to give you higher performance over a longer period than most of its competitors.
What we like
Durable.
Powerful.
Made with AGM configuration.
Internal components are well-protected.
What we don't like
You may find it difficult to install the unit if you are an amateur.
5. NorthStar Pure Lead Automotive Group 35 Battery NSB-AGM35
NSB-AGM35 Thin Plate AGM Battery
880CA, 740 CCA, 115RC, 60AH
Specifications
AGM design
Weight: 49 lbs
CCA: 740 A
Capacity: 60 Ah
Reserve Capacity: 115 mins
Service life:
Warranty: 4 years full
Made in USA
The NSB-AGM35 battery by NorthStar is designed to present you with optimal starting performance at superior levels compared to the competition. This means that the cost of maintaining the battery is reduced to almost nothing right out of the box, as the battery itself was created to be a world leader in its class.
This battery boasts a thin plate, which ensures high reserve capacity, amp-hour capacity, and cranking power. We shouldn't forget the battery's deep-cycle capabilities either; they are regarded as exceptional on an industry-wide scale.
The battery is suitable for use in RVs, fifth-wheel vehicles, pickups, boats, buses, and trucks, but is versatile enough to be a great backup option for use in industrial applications and commercial oil fields. It has very high reserve and CCA ratings, and the life expectancy is very high too.
The NORTHSTAR Pure Lead Automotive Group 35 Battery NSB-AGM35 is also spill-proof and resistant to vibrations and corrosion, so it's designed to serve your needs for as long as possible. The battery also charges pretty fast and has a low self-discharge rate, making it suitable for even infrequent use. The final testament to the assured quality of the battery is the extended 48-month warranty.
The high-level of BCI compliance present in this battery cements its status as a reliable, durable and safe offering we love so much that it simply had to feature in our top picks.
What we like
Low self-discharge rate.
Leakproof.
No maintenance cost.
Long warranty period.
Long shelf life.
Made to satisfy BCI standards.
What we don't like
We haven't noticed any drawbacks yet!