If you drive a truck or any other vehicle — diesel-powered, marine, etc. — that specifically requires a group 65 battery, it goes without saying that you should go for a battery of the same group size when shopping for a replacement. In this post, we'd be discussing some basics about group 65 batteries, and we'd be reviewing some of the best options available on the market at the moment.
What's a Group 65 Battery?
For starters, a group 65 battery is a heavy-duty battery whose dimensions conform to the dimensions specified by the Battery Council International (11.85 x 7.30 x 7.40 in). Such a battery would fit perfectly in trucks or other vehicles designed to work with group 65 batteries.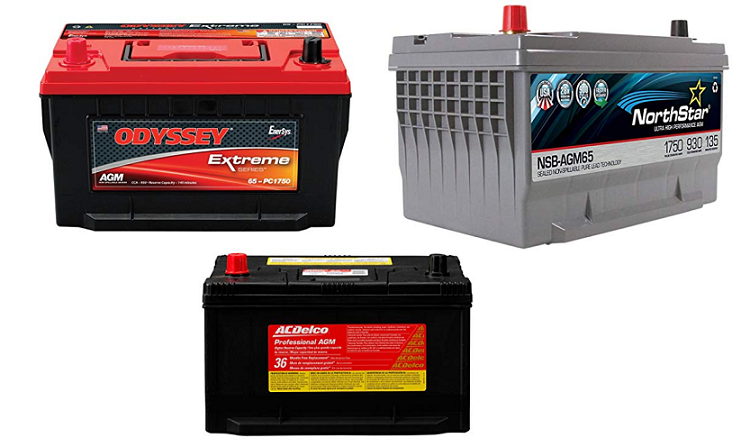 Typically, group 65 batteries are heavier than most other auto batteries, and they higher cold cranking amp rating (700 to 1000 CCA or more) than other auto batteries. They also have high reserve capacities (usually between 120 and 150 Amps) and high amperage (55Ah – 70Ah). These explain why they're monsters in terms of strength and performance.
Best Group 65 AGM Batteries: Our Top 3 Picks
Choosing the right group 65 battery from the several options available in the market can be a huge challenge. But we've made things easier for you by carefully handpicking some of the best options available and comparing them thoroughly in different aspects. We trimmed our list until we're left with 3 top contenders.
So, below is our review of the three best group 65 batteries.
1. Odyssey 65-PC1750T Automotive and LTV Battery — Our Top Pick
Cold Crank Amp (CCA)- 950
Better warranty: Limited 3 and 4 year full replacement warranty - not pro rata
Includes SAE Automotive terminals
Mounting flexibility: Non-spill able design, vibration resistance- design protects against high impact shock and mechanical vibration
Extreme temperature tolerant- Operating temperatures from -40 degree Celsius (-40 degree Fahrenheit) to 45 degree Celsius (113 degree Fahrenheit).
This item is not for sale in Catalina Island
Fit type: Universal Fit
Our review
If you're looking for a group 65 battery that delivers massive starting power and perfectly meets the deep cycling demand of your engine, then the Odyssey 65-PC1750T is your best bet. And we have chosen it as our top pick for all the right reasons.
Unlike the lead alloy used in most other batteries, the Odyssey 65-PC1750T has pure virgin lead plates, which allow for increased plate surface area, much more power as well as optimized recycling. When compared with most other batteries, the Odyssey 65-PC1750T delivered twice the overall power and lasted three times longer. At 80% discharge depth, the battery can last up to 400 cycles.
Whether you ride a regular vehicle, a high-performance car, a truck, a 4×4 off-roader, an antique car, or any other type of automobile, the Odyssey 65-PC1750T is built to serve perfectly. And in terms of durability, the battery doesn't disappoint — thanks to its AGM design, which eliminates acid spillage. Its construction also consists of high-conductivity and corrosion-resistant brass terminals (tin-plated), internal gas recycling mechanism (thanks to its sealed design), an automatic relief valve, flame-retardant cell containers, and vibration-proof internal cell connections.
So, with the Odyssey 65-PC1750T in your vehicle, you're free to drive on the roughest terrains without worrying about spilling acid or being damaged by continuous vibration. And even if you have to drive in extremely cold conditions, this battery won't disappoint — thanks to its staggering 950 CCA rating.
Pros
High-quality battery
Fast charging
Suitable for most conditions
Cons
Not the best battery for intense off-roading.
2. ACDelco 65AGMHR Professional AGM Battery
High density negative paste, improves performance and increases battery life
Enhanced life alloy/Silver Calcium stamped alloy increases cycle life and improves performance
Calcium Lead positive grid, maximizes conductivity and allows for low resistance
Robust Envelope Separator with puncture-resistant back, allows for increased acid circulation and prevents shorts. Improved acid circulation, helps the battery to remain cool, and extend battery life.
Vent cap design that resists acid leakage
Our review
The ACDelco is another impressive group 65 battery for those have been experiencing starting issues. The battery delivers 775 cold-cranking amps, which makes it rugged enough for even diesel trucks. It's a great buy for those who ride regular vehicles but also want to enjoy additional power guzzlers (car audio, air conditioner, etc.) throughout their driving time.
One upside of this battery is that it comes charged and ready to go. So, you can install the battery and crank your engine immediately. Whether you drive on rough or smooth terrains, leakage is the last thing you want to worry about — thanks to the vent caps, which are designed to prevent acid leakage.
This battery packs robust separators that make for low resistance and ribbed design that improves acid circulation. This explains why the battery remains cooler even after long periods of continuous use. And the corrosion-resistant terminals increase the battery's conductivity and performance.
Pros
Conveniently powers engines in coldest conditions
Deep cycling makes for longer life
Great price for the quality
Lasts longer than Optima batteries
Cons
Nothing we love this battery
3. NorthStar Pure Lead Automotive Battery NSB-AGM65
Pure lead AGM technology delivers exceptional CCA ratings and reserve capacity cycling ability
Quick starting every time
Cycles over 900 times to 50% depth of discharge
Proudly made in the USA at our state-of-the-art battery plant
Advanced AGM construction means no water levels to check or terminals to clean
Our review
Also based on AGM design, the NorthStar NSB-AGM65 group 65 battery is much easier to maintain than flooded batteries. With copper-clad connectors and built-in handle, the battery prides itself on its ability to provide high reserve capacity and cranking power, which make it perfect for start-stop applications.
Regardless of your engine's starting power demands, the NorthStar NSB-AGM65 delivers quick starting time, even in the coldest weather conditions. It's strong, tightly-sealed casing ensures that no leakages happen even when you're driving through rough terrains. This, coupled with its solid build, also makes the battery vibration-proof.
When compared with most other Group 65 batteries in the market, the NorthStar NSB-AGM65 has higher cold cranking amps (a phenomenal 930 CCA) and reserve capacity. It also comes with fast-charging technology and can last over 900 cycles at 50% depth of discharge. These specs pale most other Group 65 batteries into insignificance.
Pros
Solid build
Better than most OEM batteries
Better than Optima batteries
Arrives fully charged (check though)
Cons
Pricier than others on this list
Wrap-up
Whether cold-cranking amps, reserve capacity, or charge performance is what matters most to you when selecting a new group 65 battery, you won't go wrong with any of the 3 options reviewed above. Each of them packs exceptional cranking power with durability and impressive reserve capacity, and they are all perfect for vehicles whose engines require high start-up power or involve frequent start-stop applications
In terms of technical features, these batteries are in the same class. But in all, we advise you to blend our recommendations with your personal preferences in terms of brand, pricing, other things that matter to you.