Group 94R batteries are used to power a good number of vehicle models – especially those by the German brands (BMW, Mercedes, Audi, and Volkswagen). Also known as H7, L4, or LN4 batteries, they are also used in light industrial and marine applications. They are generally designed as dual-purpose, AGM (absorbent glass mat) batteries.
Typically measuring 315mm x 175mm x 190mm (L x W x H), group 94R batteries are designed to provide strong starting current even in the coldest conditions, accept charge quickly, withstand quick start-stop demands, and power a wide range of onboard electronics.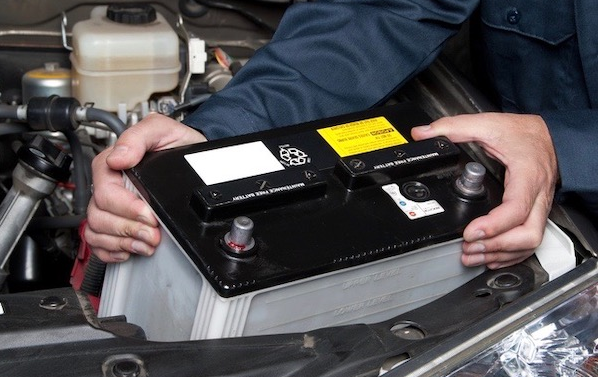 Best Group 94R Batteries: Our Top 5 Picks
Buying the right group 94R battery can be challenging if you're not in the know — especially since the market abounds with several options by different brands, with screaming, "I'm the best for you."
But here's good news: We have taken our time to research the market and compare several group 94R batteries in terms of design, durability, brand trust, performance, and other important factors. And using these criteria, we kept pruning the list until we were left with these top 5 contenders.
1. Delphi BU9094R
If you're looking for a premium and high-quality battery that can function well in all types of conditions, the Delphi BU9094R meets the requirements. It comes with a range of essential features you need such as an 800 cold cranking AMPS rating and a-140 minute reserve capacity rating, meaning it has more than enough juice to power both the starter motor and to run the ignition system in extreme conditions. The cold-cranking amps value is an obvious upgrade on the battery's predecessor.
Speaking of vibrations, the manufacturer claims the BU9094R has 20x more vibration resistance than any regular battery, so you can expect it to handle whatever shocks the road may throw at it. Even the material used to design the battery is free from rust and corrosion with a manifold venting system. It also has an absorbed mat technology, which provides better cycle life and faster recharging than traditional batteries.
Also, this Group 94R battery also has an optimized component compression, fortified posts, straps, and welds helps enhance stability as well as making it portable. The dual vents make it possible to be installed in the trunk or cabin. The battery can be mounted at any position and can be stored on an open circuit. The total size of it is 12.5 x 7.5 x 7 inches.
Most customers complain that this specific Delphi battery didn't fit their vehicle, so make sure you confirm that it will work with the year, make, and model of your specific vehicle. Nonetheless, the BU9094R is a battery of great value as it boasts some functional features as well as a rugged and forgiving nature that makes it long-lasting.
Pros
Great cycle life
Faster recharging
Affordable
Exact-fitting
Secure handles on sides
Cons
May be difficult to fit in some vehicle models
2. ACDelco 94RAGM
ACDelco is a popular player in the automotive industry, producing original equipment parts for vehicles at competitive prices. The 94RAGM is easily one of the best-rated car batteries that deliver a high level of performance and lasts longer. Just like other batteries produced by the brand, the 94RAGM features a vent cap design to prevent any kind of acid leakages and extreme shock.
Unlike the usual alloy plates, the battery has calcium lead plates that allow low resistance and improves conductivity.  It's probably no surprise that it comes with a sealed Absorbed Glass Mat (AGM) design, which provides the enduring outer structure that can ensure its sustainability and become an efficient shield to prevent spillages and repel shocks.
To guarantee a long life cycle, the robust envelope separator with puncture-resistant back ensures improved acid circulation to provide the much-needed cooling while equally safeguarding it from shock. This makes it possible for the 94RAGM to provide about 80 hours of energy and an impressive 800 cold cranking AMPS. As a result, you can use it for every type of vehicle including heavy trucks and sports cars.
Because of the battery's cold-cranking amps (CCA), you can expect it to work well in regular conditions as well as in harsh environments without any trouble.  The terminals are also corrosive-resistant so you can use them with confidence in unfavorable weather conditions.
Going further, the ACDelco 94RAGM has oxygen recombination that minimizes water loss so you can continue to use the battery for a long time without worrying about any maintenance procedures. In other words, this battery is durable and will serve you for quite a long time. The high-density paste that is used in this model aids improve both the performance and battery life. In all, the ACDelco 94RAGM might not have a lot to brag about on the outside but its internals are all great.
Pros
Addition of high-density paste
Nice vent cap design
Calcium lead positive grid
Cons
May not work well in BMW cars
3. Odyssey 94R-850
If you're looking to purchase a battery replacement with an effective solution that will deliver top-notch performance and deliver power consistently, the Odyssey 94R-850 is a great choice to consider. It is designed to meet the increased demand by components and electronics for an ample amount of power to function well.
This Group 94R battery provides engine-cranking pulses up to 1,500amps and 850, cold cranking amps (CCA), which are way more than what its rivals offer. Like all other batteries from the brand, the Odyssey 94R-850 promises long battery life, energy delivery reliability, and outstanding deep cycle capabilities.
Furthermore, the battery features both Thin Plate Pure Lead (TPPL) technology and Absorbed Glass Mat (AGM) separators to properly hold in the acid and prevent it from leaking or spilling when being transported and during use. As a result, the battery can be installed on their sides.
Also, the Odyssey 94R-850 has more power and reserve capacity as it is able to deliver up to 150 minutes, so you can find your way to your mechanic in the event that anything goes wrong. It can even store on open circuit for up to two years. Overall, this is an excellent choice for any daily use.
Pros
More powerful than most OEM batteries
Built for extreme duty
Cons
4. NorthStar NSB-AGM94R
The NorthStar NSB-AGM94R is designed to deliver superior cranking power, unbeatable cycling life, and a faster recharge rate than many of its AGM contenders on the market. While it can power a wide range of vehicles, it is particularly suitable for newer vehicles designed with Start-Stop technology as well as any vehicle that requires high CCA's, operates in harsh environments, or requires a sealed AGM battery.
With cold-cranking amps of 840, the NSB-AGM94R provides an exceptional CCA rating that many other brands try to achieve without success. Even more impressive is the fact that this battery features 1,430 pulse cranking amps for the first 5 seconds of operation after which it drops down to a consistent 840 CCA rating.
The housing is made from advanced plastics for durability, performance, and heat resistance.  The manufacturer states that the battery can be installed in any position as it is spill-proof and leak-proof. Because it is an AGM battery, you also won't have to check water levels or clean the terminals, making it a low-maintenance battery.
Another positive of the NorthStar NSB-AGM94R is that it can run on for 158 minutes before it dies, unlike traditional batteries that discharge within an hour. As far as recharging goes, the battery charges super fast and gets ready for use at half the time of most AGM batteries so you don't have to wait an entire day to refill the juice.
However, the battery is quite heavy and you might need a helping hand to move it around. In all, the NorthStar NSB-AGM94R is proudly made in the USA and is sure to deliver superior performance while exceeding conventional battery life expectancies.
Pros
Durable
Resistant to heat and other weather conditions
Performance is off the chart
Cons
5. Deka 9A94R AGM
Deka is a reputable manufacturer of batteries for all kinds of uses. The Deka 9A94R AGM Intimidator is a multi-purpose battery as it can power anything from factory-installed electronics to turn on plugs in as it still provides reliable starting power.
It's obvious that Deka put a lot of efforts into designing the battery as the 9A94R AGM has almost two times the durability as well as cycle life of conventional batteries, making it the right fit for those who need a solution that can withstand the toughest situations and the most intense electrical power requirements without any trouble. The design is also spill-proof and leak-proof so you can move it around easily.
The Deka 9A94R AGM sports an enhanced electrolyte suspension system as it makes use of the Absorbed Glass Matt technology to eliminate the need for frequent maintenance procedures. The unique glass mats have the ability to absorb more electrolytes while the vibration protection feature safeguards the battery performance in the long run.
Going further, this battery offers fast recharging powers so you don't have to wait for long for the top-up to get completed. Although it charges fast, it is still able to power more electronics for a long time. Like other batteries in its group and price range, the cranking amps of the 9A94R AGM are 800 and polarity at right positive.
Although the battery fits vehicles with a battery group size of 94R, the Deka 9A94R AGM isn't really compatible with all cars out there as reviews indicate that it primarily fits only Audi and BMW mid and full-size vehicles and SUVs. In a nutshell, what you are getting in this battery is superior power for high-performance equipment and a high-impact design for rugged, back road adventures.
Pros
Sealed absorbed glass mat (AGM) design
Can be installed in any position
Has maintenance-free operation
Cons
Not suitable for every vehicle
Related Stuff