If you're shopping for the best snowmobile battery and you're looking for some advice to help you make the best decision, then you've stumbled on the right page. Snowmobile batteries aren't just the same as getting a battery for an ATV, UTV, or regular vehicle.
When making a pick, the only options that should come to mind are those with maintenance-free features and a spill-proof design that will ensure you won't have to worry about acid spills when you go extreme with your snowmobile.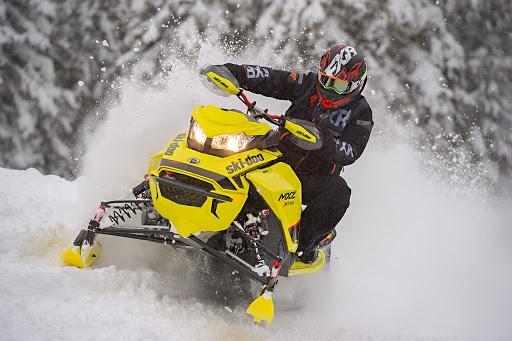 Best Snowmobile Batteries: Our Expert Recommendations
The market is filled with so many brands, all offering products that seem like the best pick at the first glance. However, many batteries fall short, and you might be surprised that the manufacturer won't honor the warranty leaving you stranded and at a loss.
To help you make the right decision and avoid the wrong picks, we've put together this list of the best snowmobile batteries – carefully selected based on durability, build technology, performance, brand reputation, and buyer reviews.
1. Energizer TX20HL
Specifications
Cold Cranking Amps: 310 CCA
Amperage: 18 AH
Voltage: 12 volts
Battery Cell Composition: Lead Acid
Dimensions: 7 x 6.25 x 4.13 inches
Weight: 13. 67 lbs. (6. 2 kg)
Our Review
The Energizer TX20HL is designed to keep you riding on the street, on the water, in the dirt, or in the snow which is just exactly what you want. This battery comes from one of the top brands and it is an option you can actually rely on.
The Energizer TX20HL comes fully charged which means you would have to perform the dangerous and stressful task of measuring acid and pouring it into the battery. In addition, you won't have to charge it yourself. Just mount it on your snowmobile and you're ready to cruise.
When it comes to installation, things get even easier. This battery is sealed so you won't have to worry about acid spills once installed. It can also be mounted in virtually any position giving you a lot of options depending on how much space you've got in your snowmobile. This feature is also thanks to the Absorbed Glass Matt (AGM) technology. It not only makes the battery tougher against shocks and vibrations but also protections it from the harsh elements of the weather.
With the AGM technology, you also got a high discharge rate and a fast charging time. You won't have to keep the battery plugged in for hours to get it full. Another plus is the low self-discharge rate. Batteries when kept in storage or when not in use will slowly self-discharge. In conventional batteries, this happens pretty fast. With AGM batteries, you can keep the battery stored for months without worrying about it dying completely.
Pros
Strong, reliable power for high-performance engines
Fits several brand and models of snowmobiles
Maintenance-free design
Comes fully charged
Cons
2. Mighty Max Battery YTX20L-BS
Specifications
Voltage: 12 Volt
Amperage: 18 AH
Chemistry: SLA, AGM
Terminal: Nut & Bolt
Weight: 11.79 Lbs
Warranty: 1 Year
Dimensions: 6.88 inches x 3.42 inches x 6.10 inches
Our Review
If you're on the market for an affordable option then you can look towards the Mighty Max Battery YTX20L-BS. These days, getting an affordable battery with all great futures like high-end durability and reliability is more a dream. However, with this battery, your dream just comes true.
The Mighty Max Battery YTX20L-BS features 270 Cold Cranking Amps which is just enough power to get your snowmobile running. You won't have to worry about the extreme cold getting to the battery as it is designed to work in the harshest temperatures.
This sealed lead acid battery features absorbed glass matt technology. This battery technology bears huge differences from wet acid-type batteries. Here, the acid is suspended or held, or absorbed in the fiberglass. This means you won't have to measure and pour acid to get it started. More benefits come with use.
When driving through snow-covered terrains, you will need all the power you can get. This battery delivers a high discharge rate in wide operating temperatures that ensure your engine gets going when it needs to.
One more plus is the long service life. Since you're going to be riding on the snow, you would need a battery that would last just long enough to give you the value for your money. With the Mighty Max Battery YTX20L-BS, you get an option that actually works. There is also the deep discharge recovery feature, a big plus thanks to the AGM build. This means you won't have to worry about deep discharges as the battery would most certainly recover and work just like new.
Pros
SLA / AGM spill proof battery
Mountable in virtually any position
Full 1-year warranty
Deep discharge recover
Cons
Weighs a bit too heavy for the power it delivers
3. Yuasa YUAM62RBH YTX20H-BS Battery
Specifications
Cold Cranking Amps: 310 CCA
Voltage: 12 Volts
Capacity: 18
Amps: 18 Ah
Weight: 15.1 lbs.
Our Review
The Yuasa YUAM62RBH YTX20H-BS is a high-performance battery with 310 CCA of cranking power that won't fail even in extreme conditions. This battery offers many promises just like other AGM types.
Starting off, the battery is totally sealed and spill-proof. This comes in handy if you're planning on going extreme with your snowmobile. The sealed design and tough exterior ensure that the battery stays in place and hold on against shocks and vibrations. So if you're planning on pulling off several stunts, you won't have to worry about acid spills that could damage your vehicle.
In this battery, the acid is absorbed in special plates featuring absorbed glass mat separators so you won't have to worry about most maintenance tips that other battery users follow. You won't have to go about the usual steps of adding water to keep the battery operating as usual.
The Yuasa YUAM62RBH YTX20H-BS features high-end technology to ensure its performance doesn't fail. It comes with advanced lead-calcium technology that holds its specific gravity more than 3x longer than standard battery types.
This battery is supplied dry and you will get an acid bottle along with your purchase. This means you would be doing some work to get the battery started.  You would have to measure and pour the acid into the battery and wait for it to get absorbed. When done, you would have to charge the battery before installing it in your snowmobile.
While there are other batteries that come fully charged and won't require any additional charging to use, the Yuasa YUAM62RBH YTX20H-BS is an option that can easily outmatch their offer.
Pros
Totally sealed and spill-proof
Holds gravity 3x longer than conventional batteries.
Advanced lead-calcium technology
Delivers optimal cranking power
Cons
Battery comes dry and would have to be filled with acid
4. FirePower HJTX20HQ-FP
Specifications
Volts: 12V
Cold Cranking Amps: 380 CCA
AMP Hour (AH):0
Weight: 3.30 lbs
Dimensions: 6.88 x 3.44 x 5.13 inches
Our Review
The FirePower HJTX20HQ-FP is a highly-advanced snowmobile battery that will cost you a bit more but comes with all the right features to compensate. First off, you get the built-in LED test gauge that gives off vital alerts so that you don't overuse the battery to the point of serious damage.
This battery also offers a durable build quality that can't be found in the many battery types. Unlike other options, the FirePower HJTX20HQ-FP is not an AGM battery rather it features Lithium Ion Polymer technology.
This not only gives it increased cranking amps over lead acid-type batteries but also makes it quite lighter. Actually, this pick is 50% to 70% lighter than standard battery types with the same ratings. It weighs only just 3.17 Pounds considering the cranking power it delivers.
This battery offers 380 cold-cranking amps which are just enough to get your snowmobile started. And even better, the featherweight ensures that the battery won't weigh down on your snowmobile so you can enjoy a fun ride.
This product weighs just 6.88 x 3.44 x 5.13 inches so it should fit easily in most snowmobile types.  Note that while this battery comes with a ton of perks, it lacks the deep discharge recovery and some small features you get with AGM batteries. Still, it is a more reliable pick that delivers high power and weighs considerably less.
Pros
Extremely lightweight at 3.17 Pounds
Built-in LED test gauge
Increased cranking amps
Lithium Ion Polymer technology
Cons
5. Chrome Pro YTX20H-BS
Specifications
Cold Cranking Amps: 310 CCA
Voltage 12 Volts
Battery Cell Composition: Sealed Lead Acid
Amperage: 18 Amps
Wattage: 216 watts
Terminal Type: Nut & Bolt
Weight: 13.22 Pounds
Dimensions: 6.89 x 3.43 x 6.1 inches
Our Review
If you place affordability above everything else, then the Chrome Pro YTX20H-BS is one pick that should interest you. The Chrome Pro YTX20H-BS comes with all the pros to handle even the roughest rides. It is a durable pick with a factory-sealed design and absorbed glass matt technology.
This battery can be mounted in just about any position thanks to the sealed design. Also, you can repeatedly charge and discharge the battery and still expect the same level of performance with years of use.
This product weighs 6.89 x 3.43 x 6.1 inches but since it can be mounted in just about any position, you won't have to worry about it not fitting into your snowmobile. It is not the lightest option on the market but it is not the heaviest either. It weighs just 13.22 pounds so you shouldn't have a problem moving it around.
Even though this battery costs twice as less as other options on the market, it comes with a higher cold cranking amps rating of 310 CCA. This gives you all the power even in extreme temperature conditions.
Unlike other battery types, the Chrome Pro YTX20H-BS comes fully charged and ready to use. All you have to do is place the battery on your snowmobile, connect the terminals and you can fire up your engine.
This battery comes with some extra assurance that proves its quality is top-notch. You get an 18-month warranty and a 60-day refund policy in case, the battery doesn't meet your requirements.
Pros
Come fully charged and ready to go
Constructed with absorbed glass mat (AGM) technology
18-month warranty
Non-spillable rechargeable battery
Cons
6. Chrome Battery YTX20L-BS
Specifications
Amperage: 18 Amps
Voltage: 12 Volts
Wattage: 216.00
Cold Cranking Amps: 270 CCA
Reserve Capacity: 30 minutes
Weight: 13.07 pounds
Dimensions: 6.89 x 3.43 x 6.1 inches
Our Review
From comes the Chrome YTX20L-BS, but this is not a Chrome Pro battery, however, that doesn't mean you won't get the same top-notch performance. The Chrome YTX20L-BS is just as great though it comes with a more affordable price and a lower CCA rating. This battery should deliver enough juice to get your snowmobile out and running as it comes with a Cold Cranking amp rating of 270 CCA.
This battery might be an affordable pick but it weighs just the same as most offers from Chrome that fit into snowmobiles. You've got a 13-pound battery to deal with but that shouldn't be a problem for any high-end snowmobile.
The Chrome YTX20L-BS measures 6.89 x 3.43 x 6.1 inches and it is designed to be a universal fit so it would fit in your snowmobile but if you've got a motorcycle, ATV, or jet ski, you can actually hook it up and get the same seamless performance.
You also get the usual 18-month warranty from Chrome and the 60-day refund policy which you're less likely to use since this is a high-end battery.
Pros
Versatile fit
Easy to install
Rechargeable, powersport battery
18-month manufacturer warranty
Cons
Battery cables might require modification to fit.
Related