Only a few things can be more disappointing than being unable to start your lawn mower when you're fully ready to do some lawn trimming. When that happens, the battery is the usual culprit.
But many times, it's not because your battery is dead. It's because the battery isn't just strong enough to get the engine to start. And that's why you shouldn't skimp on cold-cranking amps (CCA) when buying a battery for your lawnmower.
With a low CCA battery, you'd have a hard time starting your lawn mower's engine during the winter months. So, the only way to avoid this mess is to settle for a high-CCA lawn mower battery that can easily start your engine at any time of the year.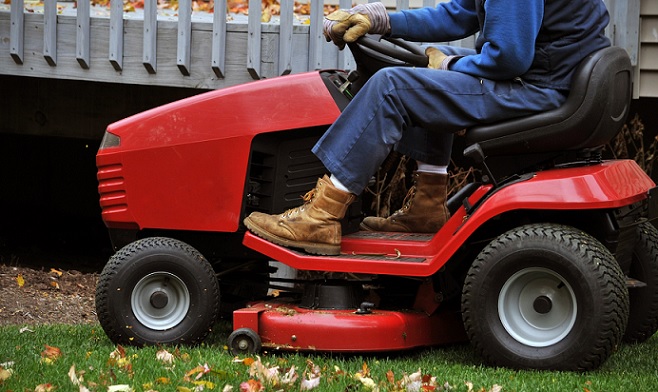 In this post, we'd be looking at some of the highest CCA lawn mower batteries on the market.
Highest CCA Lawn Mower Batteries: Our Top Picks
We understand how hard it is to hit local stores or visit multiple sites to check the CCA ratings of as many lawn mower batteries as possible — with the aim of settling for the highest-CCA option. So, we decided to take that burden off your shoulders.
Our research team has put together a list of the highest CCA lawn mower batteries that also offer good value for money. Here are our recommendations.
1. Mighty Max Battery U1 Battery ML-U1-CCAHR 12V 320CCA
ML-U1 is a 12V 320 Cold Cranking Amps (CCA) Sealed Lead Acid (SLA) Battery.
Dimensions: 7.75 inches x 5.11 inches x 6.25 inches. Polarity: Positive on Left, Negative on Right. Listing is for the Battery and Screws only. No wire harness or mounting accessories included.
SLA / AGM spill proof battery has a characteristic of high discharge rate, wide operating temperatures, long service life and deep discharge recover.
Rechargeable battery that can be mounted in any position, resists shocks and vibration. Long lasting high performance in high and low temperatures.
1 year warranty.
A premium quality battery, the ML-U1-CCAHR 12V 320CCA from Mighty Max is one of the most reliable and long-lasting batteries on the market.
First of all, this product has a strong construction and is quite rugged. The casing is strong and durable and will offer a superb performance against shocks and vibrations that your lawn mower might be subjected to. It can equally withstand different temperatures, which means no matter how hot or cold the weather is, the battery will work as it should.
With a measurement of 10.71 x 9.61 x 6.06 inches and weighing just 18.74 pounds, the ML-U1-CCAHR 12V 320CCA boasts a compact size but don't let it fool you; it can deliver a strong performance sufficient to power your lawn tractor, even during intense use.
The battery adopts an AGM design, which utilizes recombinant technology, where oxygen recombines through separators. Because of the design, the electrolytes are spread over the absorbent fiberglass, bringing about up to 20 times better resistance to vibration.
It is also a Sealed Lead Acid (SLA) battery, which means it has a valve that lets the gassers go that comes from overheating. Thus, you will have no worries regarding battery damage, overheating or ventilation.
Furthermore, this model can be mounted in any position as it is leak-proof and spill-proof. As with AGM/SLA batteries, the ML-U1-CCAHR 12V 320CCA has a characteristic of high discharge rate and deep discharge recovery rate, enabling it to recharge even after being depleted to a level at which many other batteries would be irrevocably drained.
As the name indicates, this battery boasts a Cold Cranking Amps (CCA) rating of 320 so you can be sure that you will get a strong burst of power whenever you need it. The battery also comes with a one-year warranty but you can expect it to serve you for a very long time.
Pros
Sturdy build
Uses SLA and AGM technology
Suitable for a wide range of operating temperature
High CCA
Cons
2. Mighty Max Battery YTX20L-BS
YTX20L-BSGEL is a 12V 18AH 270 Cold Cranking Amps (CCA) GEL (Maintenance Free) Battery
Dimensions: 6.88 inches x 3.42 inches x 6.10 inches. Polarity: Negative on left, Positive on right. Listing is for the Battery and Screws only. No wire harness or mounting accessories included.
Factory activated GEL battery. Maintenance free. No acid pack needed. Advanced design works right out of the box and requires no maintenance yet offers the option to prolong the standard life by adding extra electrolytes.
True deep cycle battery that can be mounted in any position, Resists shocks and vibration. Long lasting high performance in high and low temperatures.
Environment friendly, leaving no pollution to the environment while charging and discharging. Zero fumes or chemicals escape the battery casing. All chemical reactions are done within the battery itself.
Another maintenance-free battery that requires no addition of water during its lifespan, Mighty Max Battery YTX20L-BS is a model that is designed to fit most makes and models of lawn mowers. It is suitable for a wide range of other applications including motorcycles, personal watercraft, jet skis, and more.
Measuring 6.88 x 3.42 x 6.10 inches and weighing just 11.79 lbs.; the YTX20L-BS is the exact size of the OE battery it is intended to replace in that it has the same sides of polarity and also comes with all the hardware that is needed. It is entirely sealed and spill-proof for safety and longevity plus you won't have to deal with an excessively heavy battery weighing you down.
Because it combines AGM and GEL batteries technology, you can expect this battery to last for a long time without any issues. Also, the presence of the advanced lead-calcium technology indicates that this battery can hold its specific gravity for three times longer than conventional models. Consequently, you can mount it in any position because it can resist shock and vibrations, and no damage will occur during use. It is also designed to handle the harsh temperatures (hot and cold) so you can use it whenever you want.
Furthermore, the YTX20L-BS has a high discharge rate but there's no cause to worry as it always comes back to life because of its deep discharge recover feature. It is particularly designed for 12-volt equipment and it generates 18 amperes per hour with 270 cold cranking amps to boot.
Overall, the YTX20L-BS is a durable, reliable battery that provides a maintenance-free experience. It is backed by a 30-day refund policy and a full one year warranty.
Pros
Versatility of use
Operates in a wide range of temperatures
Long life
Lightweight
Cons
Terminals need regular scrubbing
3. Chrome Battery CB U1R-9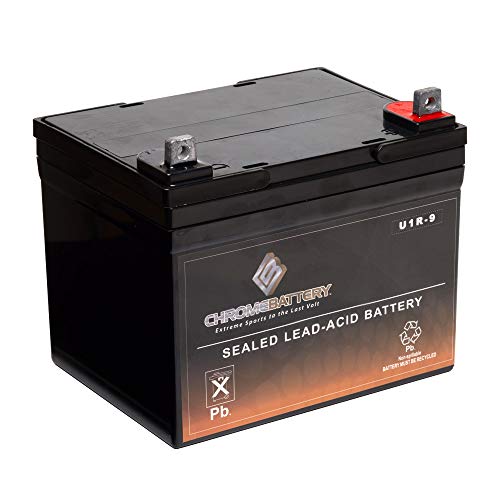 Chrome Battery is one of the few companies known for offering reliable rechargeable and replacement batteries at friendly prices and the CB U1R-9 is no exception. The Chrome Battery U1R-9 is versatile in that can fit into a variety of applications including lawn mower.
As expected of durable and high performing battery, the acid inside the CB U1R-9 is constructed with lead calcium alloy and Absorbed Glass Mat technology, allowing for a low-maintenance and spill-proof design. The AGM enables the batteries to have a tough and rugged exterior, which extends its durability. Because of the design, you can mount the battery in a variety of positions.
Besides, the battery features fiberglass mat separators along with high cell compression that not only help prolong its shelf but also helps to deliver optimal resistance to vibration. The patented sealed post minimizes the risk of corrosion, which further helps to extend the battery life.
Sized 7.68 x 5.12 x 6.46 inches, the CB U1R-9 weighs 23.5 lbs.; making it one of the heavier lawn mower replacement batteries around. Nonetheless, it has a 12-volt 35 Amp to deliver sufficient power when you need it.
Another attraction to the CB U1R-9 is that it comes fully charged, allowing you to resume work immediately after you receive shipment. Installation is super simple – just connect your battery to the application and you're ready to go. The polarity has a negative on the left and a positive on the right.
Another reason Chrome Battery is a favorite choice for many is that it comes with a 30-day refund window and a 1-year warranty. Overall, you can rely on the CB U1R-9 to provide excellent power and speed with long service life.
Pros
Heavy duty
Tough exterior
Value for money
Cons
Slow charging
Heavier than other models
4. Mighty Max Battery ML-U1 12V 200CCA
ML-U1 is a 12V 200 Cold Cranking Amps (CCA) Sealed Lead Acid (SLA) Battery
Dimensions: 7.75 inches x 5.11 inches x 6.25 inches. Polarity: Positive on Left, Negative on Right. Listing is for the Battery and Screws only. No wire harness or mounting accessories included.
SLA / AGM spill proof battery has a characteristic of high discharge rate, wide operating temperatures, long service life and deep discharge recover.
Rechargeable battery that can be mounted in any position, resists shocks and vibration. Long lasting high performance in high and low temperatures.
1 year warranty.
If you're familiar with batteries, you probably know that Mighty Max is a household name when it comes to manufacturing reliable battery cells. What makes it great is not just the AGM technology (which is very important) but the fact that its internal construction is made of premium-quality pure virgin lead.
Just in case you didn't know, pure virgin lead plates are made thinner to allow a greater allocation than usual into them, thus making them energy-dense for strong starting power in any type of weather. Not only that, but you can also expect a longer lifespan of powering your lawn tractor as well as improved deep cycling. It is rechargeable and requires no maintenance plus you don't need additional resources for installation.
If durability is your main priority when it comes to choosing a battery for your lawn mower, then the ML-U1 12V 200CCA is a great choice as it has a sturdy build and sealed form that makes it spill-proof. As a result, you can mount in different positions without worrying about spills and leaks while the tough housing will withstand the use, motions, vibration, bangs, impact, and more.
Perhaps, the most amazing feature of this battery is that it weighs only 12.89 pounds, which is surprisingly small considering its specs and amp-hour capacity. Overall, it measures 7.75 x 5.11 x 6.25 inches. In terms of its capabilities, the ML-U1 12V 2features a CCA rating of 200CCA, which is sufficient to power your tools while its slow discharge rate when not use makes it a more attractive option.
The only complaint that customers have had with this battery is that some units arrive dead, but this is not an issue to worry about as Mighty Max offers a replacement policy but this model comes with a 1-year warranty.
Pros
Can be mounted in any position
Features SLA/AGM design
Small-sized
Wide operating temperature range
Cons
Float service life could be improved
5. CB Chrome Battery YTX12-BS iGel Battery
BATTERY TYPE: YTX12-BS AGM battery with [+ -] terminal is a rechargeable, power sport battery. 5. 12x 5. 91x 3. 43 inches
Smart Technology: LED Digital display screen provides a display that reads the battery alternator voltage and warns you of a low voltage
Gel Electrolytes: iGel batteries are injected with Gel Electrolytes, creating a completely "maintenance-free" operation
EASY APPLICATION: Chrome Battery batteries come fully charged and ready to go once delivered, Simply connect your battery to the application and you are ready to go
Compatible with: Arctic Cat 300CC Altera 2017-2018, 300CC Alterra 2017-2020, 250CC DVX250, 2x4 2006, 300CC DVX300, Utility 2009-2016; BRP (CAN-AM) 250CC DS250 2006-2019, 250CC DS250 2006-2020; E-Ton 250CC Vector250 2013; Honda 125CC ATC125M 1986-1987, 250CC ATC250ES Big Red
Still searching for a high-performance battery at an unbelievable price? The Chrome Battery YTX12-BS is another excellent option to consider. This battery can be used to replace a wide range of lawnmower batteries.
With dimensions of 5.8 x 3.3 x 5.7 inches and a weight of 9.9 lbs., the CB YTX12-BS sports a compact size and comes with a LED digital display screen built into its body that reads the alternator gauge so you don't have to worry about knowing if and when the battery is suffering low voltage.
When it comes to type, this model is an AGM battery with a positive and negative terminal. Other than that, the acid is laced with absorbed glass mat to ensure that the acid inside does not spill or leak. It is fully charged and ready to install right out of the package, with an offering of 12v and 10ah of power. Being an iGel battery, the CB YTX12-BS is infused with Gel Electrolytes that help to guarantee a completely 'maintenance-free' and efficient operation.
This battery is known for its high performance, which is largely due to its heavy-duty terminals as well as the welding technology used to provide resistance against heat, shock, and vibration, which allows it to take on physical abuse without getting damaged. As a result, it has an improved life cycle performance so you can rely on it to always deliver regardless of weather conditions.
One of the complaints about this battery is that installation is a little complicated, which is because the battery posts are not threaded. So you may have to attach the cable extra carefully so that the square nut it uses sits still.
In addition, the CB YTX12-BS comes with a 30-day money-back guarantee as well as a generous 18 months warranty to assure that the product is of high quality.
Pros
18 months warranty
Very lightweight
LED screen for battery status
Can be recharged up to 2,000 times
Cons
Unthreaded battery posts
LED screen may cease to be efficient after some time
How long do lawnmower batteries last?
On average, lawn mower batteries last for up to 2-3 years but the way you store and take care of them also affects their longevity. With proper care and maintenance, the battery may last longer than three years.
Why does my lawn mower battery keep dying?
If your lawn mower battery keeps dying fast, the most probable cause is leaving the battery idle for too long, especially during dry seasons. Another reason could be corrosion as that means that the inside of the battery is leaking out. Sometimes, it could be that the sulfur molecules are emitted from the battery's electrolyte solution and latch to the battery's plates. Other culprits are bent interlock or damaged wiring.
Signs that you need a new lawn mower battery
Even with proper maintenance and charging, lawn mower batteries will eventually deplete and fail to hold further charges. They will hit the end of their lifespan and you need to know when they are giving those clues so you can invest in a new one in good time. Here are some signs to watch out for.
Slow starting
Generally, lawn mower batteries have enough power to start fast regardless of the weather conditions. If you notice that you have to try a couple of times before the battery starts, it may be a sign that the battery is losing reliability. You should have the battery tested so you can rule out all other causes of slow starting.
Quick charge loss
Another common sign that your lawn mower battery needs a replacement is when it fails to hold charge. This typically happens after a long period of usage, hinting that the internal components of the battery are beginning to wear out.
Corroded terminals
When a battery's terminal gets corroded, it loses some material and this affects the contact between the terminals and the connectors. Corroded terminals can be caused by either poor maintenance (not cleaning the terminals properly) or due to usage. When the terminals are eaten up, you will need a new battery.
Cracked case
Lawn mower batteries come in a durable housing that is capable of withstanding physical abuse. But if upon inspection, you find a crack on the battery, it means there's a good chance that there will be leakage of electrolyte in no time.
Wear and tear
Lastly, lawn mower batteries need a replacement when the materials used for their construction have thinned out and are looking old. Rather than wait for the battery to malfunction, it's a smart move to get a replacement to avoid headaches later.