While performance is one of the most important features of a motorcycle battery, the service life is also a big factor to consider. A motorcycle battery that runs just fine and dies within two months or a year of use is certainly not worth the investment.
When going for long-lasting motorcycle batteries. You would want to focus more on models rather than brands as some models perform better than others even from the same brand.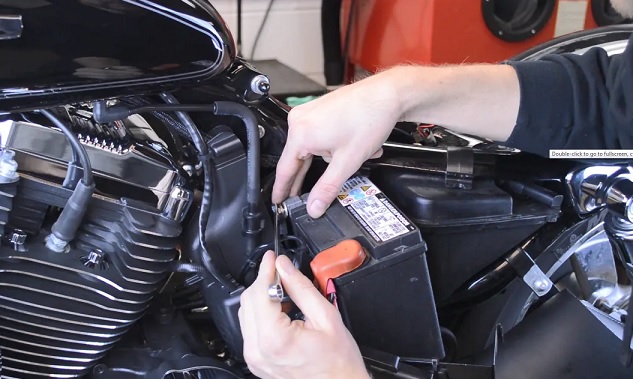 Longest Lasting Motorcycle Batteries: Our Top 5 Picks
The only problem here is that there are hundreds in the market and selecting the best would take a while. Luckily for you, we are experts in such as we've picked the best options for you.
In this article, you will find 5 longest-lasting motorcycle batteries that would give you all the power you need, won't weigh down as you ride, and would last you for a pretty long while.
1. Energizer TX20HL AGM Motorcycle Battery
Strong, reliable power for high-performance engines, precision charged and performance ready out of the box
Permanently sealed at the factory and maintenance free – no topping off necessary
Length: 6-7/8" (175 mm), Width: 3-7/16" (87 mm), Height: 6-1/8" (155 mm), Weight: 13. 67 lbs. (6. 2 kg)
Non-spill able design that features Absorbent Glass Mat (AGM) technology, enabling the battery to be repeatedly charged and discharged without affecting performance
Fits select models of Buell, Harley-Davidson, Honda, Polaris, Triumph and Yamaha motorcycles; Arctic Cat, BRP, Honda, Kymco and Yamaha ATVs; Arctic Cat, BRP, Polaris and Yamaha Snowmobiles; and more. Replaces: CTX20HL (FA), YTX20HL, M720BH , SC20HLFA, LTX20L-BS, EBX20L-BS, ETX20L, 20L-BS, PTX20L-BS, 740-1890, GTX20L-BS, ES20LBS, CTX20L-BS, M320BS, M4220BS, YTX20L-BS, 44027, TX20HL
Fit type: Vehicle Specific
The Energizer TX20HL AGM Motorcycle Battery is a non-spillable, sealed battery that would make a great pick for street sport motorcycles, off-road motorcycles, and utility vehicles. This battery is designed to deliver strong reliable power for power-hungry engines. It is rated 310 CCA and 18 AHR. This is a lot of power coming from a battery with an insanely affordable price tag.
While it is a sealed lead-acid battery, it is actually lightweight. It weighs just 13.67 lbs which should allow you to brake, accelerate, and handle your bike without ease.
The Energizer TX20HL AGM Motorcycle Battery comes with an AGM design. Among its many benefits, this feature enables the battery to be repeatedly charged and discharged without a fall in performance. This feature also ensures that the battery charges extremely fast.
It also features a low self-discharge rate. If you're not going to use this battery frequently, you won't have to worry about it being completely discharged while in storage and becoming damaged.
This battery comes fully charged and ready to install. This is a big plus considering traditional "dry-charge" batteries would require some form of charging to get them up and running as they are not designed to be " ready to ride" off the shelf.
Also, you won't have to worry about the installation process. You can mount this battery in just about any position thanks to the AGM design. It won't spill, leak, or corrode in any position you install it. Also, it is built to deliver top-notch vibration resistance so while you're driving to high speeds, the internal components remain intact.
Getting it on your motorcycle or ATV shouldn't be a problem. It measures 6-7/8″ (L), 3-7/16″ (W), 6-1/8″ (H) which should fit most motorcycle brands. Actually, the battery is designed to fit several models of leading motorcycle brands like Yamaha, Polaris, Honda, Buell, Harley-Davidson, and Triumph. Before buying, you should check if your battery box would accommodate its size.
Overall, the Energizer TX20HL is a great fit for the right motorcycle. It costs way less than your standard lithium battery and would deliver just the same or even more power.
Pros
Comes fully charged
Non-spill able design
Fits a wide range of motorcycle models
Provides reliable power for high-performance engines
Cons
Warranty terms are strict
2. Weize YTX12-BS Motorcycle Battery
YTX12-BS battery with [+ -] terminal is a rechargeable, power sport battery. YTX12 BS Battery Replacement For 12-BS ETX12 GTX12-BS CYTX12-BS CTX12-BS For ATV, Motorcycles, Personal Watercraft, Jet Ski's, Snowmobiles,UTV.
Battery dimensions: 5.91 in x 3.43 in x 5.12 in; Weight: 7.92 Lbs; Voltage: 12 volt; Amperage: 10 ah ; Chemistry: sealed lead acid(SLA), absorbed glass mat technology(AGM) ; Terminal: nut & bolt ;
ATV battery compatible with honda ATC125M,ATC250ES Big Red,ATC250SX,FL350R Odyssey,TRX250 Fourtrax,TRX250 Recon,Yamaha Grizzly 300 Automatic, LT-F250, Ozark,Polaris Phoenix, Sawtooth,Kymco MXU300SD Mongoose300,Kawasaki KVF300 Brute Force,Arctic Cat Altera DVX250, 2x4 DVX300, Utility,BRP (CAN-AM) DS250,E-Ton Vector250,
Motorcycle battery compatible with aprilia Pegaso Strada, Factory, Trail RST Futura RSV Shiver,Bimota SB6R SB8R, SB8RS,Honda CB1000 CBR1100XX PC800 Pacific Coast VFR750F Kawasaki ER6n,KLE650 Versys,Ninja 650R,Suzuki DL650 V-Strom ABS, Adventure,DR650S ER, ES,GSF1200,GSX-R1000,Triumph, Yamaha TDM850, TRX850,YZF600R,YZF750R
scooter battery compatible with Aprilia Scarabeo Sport City,Honda CH250 Elite,Kymco People 250,Xciting 250i 400i,Piaggio BV350 ABS,Piaggio-Gilera,SYM RV250,UTV battery for Polaris RZR, 12 Months Warranty, 30 days Return.FREE Two-Day shipping. We aim for quality followed up with quality customer service, Amazon doesn't deal with the return of battery-related products, so please contact the seller directly. Weize support team is on standby for YOU.
The Weize YTX12-BS Motorcycle Battery is an even lighter pick weighing just 7.92 pounds. It is also smaller measuring 5.91 in x 3.43 in x 5.12 in. Though smaller and lighter than most, it would deliver just the right burst of power to get your motorcycle engine started.
The Weize YTX12-BS is a sealed lead-acid battery sporting an AGM build. The sealed construction keeps the electrolyte suspended which prevents spills or leaks. In other words, you can mount this battery in any position without it leaking. You can also forget about maintenance. The AGM design ensures that it is maintenance-free so you won't have to check the water levels or add water. In addition, this battery would work well within a wide temperature range. This makes it great for riding in hot or cold areas.
This 12V battery comes with nut and bolt terminals and a 10Ah rating. It also features a 12 month-warranty that allows you to replace the battery with a new one if your warranty claim pulls through. Even better is a 30-day return policy that gives you some assurance of its quality. Finally, there is free two-day shipping when purchased online.
This battery makes for a great replacement for many motorcycle brands and types. It would fit in several models of Honda, Kawasaki, Pacific Coast, Suzuki, Yamaha, Triumph, and Factory motorcycle models.
It can function as an ATV battery providing just the right power for brands like Ozark, Polaris, Sawtooth, Kymco, Mongoose, and Yahama. You should check up not only the models it was designed for but also check the dimensions of your battery box to know if it is the right battery for you. Obviously, this should be done before purchase.
Pros
Motorcycle, scooter, and ATV battery compatible
12 months warranty
Maintenance-free
Longer service life compared to flooded batteries
Cons
Could be wider than the factory battery in some motorcycle models
3. Battery Tender Engine Start Battery
HIGH PERFORMANCE: Reliably start your vehicle and turn on the lights, radio and other motorcycle electronics in all temperatures and climates with our high powered LiFePO4 engine start 12v battery
GET SMART: A built in protection circuit board prevents overcharging, discharging and overdrain; when overcharge or over discharge is detected, the BMS shuts off the battery to avert permanent damage
SAFETY FIRST: Engineered to be safer, our battery is equipped with a protection circuit board, water resistant casing, and fire retardant coating that supports high current flow for thermal protection
LIGHTWEIGHT, INCREASED EFFICIENCY: Environmentally friendly and weighing just 1.76 lbs, our economically sized battery increases fuel efficiency and provides a higher capacity while lasting longer
SPECS: Our 12v lithium battery measures 4.49 x 2.80 x 3.27" with a 2.5 aH battery capacity, 150 CCA and 32 watt hours, and includes an activation switch on the Quick Disconnect Cable to activate charging
No list of the Longest Lasting Motorcycle Batteries would ever be complete without mentioning Lithium batteries. These battery-types compete with AGM batteries for supremacy and as things may seem, they are not far from clinching the top spot. One big bonus of Lithium-type batteries is their lightweight.
Although the Battery Tender Engine Start Battery offers top performance, it weighs almost 5x as less as other battery-types with the same performance ratings. It weighs just 2.2 pounds making it so easy to lift, install, and use. You won't have trouble handling your bike or braking with this battery installed.
The Battery Tender Engine Start Battery is not only light but it is also small. It measures just 5.94 x 3.43 x 3.66 inches so it might not fit tightly in your battery box. This is why it comes with quad terminals to help you position the battery easily in any motorcycle.
Another big plus of purchasing this battery is the smart battery management system. This battery is fitted with a built-in circuit board that will shut off the battery whenever it detects overcharging or discharging. This feature comes in handy as both scenarios could lead to permanent damage that would require you to replace your battery.
The Battery Tender Engine Start Battery is one lithium battery you can trust to deliver high performance while in use. This 12V battery features 4.5 AH and 270 Cold Cranking Amps which should provide higher capacity and increased fuel efficiency. While this battery is incredibly light, it is built to be sturdy and safe. It is equipped with a water-resistant casing and fire-retardant coating that ensure no damage comes to the battery, you, and your bike while it is in use.
While lithium batteries are amazing, they are not perfect in all aspects. The Battery Tender Engine Start Battery offers some nice features, but it does cost a lot more than an AGM battery with the same specs. This is almost twice the cost of a standard AGM battery or flooded battery. Fortunately, the extra cost is worth your money.
This product is not only designed for use in motorcycles but would also power your scooter and ATV. It would still deliver enough power to get the engine started in any small vehicle applications.
Pros
High starting performance
Water-resistant casing
Built-in protection circuit board
Lightweight lithium-ion battery
Cons
The warranty claims process is hectic
4. Mighty Max Battery Y50-N18L-A3 AGM Motorcycle Battery
Y50-N18L-A3 is a 12V 21AH 350 Cold Cranking Amps (CCA) Sealed Lead Acid (SLA) Battery
Dimensions: 8.07 inches x 3.42 inches x 6.37 inches. Polarity: Negative on left, Positive on right. Listing is for the Battery and Screws only. No wire harness or mounting accessories included.
SLA / AGM spill proof battery has a characteristic of high discharge rate, wide operating temperatures, long service life and deep discharge recover.
Rechargeable battery that can be mounted in any position, resists shocks and vibration. Long lasting high performance in high and low temperatures.
Backed by a 30 day refund policy and full 1 year warranty.
If you're in the market for an extremely affordable AGM-type battery for your motorcycle, then the Mighty Max Battery Y50-N18L-A3 AGM Motorcycle Battery is an option you can never go wrong with. Seriously, this battery costs twice as less as Lithium types and is even more affordable than some AGM batteries with the same power ratings.
If you're wondering, how durable and reliable it is, then you should check the brand. This battery comes from Mighty Max, one of the leading battery brands in the world. Their batteries offer exceptional quality and are built with the finest of materials.
The Y50-N18L-A3 is no different. This AGM battery is built to contain the electrolyte suspended between fiberglass mats which not only boosts the battery's lifespan and power delivery but also ensures you and your motorcycle won't be at risk of leaks and spills. This battery is completely sealed making it 100% safe and it would help save time on maintenance.
It is rated 12 Volts and will deliver just the right burst of power to get your engine started. This product offers 350 CCA and 21Ah both great for not just motorcycle applications but also light vehicles including other uses like in scooters and ATVs. It will deliver a high discharge rate but would also recover from deep discharge, a classic feature of AGM batteries.
The Y50-N18L-A3 can be mounted in just about any position you see fit. The extra sturdy design would resist vibrations and shocks that would otherwise lead to internal damage or a drop in power delivery. You also get wide operating temperature ranges so you can get your bike running even in the freezing cold winter.
When it comes to polarity, you will find the negative on the left and the positive on the right. This is important if you're installing in on the sides or any other way. The AGM build actually allows you to mount it in any position you want except upside down.
The Y50-N18L-A3 measures 8.07 in x 3.42 in x 6.37 in, however, it weighs an outrageous 15.54 pounds. This is not a good sight for a motorcycle battery but considering the power it delivers, this shouldn't be a problem for most users. You get all the power you need so you won't notice that the weight of the battery. Mighty Max offers a 1-year warranty which it keeps to, that's if, your warranty claim is valid.
Pros
Delivers optimal power for your motorcycle
Quality AGM construction for top-notch durability
Can be installed in almost any position
Deep discharge recover
Cons
Though affordable, it could be cheaper
5. Chrome Pro YTX7L-BS Higher-Performance Motorcycle Battery
BATTERY TYPE: YTX7L-BS AGM battery with - + terminal is a rechargeable, power sport battery. H: 5. 12 in L: 4. 45 in W: 2. 76 in
SMART TECHNOLOGY: LED Digital display screen provides a display that reads the battery alternator voltage and warns you of a low voltage
GEL ELECTROLYTES: Igel batteries are injected with Gel Electrolytes, creating a completely "maintenance-free" operation
EASY APPLICATION: Chrome Pro Battery batteries come fully charged and ready to go once delivered. Simply connect your battery to the application and you are ready to go
Compatible with: Kawasaki 450CC KFX450R 2008-2014, 250CC EX250 Ninja 1995-2007, 250CC KL250 Super Sherpa 2000-2010, 140CC KLX140, G, L 2008-2019, 140CC KLX140, G, L 2008-2020, 250CC KLX250, S, SF, Camo 2006-2020, 250CC KLX250S, SF 2006-2014, 175CC W175 SE 2019 Aprilia 150CC
If you're looking for an incredibly small battery for a small motorcycle or small power needs, then the Chrome Pro YTX7L-BS would fit rather well. This battery is incredibly affordable with an 85 CCA rating and 6AH that should give you all the power you need in a small bike.
This is a lead-acid battery, however, it doesn't come with the AGM design. Rather this is a Gel battery part of the Chrome Pro iGel series. It is actu8ally maintenance-free and comes fully charged and ready to install.
This battery throws in a digital display that tells you the voltage of the battery and alternator. Included is a built-in alarm that alerts you of low capacity/voltage and other abnormalities. These smart features help to prolong the life of the battery ensuring you don't overuse it to a point beyond repair.
The exterior features tough bridge welding engineering to absorb vibration which could be a problem while riding. The battery measures 4.45 (L) x 2.76 (W) x 5.12 (H) and weighs just 6.0 lbs. This is extremely lightweight for a 6-cell battery, but it makes for a great pick for a small bike. You won't want a bulky battery weighing you down and sucking up your gas.
You will find the 18-month warranty quite assuring. Also, there is a 60-day refund policy that would get you back your money if things didn't go as planned. However, you won't have to concern yourself too much about this one as this maintenance-free battery is designed to serve. It can be recharged up to 2,000 times and is certified safe to use in any situation.
Pros
Very affordable
Strong resistance to shock, vibration, and heat
Rechargeable up to 2,000 times
Comes fully charged
Cons
Installation could be tedious