1000 CCA batteries have high starting power than other batteries on the market. This explains why they're widely used in marine engines and heavy-duty vehicles such as trucks.
In this post, we'd be reviewing some of the best batteries with 1000 CCA or higher cold-cranking amps ratings.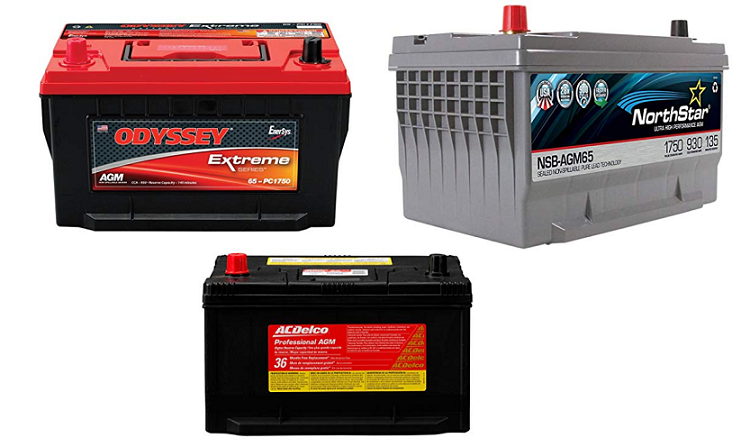 Best 1000 CCA Batteries: Our Top Recommendations
While the market abounds with batteries with 1000 CCA or higher figures, choosing the right option from the pack can be confusing if you don't know what to look out for.
To help you make the right buying decision, we hit the market to figure out and compare batteries that would work perfectly for engines requiring 1000 CCA starting power. After cutting out the low performers in terms of durability, performance, lifespan, brand trust, and buyer reviews, we were left with the top 3 contenders reviewed in detail below.
Note that two of our top picks have 1150 CCA. That's a slight increase that shouldn't bother you. They would work perfectly – possibly better than 1000 CCA batteries, depending on the type of engine you're using them for and the climate in your location.
1. XS Power D3400 Battery
12 Volt battery with CA: 1000, Ah: 65
Absorbed Glass Mat (electrolyte is suspended in fiberglass)
Spill proof, sealed, valve regulated and vibration resistant
Ultra low internal resistance
Mount in almost any position
Claiming the first spot on the list is the XS Power D3400, a heavy-duty battery that's rated one of the best in the dual-purpose category. It is suitable for different applications including trucks, boats, forklifts, etc.
Key specifications
Weight: 58.3 pounds lbs.
Dimensions: 14 x 10 x 9.5 inches
Voltage: 12 volts
CCA: 1,000 A
Reserve capacity: 220 minutes
Warranty: 3 years
The battery provides an astounding 1000 high-performance cranking amps, sufficient to start any vehicle no matter how cold it is. It has a discharge rate of 75 amps-hours while its reserve capacity is just 60 minutes, which is lower than what many other marine batteries offer.
Design-wise, the XS Power D3400 features Absorbed Glass Mat [AGM] technology with a sealed lid battery. They combine to make the unit resistant to shocks and vibrations that are inevitable during marine use. Another benefit is that the battery is spill-proof and leak-proof, enabling you to install it in any position of your choice.
Due to its 100 percent sealed reinforced ABS plastic cover; this battery can resist extreme weather conditions. This means you can use the XS Power D3400 in any conditions you that can possibly imagine.
Another attraction to this battery is that it is considerably lighter than most dual-purpose marine batteries out there. In all, the XS Power D3400 is a high-performance battery that you can rely on at any time.
Pros
Lightweight
Long battery life
Recharges fast
Easy to install
Leak-proof and spill-proof
Cons
Pricey
Doesn't come with battery posts
2. Odyssey 31-PC2150S Battery
Cold Crank Amp (CCA)- 1150; Better warranty: Limited 3 and 4 year full replacement warranty – not pro rata; Longer service life: With 3-10 years of service life, ODYSSEY batteries save time, money, and aggravation
Longer cycle life: 70 percentage longer cycle life compared to conventional deep cycle batteries, up to 400 cycles at 80 percentage depth of discharge- high stable voltage for longer periods of time
Faster recharge: The highest recharge efficiency of any sealed lead battery on the market, capable of 100 percentage recharge in 4 - 6 hours; Mounting flexibility: Non-spillable design
Vibration resistance- design protects against high impact shock and mechanical vibration; Extreme temperature tolerant- Operating temperatures from -40 degree Celsius (-40 degree Fahrenheit) to 45 degree Celsius (113 degree Fahrenheit).
This item is not for sale in Catalina Island
The Odyssey 31-PC2150S is another fantastic battery that guarantees value for money. It features some incredible specs that beat other Group 31 deep cycle batteries, delivering massive starting power, rapid recovery and extreme durability out of the box
Key specifications
Weight: 77.8 lbs.
Dimensions: 13 x 6.8 x 9.41 inches
Voltage: 12 volts
CCA: 1,150 A
Reserve capacity: 205 minutes
Warranty: 3-4 years
Specially made for the marine industry but also suitable for trucks and vehicles with a range of power-hungry electronics, the 31-PC2150S will deliver sufficient power to start your engine and provide enough juice to get you going.
One of the major attractions to this battery is that it has 2 times the overall power and 3 times the lifespan of traditional marine batteries. To be specific, it offers a massive CCA of 1150amps and you can achieve up to 400 cycles at a depth of discharge of 80 percent.
Furthermore, the battery has high recharge efficiency as it able to charge from zero to max within 4-6 hours. It also generates a highly stable voltage for a longer period of time, enhancing the engine's performance.
As far as design goes, the 31-PC2150S is an AGM battery, which means that you don't have to top it up with distilled water or worry about spilled acid like you would with conventional batteries. Thus, you can mount it in any position or angle. Its construction consists of pure virgin lead plates for maximum surface area and optimized recycling.
That's not all; this batter can tolerate extreme conditions such as operating in temperatures from minus 40 to 80 degrees Celsius. Very few marine batteries can offer such a level of performance.
With a service life of up to 10 years, the Odyssey 31-PC2150S justifies its price tag and you can be sure that this battery will serve you for a very long time. The 4-year warranty is also a huge attraction as it sends a message that this battery is top-quality.
Overall, the 31-PC2150S is extremely powerful and stable at the same. If you're pressed to make a choice, the Odyssey is a great option as it arguably the best of all marine batteries on the market.
Pros
Easy installation
Durable construction
Impressively slow discharge rate
Long service life
Extreme temperature tolerance
Cons
3. NorthStar NSB-AGM31 AGM Group 31 Battery
Pure lead AGM technology delivers exceptional CCA ratings and reserve capacity cycling ability
Quick starting every time and Cycles over 900 times to 50% depth of discharge
Faster recharge than conventional batteries; Proudly made in the USA at our state-of-the-art battery plant.
Advanced AGM construction means no water levels to check or terminals to clean
Approved as non-hazardous cargo for ground sea and air transport DOT 49CFR173.159(d), (i) and (ii)
Next on the list is a battery made by NorthStar, a brand trusted globally for its top-quality and power-performance batteries. The NSB-AGM31 is built to exceed your needs and provide years of worry-free operation while equally delivering superior performance and unrivaled cycling life.
Key specifications
Weight: 76 lbs.
Dimensions: 12.91 x 9.25 x 6.77 inches
Voltage: 12 volts
CCA: 1,150 A
Reserve capacity: 220 minutes
Warranty: 3 years
If your battery powers up everything just tine but it discharges too fast and this makes the battery voltage to dwindle quickly, the NSB-AGM31 might just the battery you need to avoid such voltage drops. It is engineered to have more than 900 battery cycles with a 50 percent discharge depth that allows it to run for longer operations. It also boasts a faster recharge rate than most contenders in its category.
As the name indicates, the NSB-AGM31 features advanced Absorbed Glass Mat construction, eliminating the need for you to frequently check its water levels and clean its terminals. It adopts the thin plate technology, which enables it to produce high amp-hour capacity, reserve capacity, and cranking power while its casing will ensure durability, performance, and heat resistance.
From the dimensions, it is obvious that this battery is larger and heavier than regular batteries but this shouldn't come as a surprise because of the power output it provides. And you can mount it in any position for maximum versatility, thanks to its design. In effect, that means there won't be any spillages or leakages.
With regards to its capacity, the NSB-AGM31 features 2,150 pulse cranking amps for the first 5 seconds of operation after which it will drop to a consistent CCA rating. With this performance, you are sure to get power anywhere you need it so you can enjoy your activity for hours without worry.
Additionally, this battery is resistant to vibrations and shock. It can also withstand extreme weather conditions and is quite durable when stored for long periods.
The company claims that the typical service life of this battery is between 5 and 12 years, and to substantiate that, they are standing behind their product with a 3-year warranty, which is long enough to justify the cost. Overall, if you're looking for a reliable Group 31 battery, you can't go wrong with NorthStar's NSB-AGM31.
Pros
It comes charged
Has exceptional reserve capacity
Excellent structural integrity
Charges fast
Slow discharge
Requires no maintenance
Cons
What to look out for when buying a 1000 CCA battery
With a plethora of battery options on the market, choosing the one that's right for you can be overwhelming. If you're having a hard time figuring what to look out for when shopping for a 1000 CCA battery, here are some factors to keep in mind;
Voltage: The voltage of the battery should be the first feature to consider as standard marine batteries make use of 12 volts for their operations.
CCA: The size of your engine dictates the type of battery you need to get it started. You want to avoid the mistake of getting a battery that has a lower CCA rating, as that means you will struggle to turn it on many times.
MCA: Fully known as Marine Cranking Amps, MCA is the same as CCA but measured in a different way. CCA is measured at 0 degrees while MCA is measured at 32 degrees Fahrenheit. The higher the rating, the more power the battery can deliver over time.
AGM only: Most dual-purpose batteries adopt a sealed AGM style so as to prevent spills, leaks and allow for versatility during installation.
Reviews: You can tell how good a marine battery is by the reviews from customers. Reviews typically highlight the drawback of a battery and the upsides that they enjoy.
Warranty: A decent dual-purpose marine battery should have a minimum of 3 years warranty to show that it is well-made.