Choosing the right marine battery is not as easy as it sounds. While you will find many brands and models flaunting high-end specs, there are several factors that would have to be taken into account before making your pick.
Marine batteries are engineered to be tough and operate in extreme conditions that other batteries would fail in — due to vibrations, shocks, and other forms of mechanical stress.
1000 MCA marine batteries are designed for the engines of large boats and yachts, and they deliver enough power that will not only get the engine started but also power other battery-dependent features on the boat.
Such batteries do not come at a cheap price especially if you're going for a top-quality option that will last you through years of use without any noticeable decline in performance. However, that doesn't mean you would have to spend a fortune to get a high-quality pick.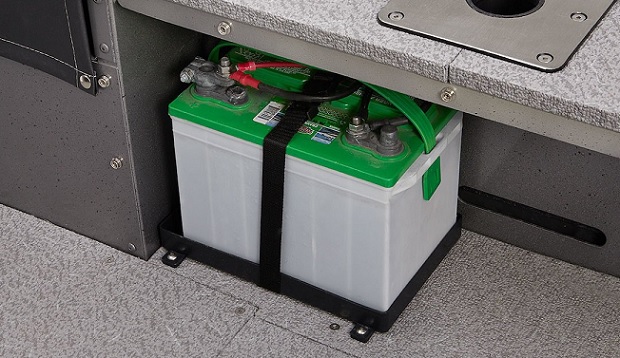 Best 1000 MCA Marine Batteries: Our Expert Recommendations
When it comes to buying 1000 MCA batteries, you won't find too many of them on the market. But then, making the right choice from the handful of options available can be quite challenging.
After comparing several options based on durability and performance, brand trust, and buyer reviews, we have put together this review of the 3 Best 1000 MCA marine batteries you can find on the market at the moment.
1. Optima 8006-006 34M BlueTop Marine Battery
12-Volt, 800 Cold Cranking Amps, Size: 10" x 6 7/8" x 7 13/16" tall, Weight: 38.4 pounds, Dual SAE & 5/16" Stainless Steel Stud Posts
Reserve capacity of 100 minutes for constant performance
Optimal starting power even in bad weather
Fifteen times more resistant to vibration for durability
This item is not for sale in Catalina Island
Works well as a boat battery or RV battery
Specifications
Group Size: BCI: 34
C20 Capacity: 50.00 Ah
Cold Cranking Amps: 800 CCA
Width: 6.88
Length: 10.06
Height: 7.94
Reserve Capacity: 100 minutes
Voltage: 10
Weight: 38.40 Pounds
Our Review
The OPTIMA BlueTop battery is built for high-quality performance that will keep your vehicle running for longer than normal-type batteries. As you've guessed correctly, this battery comes from Optima's line of marine batteries designed for use not only in boats but also in RVs. This battery comes with AGM technology that not only assures excellent performance but also outstanding vibration resistance.
Optima has always stood out in the industry due to its SpiralCell design which it claims beats flat-surface battery types. Considering the reputation of Optima batteries, the brand is not far from the truth.
Spiracell technology consists of spiral-wound cells comprise of two pure lead plate. These plates are coated in lead oxide with one being positive and the other negative.
The benefit here is that you get more power from this battery type and also, there is the issue with leaks. This battery is fully AGM. That means Absorbed Glass Matt, a type of battery technology that has the electrolyte rather than using a liquid electrolyte.
This means you won't have to worry about spills which become a problem when using the battery for a while. Another big plus is its ability to handle low temperatures without freezing which would normally be a problem for acid-type batteries.
Alongside that, you get a battery that will charge incredibly fast and will self discharge slowly. If you're planning on using this battery every once in a while, you won't have to worry about it running dry in storage.
This dual-purpose BlueTop can function as a starting battery for marine applications and RV, and also for cycling duty. It is a top-notch deep cycle battery with extremely high cranking power.
Pros
Optimal starting power even in bad weather
Fifteen times more vibration resistant
Maintenance-free
Spill-proof design
Cons
Warranty is tedious to follow up.
2. Odyssey 31M-PC2150ST-M Marine Dual Purpose Battery
Cold Crank Amp (CCA)- 1150 Better warranty: Limited 3 and 4 year full replacement warranty: not pro rata; Longer service life: 3-10 years of service life: save consumers time, money and aggravation
Longer cycle life: 70 percentage longer cycle life compared to conventional deep cycle batteries, up to 400 cycles at 80 percentage depth of discharge- high stable voltage for longer periods of time
Recharge: Highest recharge efficiency of any sealed lead battery on the market, capable of 100 percentage recharge in 4-6 hours; Mounting flexibility: Non-spillable design
Vibration resistance-design protects against high impact shock and mechanical vibration; Extreme temperature tolerant operating temperatures from -40 degree Celsius (-40 degree Fahrenheit) to 80 degree Celsius (176 degree Fahrenheit)
This item is not for sale in Catalina Island
Specifications
Cold Cranking Amps: 1150 CCA
Reserve Minutes: 205 min
Voltage; 12 Volts
Weight; 77.8 Pounds
Terminal: SAE Terminal
Dimensions: 16.8 x 11.1 x 11.9 inches
Our Review
The Odyssey 31M-PC2150ST-M Battery is one of the best options to go for if you're shopping for batteries that will deliver massive starting power and impressive deep cycling capability. This battery is designed to last up to 400 cycles at 80% depth of discharge which is more than you can say for conventional battery types.
This actually counts as three times the life of your standard marine battery including twice the overall power. This makes this Odyssey battery one of the best picks for trolling, starting, and powering numerous on-board electronic accessories on your boat.
This battery's dual-purpose build makes it perfect for boat owners who need a product that delivers massive starting power when needed, yet also withstands deep and frequent depth of charge without any noticeable power loss.
This battery comes fitted with pure virgin lead plates and an AGM design that ensures you won't have to worry about acid spills while providing high conductivity. The construction also features corrosion-resistant tin-plates terminals and a sealed design that keeps the gases recycled internally.
There is also a self-regulating relief valve and a tough flame retardant cell container but the biggest feature here would be the robust internal cell connections designed to prevent vibration damage.
Odyssey goes one step further to hype this offer as the better option compared to spiral-wound batteries of equal size. The benefit actually comes from the difference in design. Unlike spiral-wound batteries, the Odyssey 31M-PC2150ST-M Battery will pack 15 percent more plate surface area into the case.
This makes use of the dead space between cylinders that you will find in spiral-wound batteries. For you, this means you get more power and up to 40 percent more reserve capacity than in spiral-wound batteries.
Pros
Mountable in virtually any position
Amazing deep cycling capacity
Corrosion-resistant tin-plated brass terminals
Constructed of pure virgin lead plates
Cons
3. Banshee D27M 8027-127 Marine Battery
Replaces Optima D27M 8027-127 Marine Battery
Voltage: 12 | Amp Hours: 77 | Cold Cranking Amps: 800 | Group Size: BCI: 27
Enhanced Flooded Battery Technology
Flip-Up Carrying Handle, Dual Post Terminals, Hydrometer Battery Life Indicator
2 Year Warranty
Specifications
Group Size: BCI: 27
Voltage: 12
Amp Hours: 77
Cold Cranking Amps (CCA): 800
Dimensions: 2 x 6.8 x 8.9 inches
Our Review
This Group 27M deep-cycle marine battery from Banshee features dual terminals and like all Banshee batteries, it is designed with the best quality materials to ensure top-notch performance.
The Banshee D27M 8027-127 Marine Battery is designed to withstand rigorous deep charges and long slow recharge while providing long-lasting performance. This battery uses Enhanced Flooded Battery Technology (EFB) which might not come close to AGM technology but it is still one of the most reliable battery types after AGM batteries.
EFB technology allows the battery to handle 400 charge-discharge cycles to 80% depth of discharge. Also, this technology provides improved charge acceptance and greater cyclic durability even when operating in a reduced state of charge or Stop/Start applications.
It comes equipped with a built-in Hydrometer that easily tells the current state of your battery life so you know just when to get it recharged and how long you would get to use it.
One big plus of this battery comes from the design. The flat surface is a big upgrade to spiral-wound batteries which it can replace. With this battery, you get more battery plates which means more plate surface area. This also means that the battery would deliver more power than standard battery types.
This battery also comes with a few extras that might come in handy. Aside from the stud terminal and threaded terminal configurations, you get a flip-up handle that makes the battery easier to move around. It also comes with a 2-year warranty so if you ever get any hiccups during use, you can always contact Banshee to get it fixed.
Pros
Enhanced Flooded Battery Technology
Flip-Up carrying handle
Hydrometer battery life indicator
2-year warranty
Cons