One of the most important parts of your golf cart is its battery. Despite its usually small size, your golf cart's battery significantly affects its performance and maintenance — since the golf cart usually requires reliable power over an extended period of time.
So, it's important that your cart's battery when necessary. In this post, we'd be looking at some of the best 12V batteries for golf carts. If you're looking for recommendations on 6V batteries for golf carts, check this review, instead.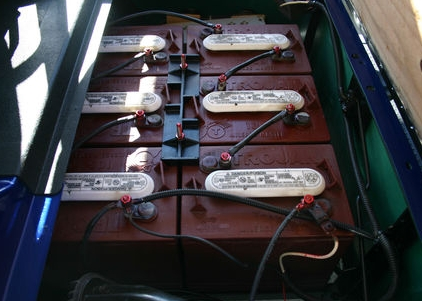 Best 12V Golf Cart Batteries: Our Top 5 Picks
No matter how long your golf cart batteries last, they will finally need replacing at some point. If you're at that point already, we've got you covered. We understand that choosing the right 12V golf cart batteries isn't so easy, considering the tons of options available on the market.
To help you out, we decided to scour the market and compare several 12V sealed lead-acid batteries made for golf carts — in a bid to decide the best options for you. And here are our top 5 picks.
1. Interstate Batteries DCM0035
Featuring Sealed Lead Acid (SLA) and Absorbed Glass Matt (AGM) technology, the DCM0035 makes for one of the best choices when going for golf cart batteries. Its AGM and valve regulated technology eliminate spill, overpressure, and ensure that the battery delivers high performance at all times.
These features make maintenance very easy because you would be less worried about battery damage in storage, especially if you won't be using the battery very frequently. In fact, Interstate Batteries claims this battery is maintenance-free and spill-proof; considering it is a sealed lead-acid battery, you can count on the claim.
The DCM0035 battery is quite affordable. It comes with a power capacity of 12 volts 35 amp hours (35Ah). The battery measures 7.68 L x 5.16 W x 6.42 H inches and weighs 22.90 lbs. Its light weight is a significant advantage especially if you are planning on buying more than one for your golf cart.
The battery is also compact, user-friendly, and compatible with other machinery. If you're not going to use it in your golf cart very often, you could use it in various other applications like wheelchairs, electric scooters, marine/trolling motors, elevators, RVs, medical equipment, and solar/wind energy storage.
The DCM0035 battery works best in applications where it will be continuously discharged and recharged. When used in such applications, you will enjoy a long life for deep discharge usage.
Pros
Relatively lightweight
Compact and easy to handle
Rugged and spill-proof
The battery is maintenance-free
Shock and vibration resistant
Cons
Not as affordable as other models within its category
2. Mighty Max ML35-12 Battery
Mighty Max is one of the industry giants known for top-quality batteries that offer high performance and can be used in many other applications apart from golf cart batteries. One of the company's high-quality models is the ML35-12.
The ML35-12 is a Sealed Lead Acid (SLA) rechargeable battery and 100% maintenance-free. It is fitted with glass plates that keep the electrolyte solution contained. The entire battery is also completely sealed. This ensures that the battery is 100% safe, non-spillable, and maintenance-free. This also allows you to install the battery in several positions – right side up, on its side, or on its back (but never upside down).
The battery also features AGM technology which allows it to function properly in a wide range of temperatures, including low and high temperatures. It comes with a high discharge rate and a low self-discharge rate. This means the battery is less likely to get damaged while in storage. Also, you won't have to worry about recharging it right after use or charging it while it storage. All these impressive features make for deep discharge recovery and long service life.
In addition to all these, the battery features a rugged, sturdy build. This not only ensures that the battery lasts for years without wear or tear, but it also means that it would resist shocks and vibrations. The ML35-12 measures 7.68 x 5.16 inches x 7.13 inches and can be used in various applications besides golf carts. It comes with a capacity rating of 12 volts and 35Ah. This makes it compatible with other machinery including tractors, mowers, power chairs, and utility vehicles.
Pros
High discharge rate
Non-spill design
Wide operating temperatures
Long service life
Deep discharge recovery
The battery can be mounted in any position
Shock-resistant and vibration-resistant
1-year warranty
3. WEIZE UB12550 12V 55Ah Deep Cycle Battery
Featuring a calcium-alloy grid and SLA technology, the WEIZE UB12550 is a heavy-duty, sturdy, and durable battery with a high-performance rating. Even with its outstanding features, the battery only weighs 34.2lbs which allows it to be utilized in a wide variety of applications including electric vehicles, lawn mowers, garden tools, portable tools, solar panels, toys, and more.
The WEIZE UB12550 battery comes with AGM technology and a valve regulated design. These features allow it to deliver high performance without requiring constant maintenance. Its sealed lead acid feature means it won't leak or spill regardless of the position you place it.
The WEIZE UB12550 comes with many features that you can find in most 12-volt golf cart batteries with AGM and SLA technology. However, it does come with a higher price tag than most. This might be due to the fact that it comes with a higher capacity of 55Ah but still, that doesn't justify the doubled price. It also measures a little longer and wider than most batteries in its category. Once again, this might be due to the higher capacity it offers. It measures 8.98 x 5.43 x 9.06 inches.
The WEIZE UB12550 is a deep cycle battery, which means you can charge it to the maximum and use every last bit of charge it has without damaging the battery or significantly reducing its life span. Its SLA design also ensures that it is resistant to shocks and vibration even at the roughest terrains.
Pros
AGM and SLA technology
Deep cycle battery
Resistant to shocks and vibration
Heavy-duty and sturdy build
Can be utilized in a wide variety of applications
Does not require constant maintenance
Cons
Quite Expensive
Might not fit in some applications
4. ExpertPower EXP12330 12V 33Ah Rechargeable Deep Cycle Battery
The ExpertPower EXP12330 is a popular golf cart battery that you can never go wrong with. It comes with a lot of promising features, including a rugged construction and durable exterior made of high-quality materials. The battery case is made of non-conductive ABS plastic material which makes it highly resistant to vibration, shock, heat, and chemicals.
It has a capacity of 12 volts/33Ah which should last for about 10 hours in your golf cart, a length of time that is way above average. It also has a wide operating range of -20 °C to +60 °C (-4 °F to +140 °F). This wide operating temperature enhances the durability of the battery. Whether in summer or winter, you can always get a good performance off this battery.
The ExpertPower EXP12330 is a Sealed Lead Acid battery which can be mounted in any position. This also makes it very easy to handle and compatible with a wide variety of applications.
The battery is lightweight, weighing only 23 pounds. It is also compact and measures 7.72 x 5.16 x 6.34 inches. One of the best perks of this battery is that it is very affordable. Considering its high-quality build, wide operating temperature range, and compatibility with many machines, its price tag is pretty sensible.
The ExpertPower EXP12330 works best when it is in constant use. If you're not going to be using it frequently in your golf cart, you could use it in your electric scooter, wheelchair, motorcycles, or snowmobiles.
Pros
Maintenance-free
Wide operating temperature range
Resistant to shocks, chemicals, heat, and vibrations
A high-impact resistant battery case
Made of non-conductive ABS plastic material
Affordable
Cons
Does not provide enough power in some applications
5. NPP NP12-35Ah Rechargeable AGM Deep Cycle Battery
The NPP NP12-35Ah is a high-quality deep cycle battery that is very easy to install with a wide temperature range perfect for most outdoor conditions.
Like all top-quality batteries, this is a Sealed Lead Acid AGM battery. The Sealed Lead Acid part means it is spill-proof and the AGM part means it is maintenance-free. These are two top features that make up the best batteries in the market. The spill-proof feature allows you to mount the battery in any position that you think is best.
The NPP NP12-35Ah has a rugged, tough build made from non-conductive ABS plastic. Its sturdy design makes it resistant to shocks and vibrations, which means it could take a lot of abuse that could happen when driving on the golf course. It also makes it resistant to heat, weather, and chemicals. These are other conditions that can easily damage your battery.
Impressively, the NPP NP12-35Ah comes with a 1-year warranty and you can order for a replacement or get service on any faulty parts as long as it is within the warranty period.
As with most high-quality batteries, the NPP NP12-35Ah can be used in a wide variety of applications. According to NPP, this battery will not only deliver high performance in your golf cart, but also in your UPS, telecommunication system, telephone switching system, standby power supply, fire-fighting equipment, alarm systems, and many more.
Pros
Made from non-conductive ABS plastic material
Strong resistance to shocks and vibrations
Easy to install
Requires no maintenance
1-year warranty
Cons
Warranty is only applicable when used in some machinery
Related