The Ford F250 and F350 are heavy-duty trucks with systems. This explains why they are powered by bigger and stronger batteries than what obtains with smaller vehicles. Typically, both vehicles run on group size 65 batteries, which are made specifically for trucks and other heavy-duty vehicles.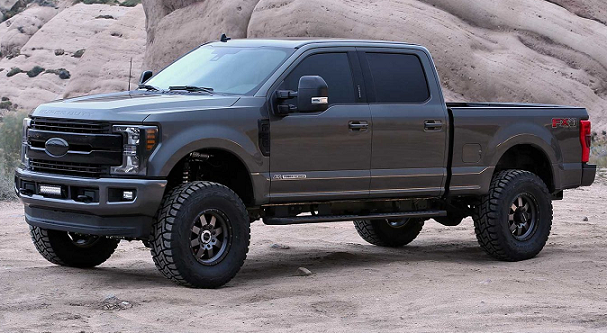 In this post, we'd be looking at some of the best batteries for Ford F250 and F350 trucks.
Best Batteries for Ford F250 and F350: Our Top 5 Picks
The market abounds with group size 65 batteries by several different brands. And making the right choice from the pack can be quite difficult.
With that in mind, our team of expert auto part reviewers spent several hours scouring the market and comparing group 65 batteries with promising features — in a bid to help you choose the right option for your Ford truck.
After cutting out lots of models that didn't impress us in the aspects of performance, durability, price, and buyer reviews, we were left with these top 5 contenders that we can vouch for.
1. Odyssey 65-PC1750T Automotive and LTV Battery
Cold Crank Amp (CCA)- 950
Better warranty: Limited 3 and 4 year full replacement warranty - not pro rata
Includes SAE Automotive terminals
Mounting flexibility: Non-spill able design, vibration resistance- design protects against high impact shock and mechanical vibration
Extreme temperature tolerant- Operating temperatures from -40 degree Celsius (-40 degree Fahrenheit) to 45 degree Celsius (113 degree Fahrenheit).
This item is not for sale in Catalina Island
Fit type: Universal Fit
Odyssey is recognized and trusted as one of the best battery brands in the world. The 65-PC1750T battery is synonymous with the reputation of this company. It was designed to provide the user with deep cycling reserve strength and enormous cranking power. Let's examine why this battery is a famous brand for Ford users.
The impressive size of the 65-PC1750T battery makes it one of the high-end products from Odyssey. While it costs a little higher than its competitors, the battery justifies its price with premium features. One such feature is the high cold-cranking amps of 950. Along with this, the battery boasts of very high reserve capacity.
The high CCA of the 65-PC1750T battery means that you wouldn't have problems starting your Ford vehicle, even in cold conditions. This battery is versatile since it can work for several other vehicles, especially high-performance vehicles. Examples include trucks, off-roads, and 4-by-4s. The battery is also perfect for vehicles that are loaded with after-purchase electronics.
Another interesting feature of the 65-PC1750T battery is the charging time. When a conventional battery is fully drained, it takes a while to recharge. This isn't a problem with the 65-PC1750T battery since it charges fully between 4 and 6 hours.
Adding distilled water periodically can be quite challenging. It is not uncommon to see car owners forget to do this. This is why many people prefer to go for a maintenance-free battery. The 65-PC1750T comes with a re-sealable venting system design. Because of this, you don't need to worry about maintaining the battery. Just buy and use, simple.
One of the advantages of this kind of design is vibration resistance. Mechanical vibrations affect the performance of batteries since they may fail from impact shocks. But due to the re-sealable design of the 65-PC1750T, the battery can take mechanical vibrations and shocks without failing.
Weather is unpredictable so you need a battery that you can depend on in all kinds of climatic conditions. Thankfully, this battery is designed to be dependable, even in adverse weather situations. It can work between -40 F and higher.
This battery also provides you with a 145-minutes reserve capacity which is higher than what conventional batteries provide. With this, you are assured that you can drive out of emergencies, even if your alternator malfunctions.
Overall, the Odyssey 65-PC1750T battery is great for high-performance vehicles. It was designed to be dependable under all kinds of weather. The only challenge with this battery is that it is quite costly.
Pros
Superior warranty of 3-4 years
Longer life cycle
Spill and leak-proof
Mounting flexibility
Requires no maintenance
Durable design
Performs well under extreme temperatures
Cons
2. ACDelco 65AGMHR Professional AGM Automotive Battery
ACDelco has a reputation for producing car batteries that are designed with utmost care. Their products provide high conductivity, high performance, and low maintenance. The 65AGMHR battery possesses all these characteristics. Let's examine what qualifies this battery for our professional review.
This battery is an amazing buy if your Ford vehicle has been experiencing starting issues. It is quite versatile since it works well for different kinds of light trucks, passenger cars, and even commercial purposes.
One of the most impressive features of this battery is the reserve capacity. It can provide power for up to 150 minutes. This means that even if your alternator gives way, you have ample time to get yourself out of trouble. The cranking amps of this battery is also high at about 960. However, the cold-cranking amps are a little low at 775.
The cranking power means that this battery will produce enough power to start your car. So it doesn't matter whether you are in the tropics or temperate region, this battery will work just fine. The size of this battery at 11.8 x 7.4 x 7.5 inches means that it can fit into a variety of vehicles.
Another plus of the 65AGMHR battery is its weight. Weighing just 45.9 pounds, this battery is perfect if you have to move it between vehicles. The lightweight size and strong straps facilitate portability when necessary.
This battery comes in an Absorbent Glass Mat design. This means that the battery comes with a high cycle and deep cycle capacities. It also means that you don't have to waste time maintaining it since it is sealed. The battery is spill- and leak-proof so you can mount it in all kinds of positions.
One of the major advantages of this battery is that when you open the package, it is charged. All you need to do is install it in your Ford, crank your engine, and you are ready to drive off. It comes with a vibration-resistant design. As a result, you are assured of high performance on all kinds of terrains.
The 65AGMHR battery comes with robust separators. These make for a ribbed design and low resistance to improve the circulation of acid. It is because of this that the battery remains cool after using it for extended periods. The battery terminals are also corrosion-resistant, meaning increased performance and conductivity.
Pros
Longer life cycle
Quite affordable
Cranks engines in adverse weather conditions
Very durable battery
It comes charged and ready to use
Very portable
Cons
None that we could figure
3. Northstar NSB-AGM65 Automotive Battery
Pure lead AGM technology delivers exceptional CCA ratings and reserve capacity cycling ability
Quick starting every time
Cycles over 900 times to 50% depth of discharge
Proudly made in the USA at our state-of-the-art battery plant
Advanced AGM construction means no water levels to check or terminals to clean
It can be quite annoying when you try to start your Ford engine and it keeps coughing. Northstar is renowned for producing top quality batteries that provide high cranking power. The NSB-AGM65 model doesn't fall short of this expectation. Let's show you why this battery made it to our review list.
When you think of the NSB-AGM65 battery from Northstar, the first thing that comes to mind is the charging time. This battery has one of the fastest charging times of all the batteries in the same class in the market. Conventional batteries take ages to charge when they run down. With this battery, you can achieve a full charge in less than 4 hours.
Here's how the charging of this battery works: the charging current is split into three stages of constant current, constant voltage, and float charge. When you plug in the battery, it starts charging in the constant current stage until it gets to 0.25 volts. After this, it moves into the constant voltage stage until it climbs above 14 volts. Finally, it enters the float charge stage to complete the charging process.
That's not all. This battery is far easier to maintain than regular flooded batteries because of its AGM design. It comes with copper-clad connectors along with a built-in handle. One of the major features of this battery is its reserve capacity. So regardless of your engine's power requirement, this battery can deliver power when the need arises.
The NSB-AGM65 battery also features very high cold-cranking amps at 930. With this figure, your engine will start instantly even in very cold weather. Also, at a 50% discharge depth, you have up to 900 cycles which is still quite impressive.
The casing of the NSB-AGM65 is very strong and sealed tightly. This means that you can mount the battery in a couple of positions without the fear of spills or leaks. The battery also boasts of very high vibration resistance which you need when driving through rough terrains.
Pros
Solid build
Arrives fully charged
High vibration resistance
Charges very quickly
An inbuilt capacitor to avoid overcharging
Very long life cycle
Can stay inactive for long periods
Cons
A little too heavy
Quite pricy
4. Delphi BU9065 MaxStart AGM Premium Automotive Battery
Extended cold cranking amps delivery means more power for today's demanding electronics
Group 65 battery with 750 CCA (cold cranking amps) and 150 R. C. (reverse capacity)
20x the vibration resistance of conventional batteries
Superior vibration resistance, optimized component compression , and fortified posts, straps and welds
Fit type: Vehicle Specific
Delphi is one of the top manufacturers of quality car batteries. The BU9065 MaxStart battery does not fall short of outstanding quality. It has proven to deliver high performance even though it is quite costly. Here's what makes this battery outstanding:
The BU9065 MaxStart battery provides high performance and top-notch user experience for all types of automotive vehicles. It is very reliable when it comes to delivering the juice your Ford needs to get started. The battery is capable of delivering enough power for your vehicle's engine along with after-purchase electronics.
There are several complications you may encounter when you connect conventional batteries to your vehicle. These complications do not exist with the BU9065 MaxStart battery. The manufacturing process of the battery guarantees reliability and consistent delivery over time.
One of the major factors to look out for when choosing a battery for your Ford vehicle is the cold-cranking amps. The Delphi MaxStart battery delivers 750 CCA which isn't too high but meets your vehicle's startup needs even in adverse weather. Where the strength of this battery lies is its vibration resistance. It has 20 times what you get in vibration resistance from other conventional batteries. This is just perfect for driving on rough terrains and in difficult conditions.
Reserve capacity is another important factor to consider when choosing a battery for your vehicle. The BU9065 MaxStart battery boasts of 150 minutes of reverse capacity. This is very impressive since very few batteries in this class can deliver for this long. With this reserve capacity, you are assured of power delivery to your vehicle even when your alternator is out.
The build of the battery is worth talking about as well. It has a sturdy design with fortified straps, posts, and welds. All of these make it easy to move the battery around quite easily when the need arises. The sealed design also means that you won't experience any issue with spills or leaks. It also has corrosion-resistant terminals to guarantee quality strength and power delivery.
The BU9065 MaxStart battery features a very quick recharge time, unlike conventional batteries. It also boasts of a superior lifespan and durability. Overall, this battery is worth its investment if you value high performance.
Pros
Solid build that ensures durability
High vibration resistance
High reserve capacity
Cons
5. Deka 9A65 AGM Intimidator Battery
Cold Cranking Amps (CCA): 750
Group size: 65
Polarity: Left positive
Battery End Type: Top post
Size:: 12" x 7.375" x 7.625"
Deka is not one of the very popular battery manufacturing companies worldwide. Yet, this company is very competent at producing top-quality batteries like the 9A65 model. Let's examine some of its component features:
The first feature that catches the eye with this battery is the "enhanced electrolyte suspension system." This battery features a special glass mat that is designed to absorb more electrolytes. It also comes with a standard DIN auto-post. With this design, the positive terminal sits on the left, providing the BCI needs of your vehicle.
Another feature that the 9A65 battery boasts of is superior vibration resistance. This ensures better performance and delivery even under strenuous conditions. The battery also boasts of very high reserve capacity which remains one of the best in the market.
This battery comes with a spill-proof design that allows you to mount it in all kinds of positions. It also features quick recharging so you don't have to wait for very long to get it full again. The 9A65 battery is designed for durability and long life. With this, you don't have the problems of replacing the battery frequently.
Power delivery is one challenge that car owners face when they have a lot of electronics installed. The Deka 9A65 battery boasts of high performance and power delivery even in exceptional situations. The battery is versatile since it can fit into several other vehicles besides a Ford.
Pros
Maintenance-free battery
Spill-proof design
High durability
High vibration resistance
High reserve capacity
Cons
Under- or overcharging may affect the battery adversely