It is amazing how people overlook their car batteries. This power component is a major determinant of how well you will enjoy your car. Without a sound battery, your Toyota Camry cannot provide you a smooth driving experience.
So, when it's time to replace the battery in your Toyota Camry, your best bet is to invest in a to-quality model. In this article, we'd be reviewing some of the best batteries for Toyota Camry vehicles – as put together by our team of expert auto reviewers.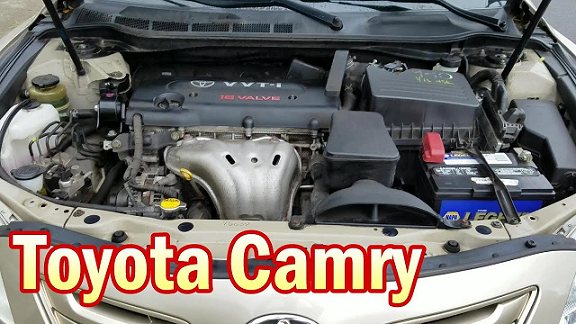 Toyota Camry Battery Size?
The battery size one of the most important factors to consider when choosing your Camry's battery. Even if you buy a battery that is renowned for high performance, it will be unusable if it doesn't fit in your car. This is why you must be sure of the size of the battery before paying for it.
There are different sizes based on the length, height, and width of the battery. Typically, Toyota Camry vehicles run on Group 35 batteries, which typically measure 23cm (L) x 17.5 (W) x 22.5 (H).
A battery of the wrong size will not remain fixed in its position and might vibrate out of place as you drive. This causes sudden interruption of power supply to your car and can cause serious damages.
Best Batteries for Toyota Camry: Our Top Picks
There are countless car battery brands in the market and choosing the best Group size 35 option for your Camry may prove challenging. It is even harder for novices or new car users.
But in this article, our research team has scoured the market and compared several models by different brands – with the aim of figuring out the best options based on performance, durability, life span, buyer reviews, and price.
And here are our top 4 picks.
1. Optima 8020-16435 RedTop Battery
12-Volt, 720 Cold Cranking Amps, Size: 9.38 x 7.69 x 6.75-Inches Weight: 31.7 pounds, SAE Posts
Reserve capacity of 90 minutes for constant performance
Optimal starting power even in bad weather. Case material is Polypropylene
Fifteen times more resistant to vibration for durability
This item is not for sale in Catalina Island
Fit Type: Vehicle Specific
Optima is reputable for manufacturing top-quality batteries. One of their most outstanding models is the 8020-16435 Model with the YellowTop, BlueTop, and RedTop variants. Let's check out some of the premium features of this battery.
The first thing that comes to mind with the 8020-16435 RedTop battery is its high performance. It is one of the most versatile batteries in the market. Aside from being great for your Toyota Camry, it works well with SUVs, crossovers, as well as gasoline and diesel vehicles. The only thing your vehicle needs for this battery to work is an alternator.
The battery comes with a signature six-pack design. The design consists of lead plates that are spirally wound. Each cell is made up of pure lead plates that are coated with lead oxide. The company says this helps to improve the power output. It also helps to set up a resistance against vibration. Let's also not forget that with lead plates, the battery has more starting power for just about any weather.
The unique design of the 8020-16435 battery enables it to provide about 15 times more vibration resistance than regular batteries. Due to its six-pack design, the battery packs more powerful starting bursts as well as quick charging.
One look at this battery and you will see how attractive it looks. But beyond the attractive design, it rocks a spill-proof construction. With this, you can mount it in any position without losing power. This makes the battery to serve you for longer periods of time without the need to change its electrolytes or distilled water.
This Optima Redtop battery comes with 720 cold-cranking amps. Even though this is not too high, it is perfect for your Toyota Camry, especially in cold weather. It means that you wouldn't have trouble starting your vehicle under extreme conditions.
There are a few things that we don't like about this battery. First, it is costly as a result of the spiral-wound lead plates. However, when you consider the high performance of the battery, the cost will no longer be an issue. Another challenge with the 8020-16435 is that it isn't as durable as other Optima battery brands.
Overall, this battery is a very good battery with AGM spill-proof design. It delivers higher power in shorter bursts that many other sealed batteries. Its high performance makes the cost of the battery inconsequential but its lack of durability is a challenge.
Pros
Spill-proof design
Maintenance-free
Attractive design
High vibration resistance
High cold-cranking amps
Cons
Very costly
Not as durable as other Optima battery brands
2. Odyssey 35-PC1400T Automotive and LTV Battery
The 35-PC1400T Odyssey battery is synonymous with high performance, reserve capacity, and excellent cold-cranking amps. This battery is also known for its long lifespan. It is one great recommendation for your Toyota Camry.
The battery comes with 850 cold-cranking amps, far higher than what you get in the Optima 8020-164 35 RedTop. It is also higher than what you get from many other conventional batteries. This feature means that you wouldn't have problems starting your Toyota Camry in extremely cold weather conditions.
Another interesting feature of this battery is its long service life. It presents you with between 3-10 years of use. This durability will save you money and time. The longer life capacity of the battery makes it suitable for Toyota Camry since the car model uses a lot of power.
The recharge rate of batteries is always a challenge. While conventional batteries take a long time to charge, this battery charges pretty fast. You can hit a full charge between 4 and 6 hours. The high reserve capacity will provide you with extra power to move when your car engine is out. This comes in handy when you are faced with an emergency and you need to get to your mechanic.
The 35-PC1400T automotive battery comes with a sealed design. This means there won't be issues with the electrolyte leaking out regardless of the way the battery is mounted. It also implies that you will enjoy the maintenance-free use of the battery. It is impossible to talk about the 35-PC1400T automotive battery and not mention its high vibration resistance – which is quite impressive.
This battery is equally strong enough to handle the extra loads of electronics that get installed in your car. It doesn't cause any electrical problems, and you don't need any extra efforts to maintain the battery.
Pros
Long lifespan
Perfect for after-market electronics
High cold cranking power
High reserve capacity
Cons
Bulky and heavy
Requires more amps to charge fast
Quite pricy
3. Optima 8040-218 D35 YellowTop Dual Purpose Battery
12-Volt, 650 Cold Cranking Amps, Size: 9 5/16" x 6 13/16" x 7 5/8" tall, Weight: 36.4 pounds, SAE Post,.300+ discharge/recharge cycles
98 minutes reserve capacity for constant performance
Optimal starting power even in bad weather; the positive or red terminal is located to the right
Fifteen times more resistant to vibration for durability
This item is not for sale in Catalina Island
Several features of the 8040-218 D35 YellowTop from Optima Batteries make it an amazing pick. This battery can provide the extra power your Toyota Camry needs for electronic hookups. It is a deep cycling battery and it comes with excellent cold-cranking amps. Let's see what makes this battery special.
This battery presents you with 620 cold-cranking amps. Ordinarily, this is quite low but for a battery with deep cycling abilities, it is a dream come true. The reserve capacity of the 8040-218 D35 is very high at 98 minutes. This ensures that you have enough power to get you out of emergencies when your engine power is out.
Vibration resistance is one of the important factors to look out for when choosing a battery for your Toyota Camry. Well, this battery ticks this box efficiently. It delivers about 15 times the resistance you get from other conventional batteries. This translates to durability and constant power even under high vibration.
The cold-cranking amps are perfect for all kinds of weather. It also comes in a sealed AGM design. So asides being durable, you don't have to stain your hands to maintain this battery. It doesn't require any form of maintenance like adding water or wiping spills. But that's not all.
The spill-proof design prevents the spilling or leaking of the electrolyte. This implies that you wouldn't have issues with corrosion. Overall, this battery is great for your Toyota Camry since it delivers high performance. It especially comes in handy when you don't use your car every day or you have after-purchase electronics.
Pros
Long reserve capacity
High cranking power
Long battery life
Perfect for cars that aren't in use daily
Incredible cold-cranking amps for a deep cycling battery
Cons
Requires a trickle charge for non-daily use cars
Not versatile
4. Delphi BU9035 MaxStart AGM Premium Automotive Battery
Extended cold cranking amps delivery means more power for today's demanding electronics
Group 35 battery with 680 CCA (cold cranking amps) and 100 R. C. (reverse capacity)
20x the vibration resistance of conventional batteries and designed to perform in extreme temperatures
Superior vibration resistance, optimized component compression , and fortified posts, straps and welds
Superior corrosion resistance sealed housing with manifold venting system
Fit type: Vehicle Specific
The BU9035 MaxStart is another Absorbed Glass Mat (AGM) battery on this list. It promises high performance at a very affordable price. Of all the batteries on this list, it is the least costly with amazing power features.
This premium Delphi battery comes with 680 cold-cranking amps that deliver outstanding power on cold days. Match this with the reserve capacity of 100 minutes and you have a power transformer on your hands. This means that the battery can deliver up to 100 minutes of power while carrying 25 amps of load. With this feature, you are assured of enough power to get out of emergency when you experience engine breakdown.
This battery also features vibration resistance that is superior to what is obtainable from traditional batteries. You also enjoy twice the regular lifecycle of conventional batteries because of the AGM design. Most modern vehicles, including the Toyota Camry, have high power needs due to their electronics. This battery delivers sufficient power to meet all your car's electrical needs.
Another interesting fact to note about this battery is durability. This is as a result of the AGM design and because it is completely sealed. The sealed nature means that you can place it in any position. It also means that it is corrosion and leak-proof without a need for maintenance.
Pros
20 times the vibration resistance of regular batteries
Great CCA for all kinds of weather
Corrosion and leak-proof
Long shelf life
Very affordable
Superior strap quality
Cons
Not too durable compared to the other batteries on this list
Factors to Consider When Choosing a Battery for Your Toyota Camry
Even though our team of expert researchers has done the hard work of figuring out and recommending the best batteries for your Toyota Camry, it's still important for you to understand what factors to consider when making your choice.
So, aside from battery size, here are the other vital things we considered when choosing the options we have reviewed in this article.
Battery stock
The stock refers to the manufacturing date of the battery. Many people don't check for this but it is one of the most important factors to look out for. Batteries have shelf lives, meaning that their power reduces as they advance in age.
When you visit a battery store, you should check for the manufacturing date of the batteries. The easiest way to do this is to view the code at the side of the battery. Through this code or serial number, you can know the month and year of manufacture. Pick the newest of the stock for your Toyota Camry so that you can enjoy the best output.
Battery capacity
This refers to the power output of the battery. You need a battery that can deliver the maximum power that your car needs. It is also important to take into consideration the electronic needs of your car and after-purchase electronics.
Usually, batteries with higher capacity produce more power for longer periods. They also do not suffer from charge dips since they tend to recharge faster. In the end, they produce more output than conventional batteries. So if you desire long-lasting results, then you should stick to batteries that present maximum capacity.
One downside of this kind of battery is the cost. However, the cost is inconsequential if the battery meets your car's power needs with optimal efficiency.
Storage capacity
This is also known as reserve capacity. It refers to how much power your car battery can store and provide when the engine isn't working. This feature comes in handy when your alternator goes bad. Different cars have different power requirements. Make sure that you check the requirements of your car and be sure that the battery can meet that need without engine power.
Cold-cranking amps
This refers to the amount of energy your car needs to start up at 32 degrees Fahrenheit. For people in the tropics, this may not be a concern. But car owners in the colder regions must watch out for this. It is important to choose batteries that have very high cold-cranking amps to enable your car engine to start immediately after you turn on the ignition.