Even though Toyotas "run forever", their batteries don't.
So, if you own a RAV 4 and its battery has run out, you need to hit the market for a replacement battery. But you'll quickly realize that there are many options in the market and the options can be confusing and overwhelming.
In this guide, however, we'll help you choose the best replacement battery for your RAV4 SUV.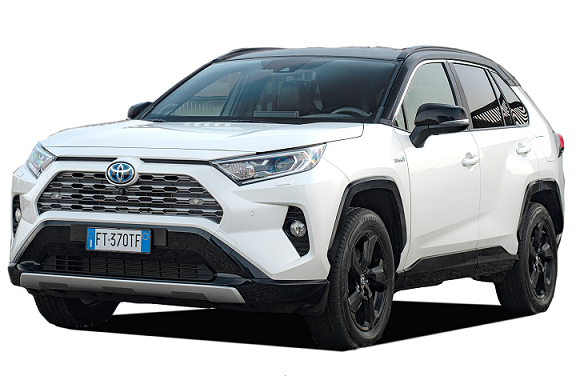 Best Batteries for Toyota RAV4: Our Top 4 Picks
Toyota RAV4 vehicles run on BCI Group 35 batteries — keep that in mind when going for a replacement. But we understand there are so many Group 35 batteries on the market that making the right choice can be a head-scratching experience.
So, we decided to take the hard work off your shoulders by checking out several options on the market and assessing them based on design, performance specs, durability, brand trust, buyer reviews, and price. Our aim was to help you make well-informed buying decisions that you won't regret.
After spending hours on research and comparison, we cut our initial long list down to these 4 top contenders that are sure to make your RAV4 happy again.
1. Odyssey 35-PC1400T Automotive and LTV Battery
Odyssey has a great reputation that precedes them because of the quality of their batteries. The 35-PC1400T is quite reliable since many people regard it as a military-grade battery. The 5-seconds cranking power of the battery is as strong as three conventional batteries put together.
Just like the other batteries in the Odyssey lineup, this battery was manufactured in the United States. It is recognized for its high starting power. The 35-PC1400T also boasts of a rapid recovery rate and an efficient deep-cycling capacity. This battery presents you with cold-cranking amps and reserve capacity that is very high compared to its rivals.
One of the things you should look out for when choosing batteries is its power. This battery produces enough power to run all the electricals in your Toyota RAV4. One look at it and you can see a remarkable difference in design from other Odyssey batteries. Notwithstanding, this battery delivers the same high-performance that Odyssey is known for.
The 35-PC1400T delivers 850 cold-cranking amps. This means that even on very cold days, your car will start without hesitation. The battery is also capable of producing higher voltages over longer periods than what is obtainable from its competitors.
It comes in a sealed design so there is no chance of spills or leaks. This equally means that you won't be spending time maintaining the battery or topping the distilled water. More importantly, the 35-PC1400T presents you with the highest recharge efficiency you will ever get from a sealed battery.
The design of this battery makes it versatile. It can be used in a variety of positions and in different vehicles. It is resistant to vibration and can tolerate unfriendly temperatures. The 35-PC1400T promises durability if you are able to care for it properly. Odyssey places a 2-year warranty on the battery, which is better than what you get from many other batteries.
Pros
High cold-cranking amps
High reserve capacity
Very durable
Mounting flexibility
Improved safety
Quick recharge
Vibration resistance
Cons
Pricey (but worth the price, though)
Heavy and bulky
2. Optima 8020-164 35 RedTop Starting Battery
12-Volt, 720 Cold Cranking Amps, Size: 9.38 x 7.69 x 6.75-Inches Weight: 31.7 pounds, SAE Posts
Reserve capacity of 90 minutes for constant performance
Optimal starting power even in bad weather. Case material is Polypropylene
Fifteen times more resistant to vibration for durability
This item is not for sale in Catalina Island
Fit Type: Vehicle Specific
Just like many batteries in the market, the 8020-164 35 RedTop from Optima features an AGM design. AGM stands for Absorbed Glass Mat, a technology used to hold the battery electrolytes in place. It makes use of glass mat separators and because of this the battery is completely spill and leak-proof.
The design of the 8020-164 35 RedTop battery makes it possible for you to mount it in any direction or position. Due to this flexibility, many people using custom-designed vehicles prefer using this battery. Optima adds its patent SpiralCell design to this battery to give it an increased electrode surface area.
There is almost no chance of electrolyte contamination when using this battery because of its high purity lead construction. A major benefit of this build is improved performance and enhanced longevity.
When it comes to battery life, you can expect this battery to last very long. But it must not be subjected to major causes of battery failure such as extreme cornering effect and hard launches. The sealed design enables it to outperform conventional car batteries in both cranking and starting abilities.
One of the most important factors to consider when choosing a battery is the reserve capacity. The 8020-164 35 RedTop battery is equipped with a very high reserve capacity. You will enjoy up to 90 minutes of use should your engine power fail. This is perfect for emergencies when you need to reach out to your mechanic very quickly.
Another important factor to consider when choosing a battery for your Toyota RAV4 is the cold cranking amps. It is even more important if you reside in temperate regions with extreme weather conditions. At 720 CCA, the cold cranking amps of this battery is not as high as many other batteries in its class. However, it delivers enough power to start your vehicle on a very cold day.
The design of this battery ensures that you enjoy up to 15 times vibration resistance than you get from other conventional batteries. It also requires no form of maintenance while boasting of twice the lifespan obtainable from conventional batteries. The 8020-164 35 RedTop battery comes with a six-pack cell design. This means that it packs so much power, charges faster, and has very strong starting bursts.
This battery model is recognized for producing stronger short bursts than other sealed batteries. This is because of the quicker rate of reaction between the thin fiberglass surface mat and the battery electrolyte. Optima claims that the spiral-wound cell and glass mat separators are key to this battery's dominance over regular flooded batteries.
Overall, this battery has many positive reviews from users all around the world. There is so much to like about the Optima 8020-164 35 RedTop battery and this qualifies it for the Toyota TAV4.
Pros
Spill-proof design
High vibration resistance
Very efficient in adverse weather conditions
Quick recharge
Compact size
Efficient cranking power
Maintenance-free
Cons
Costs a little more than regular batteries
Lower CCA than many other AGM batteries
Shorter shelf life than its rivals
3. Delphi BU9035 MaxStart AGM Premium Automotive Battery
Extended cold cranking amps delivery means more power for today's demanding electronics
Group 35 battery with 680 CCA (cold cranking amps) and 100 R. C. (reverse capacity)
20x the vibration resistance of conventional batteries and designed to perform in extreme temperatures
Superior vibration resistance, optimized component compression , and fortified posts, straps and welds
Superior corrosion resistance sealed housing with manifold venting system
Fit type: Vehicle Specific
Several qualities of the Delphi BU9035 MaxStart battery qualify it for inclusion on our review list. The first thing that attracts anyone to this battery is the extended cold-cranking amps. This means that you will enjoy better delivery and higher performance than you could obtain from other types of batteries. The design of the BU9035 MaxStart battery gives it 20 times the vibration resistance you enjoy from regular batteries. This battery was designed to perform in adverse weather conditions. Asides the superior vibration resistance, it also boasts of fortified posts, welds, and straps. With these, it is easy to move the battery around.
The battery also features optimized component compression and superior corrosion resistance. The BU9035 MaxStart is perfect for people looking for a backup battery or who are on a budget. It is far more affordable than the other batteries earlier reviewed above. Despite its price, this battery boasts of very high performance.
Even though the battery presents you with just 680 cold-cranking amps, the cranking power makes your car start easily. This battery is also designed to supply the power that your car engine and the other electricals in the car need.
Worthy of mention is the shelf life of the Delphi BU9035 MaxStart battery. Regardless of weather conditions, this battery can perform at very high levels for several years. Because of its sealed design, you don't have any worries about leaks or spills. It also means that you can place the battery in any position. Overall, the Delphi BU9035 MaxStart battery is a great affordable battery with very high performance.
Pros
Excellent vibration resistance
Superior corrosion resistance
Very affordable battery
Spill-proof design
Long shelf life
Cons
Some RAV4 owners might have issues with fit.
4. Optima 8040-218 D35 YellowTop Dual Purpose Battery
12-Volt, 650 Cold Cranking Amps, Size: 9 5/16" x 6 13/16" x 7 5/8" tall, Weight: 36.4 pounds, SAE Post,.300+ discharge/recharge cycles
98 minutes reserve capacity for constant performance
Optimal starting power even in bad weather; the positive or red terminal is located to the right
Fifteen times more resistant to vibration for durability
This item is not for sale in Catalina Island
Optima is renowned for designing high-performance batteries that are very affordable. The 8040-218 D35 YellowTop battery ticks both boxes comfortably. Asides working well for Toyota RAV4, it is perfect for several other vehicles as well. Let's show you why this battery is on our list.
This battery has enhanced capabilities and gives peace of mind for its longevity of performance. It features 770 marine cranking amps and 620 cold-cranking amps. Having both means that this battery will deliver high performance even in adverse weather conditions.
The reserve capacity of your battery is a very important feature to look out for. This battery delivers up to 98 minutes of power when your engine is out. With this, you can maneuver your car out of challenging situations easily.
Another factor that enhances the value of this battery is the SpiralCell technology characteristic of Optima batteries. This feature makes the battery one of the highest performing and longest lasting in its class.
It is also necessary to consider the vibration resistance of a battery before purchasing one. This is because cars vibrate a lot and poor resistance to this vibration may damage the battery fast. Thankfully, the 8040-218 D35 YellowTop battery has a very high vibration resistance because of its SpiralCell technology.
The battery is sealed so you should not be worried about spills or leaks. You also don't have to worry about topping the electrolyte because the battery is maintenance-free. As you will expect, this battery presents very high cranking power and deep cycling capabilities.
Pros
Dual-purpose battery
Delivers very high performance
Maintenance-free
No spills
Temperature resistant
Mountable in all positions
3-year warranty
Very rapid recharge rate
Cons
Not so durable
Small size that may not fit into larger cars
Things to Consider When Buying a New Battery for Your RAV4
Buying a battery for your Toyota RAV4 can be a very daunting task. Of course, many people overlook this aspect until they begin to face issues later on. With the right battery, you are assured of smooth performance as well as hitch-free driving.
No doubt, your battery wouldn't last forever, no matter how much quality it boasts of. However, there are certain factors that you should watch out for before buying a new battery. Check out some of them below:
Battery Stock
This has to do with when the battery was produced. Before you buy a battery, you should check how far back it was produced. The longer the period, the less power backup it promises.
Don't go for old stock; rather, look for a battery that was produced more recently. The easiest way to check for the manufacturing date is to read the code placed on the battery. Batteries have a serial number that shows the month and year of production. Always stick to the latest products.
Battery Capacity
This is another very important factor to consider. The capacity of your battery will determine if you will enjoy your vehicle to its fullest potential. Don't forget that your RAV4 has several electricals that you must power asides the engine. You should also consider a battery with a very high capacity if you will be adding after-market electronics.
This will save you from dipping charge as well since they recharge faster while providing more output. Yes, batteries with higher capacities are costlier. However, they are worth it in the end.
Storage Capacity
Different groups of batteries have different storage capacities. In the same vein, different vehicles have different power requirements. When choosing a battery for your RAV4, you should match the storage capacity with the power requirements of the vehicle.
Storage capacity is defined in Amp-hour (Ah). The higher this figure is, the higher your battery's storage capacity.
Maintenance
Many people prefer to go for maintenance-free batteries these days. These batteries are sealed so there is no risk of spills or leaks. As a result, you don't have to bother with replacing the distilled water or electrolyte. When a battery requires frequent maintenance, then you may need to replace it soon.
Warranty
This is another very important factor that you must consider when choosing a battery for your RAV4. The longer the warranty, the better for your pocket. Most batteries present you with a 2-year warranty. However, some have longer warranties extending to 3 or 4 years. Buying a battery with a longer warranty gives you better value for your money.