Group 24 batteries are used for various purposes. Aside from their use in vehicles, they are also used in boats, medical equipment, security systems, large UPS systems, and industrial applications. These batteries, being deep cycle batteries, are commonly used for holding a charge for long periods and are rarely used in starting/cranking applications.
Typically measuring 10.25″ (L) x 6.81″ (W) x 8.88″ (H), group 24 batteries are mid-size batteries that commonly come as AGM (Absorbent Glass Mat) and SLA (Sealed Lead Acid) types. Less commonly, they also come as gel-cell batteries and lithium-ion batteries.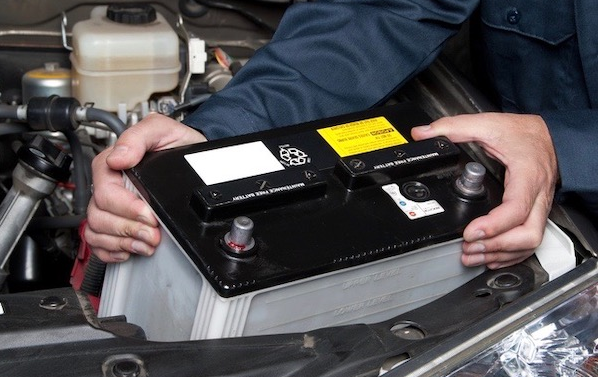 Best Group 24 Batteries: Our Top 5 Picks
If you're looking to buy a group 24 battery, this post is for you. We understand that the market abounds with group 24 sizes by several different brands and making the right choice can be a head-scratching experience.
So, we spent hours researching the market and comparing different group 24 batteries in terms of specs, durability and performance, brand trust, buyer opinions, and other factors that matter to consumers like you. We pruned our list until we were left with these top 5 contenders.
1. ACDelco M24AGM Professional AGM Voyager Battery
Maintenance-free Absorbed Glass Mat (AGM) technology – no water required, no spills, no leaks, and no maintenance
AGM technology for our best deep cycle performance
Valve regulated-gas recombinant technology, can provide up to 3-times the cycle life of conventional auto batteries in traditional vehicle applications
Calcium positive and negative, full-frame power path grids, provide higher cranking amps and lower self-discharge rates for off season storage (compared with antimony and calcium flooded technology)
Leak-proof pressurized valve system is engineered for safety and long life. Prevents dry-out and acid damage to the terminals
A BCI Group 24 battery from a tried and trusted brand, the M24AGM by ACDelco is an AGM battery for boaters and others who are looking for a reliable power source that will deliver a great performance.
As the name suggests, the battery makes use of absorbed glass mat AGM) technology, so you don't need to add water or carry out periodic maintenance to keep it in good shape. The electrolyte is permanently held in the glass mat separator instead of free-flowing within each cell.
Measuring 7 x 11 x 7 inches, this is a compact, lightweight battery that you should have no trouble moving around or trying to make fit into your boat. No matter how small space might be on your boat, you will find that this battery fits well.
Its valve-regulated gas recombinant technology helps minimize water loss, making it possible for the M24AGM to deliver up to the 3 times the cycle life of conventional batteries in traditional vehicle applications. As a result of the sealing, you can expect to enjoy safety benefits when you're out on the water since there's zero likelihood of leaks and spillages.
Another advantage of its leak-proof pressurized valve system is that it contributes to the longevity of the battery by preventing dry out and acid damage to the terminals. Moving on, the M24AGM is engineered with heavier, thicker plates so it can withstand abuse and vibrations.
An added incentive to purchasing the M24AGM is that you can use it in a car as well as your boat. Screw terminals and top posts were surprisingly added to this battery so you can use it for a classic car restoration project. In other words, this battery can reliably serve dual purposes.
Coming to the capabilities of this battery, it features calcium positive and negative, full-frame power path grids, which provide higher cranking amps and lower self-discharge rates for off-season as opposed to antimony and calcium flooded technology. The M24AGM has a CCA rating of 500 and a reserve capacity of 140 minutes so you don't get stuck in the middle of anywhere.
Overall, the high cycling abilities and outstanding charge receptiveness of the M24AGM make it a great addition to your vessel. The manufacturer, ACDelco, stands behind this battery with a generous 18 months warranty so you're covered in the off-chance that anything happens to it.
Pros
Lead calcium alloy maximizes corrosion resistance
A leak-proof pressurized valve system
Lower self-discharge rates during off-season storage
Delivers lengthy lifespan
Reasonably priced
Cons
2. NorthStar NSB-AGM24M Battery AGM
Pure Lead AGM Technology delivers exceptional CCA ratings and reserve capacity cycling ability; Faster recharge than conventional batteries
Quick starting every time; Cycles over 900 times to 50% depth of discharge
Proudly made in the USA at our state-of-the-art battery plant; OEM fit is ensured – built to exact BCI standards
Advanced AGM construction means no water levels to check or terminals to clean, and allows you to install the battery on its side
Approved as non-hazardous cargo for ground sea and air transport DOT 49CFR173.159(d), (i) and (ii)
NorthStar batteries are widely known to be some of the most reliable batteries on the market suitable for a range of applications. The NSB-AGM24M is designed to deliver superior cranking power, unbeatable cycling life and a faster recharge rate than most AGM batteries out there. The manufacturer claims it's an Ultra-High-Performance battery because it eliminates the damaging effects of gassing and corrosion.
Unlike other batteries that are ideal for only one purpose (either starting battery or deep cycle battery), NorthStar batteries have both capabilities and the NSB-AGM24M is one of such top-performers in the industry. It is engineered to handle everything from the constant pounding of a trip across the water to deep discharge demands required in RVs.
While the NSB-AGM24M is housed in advanced plastics for durability, optimum performance and heat resistance, it is actually manufactured from 99.997 percent pure lead. The innovative pure lead thin plate technology makes it possible for the battery to deliver exceptional high amp-hour capacity, reserve capacity, and cranking power.
Furthermore, the NSB-AGM24M sports an advanced AGM construction, meaning there will be no water levels to check or terminals to clean. Furthermore, the battery can cycle more than 400 times at 80 percent depth of discharge due to its unique design, so you won't experience power loss. It is built to exact BCI Group 24 standards so you can rest assured that it will fit perfectly.
Because of the solid AGM design, this battery has been approved as non-hazardous cargo for ground, sea and air transport. It is also approved for installation on its sides, and this further proves that the NSB-AGM24M is indeed spill-proof and leak-proof.
Additionally, the NSB-AGM24M features 1,500 pulse cranking amps for the first 5 seconds of operation, after which it will drop down to a consistent 840 CCA rating. As far as reserve capacity is concerned, this battery has about 160 minutes of battery juice and it recharges faster than conventional batteries. To keep your mind at peace, this battery comes with a 3-year warranty.
In sum, the NSB-AGM24M is battery that's sure to impress you with its performance. If you have a vehicle that uses the Start-Stop technology or your vehicles requires high CCA or you plan to operate it in harsh temperature, this battery is the ideal solution for you as it is sure to exceed your expectations.
Pros
OEM fit assured
Low self-discharge rate
Advanced AGM construction
Cons
3. Universal Power Group UB12750 Battery
UPG # 45821 UB12750 12V 75Ah
Dimensions: 10.24 inches x 6.61 inches x 9.13 inches. Weight: 49.10 Lbs
SLA/AGM maintenance free, spill proof battery
Rechargeable battery that can be mounted in any position, resists shocks and vibration
1 Year Warranty
The UB12750 is a premium battery made by Universal Power Group (UPG) to serve as the exact OEM replacement in fit, quality, durability and performance. Weighing just 49.1 lbs, this battery is probably one of the most lightweight Group 24 batteries on the market.
The UB12750 comes in two variants:
Universal Power Group UB12750-45821 with Z post terminals
Universal Power Group UB12750-45822 with threaded terminals
Apart from the terminals, there's almost no notable difference between these two models, so be sure to keep this in mind while you shop for a battery replacement.
A unique selling point of the UB12750 is that it is valve regulated, which means it is impossible to spill when being transported or when installed on its sides and that it can be operated in close proximity to people and sensitive equipment. By extension, you don't have to worry about adding electrolyte as gases generated during charging are combined so no hazardous fumes escape the battery case.
Like other batteries on the list, the UB12750 uses Absorbed Glass Mat (AGM) technology, meaning there are separators between the plates. With this technology and its hard plastic case, this battery can withstand more abuse than conventional batteries. Its construction further indicates that this battery will hold it grounds against vibration and high impact.
The UB12750 boasts a CCA rating of 433, which is low when compared with its rivals. This makes the UB12750 a poor choice for those looking for a great cranking, starting battery. It is ideal for use in off-grid applications such as solar as well as other purposes like RV house battery, golf cart battery, wheelchair battery and so on. It also has a low self-discharge rate of 3 percent per month
All in all, the UB12750 is a functional and safe-to-use battery that's sure to last a long time both, both physically and chemically. Its specifications easily make it one of the more popular batteries in its class. This battery comes with a 1-year warranty so you can be 100 percent guaranteed of satisfaction.
Pros
Float and cycle use
Low self-discharge
Affordable price
Cons
4. Mighty Max ML75-12 Battery
ML75-12 SLA is a 12V 75AH group 24 Sealed Lead Acid (SLA) rechargeable maintenance free battery – UL Certified
Dimensions: 10.24 inches x 6.61 inches x 9.06 inches. Listing is for the Battery and Screws only. No wire harness or mounting accessories included.
Factory activated SLA / AGM battery. Maintenance free. No adding water. Advanced design works right out of the box and requires zero maintenance, zero adding of fluids compared to a flooded wet cell battery
Rechargeable spill proof battery has a characteristic of high discharge rate, wide operating temperatures, long service life and deep discharge recover. Mounted in any position, resists shocks, and vibration. High performance in high and low temperatures.
Mighty Max has been providing energy storage and the is the company's Group 24 model. It combines reliability, long life cycle, and excellent performance – all at an affordable price. The ML75-12 is a high-quality rechargeable sealed lead-acid (SLA) battery.
The ML75-12 uses absorbed glass mat (AGM) and sealed lead-acid designs, both of which means the electrolyte won't stream freely and equally spread over the charged plate surfaces, eliminating practically no maintenance – just make sure you keep the terminals clean and you're good to go. It is also rated safe for use in enclosed environments as it doesn't emit hazardous gases because they're processed on its inside.
Furthermore, this battery has a dimension of 10.24 x 6.61 x 8.27 inches and a weight of 50.71, which means it is compact and lightweight. It is ideal for a range of applications, providing you with more time in the water, long-lasting tools for your job and more fun out of your projects.
Its lead plates are made using calcium-tin-lead alloy, ensuring high power density and long service life. Because of its solid construction and AGM technology, this battery can be mounted in any position and can resist shocks and vibrations. It is able to resist corrosion better due to its durable casing.
Like other rechargeable spill-proof batteries, the ML75-12 has a characteristic of high discharge rate, wide operating temperatures, long service life, and deep discharge. Another point is that while the battery has a high discharge rate when operated, it discharges substantially slower than a flooded battery when not in use.
According to the manufacturer, this battery meets or exceeds OEM specifications, and it comes with a 1-year warranty. That reinforces the claim that the battery has a long service life and it will deliver excellent performance.
Pros
Comes with flip handles
Shock and vibration resistant
High discharge rate
Can be used in enclosed environments
Cons
Doesn't hold charge for too long
5. VMAXtanks SLR85 12 Volt 85Ah AGM Battery
10.2″*6.5″*8.2″h Heavy Duty 12V AGM DEEP CYCLE BATTERY.Float Service Life span of 5 to 8 years
Charge using AC, Solar or Wind Power
Float Service Life span of 8 to 10 years
AGM with 99% recombination capabilities; no dangerous fumes or gases.
Go to our Amazon "bargainshore strorefront" for our "VMAX Solar" selection.
If there is a battery that is generally considered safe for both indoor and outdoor use, it is the Vmaxtanks SLR85. If you've heard of Vmaxtanks, you're probably aware that the company has built a reputation for producing quality and durable batteries.
Like other products from the company, the SLRR85 feature plates made from a strong and unique chemical structure that places them miles ahead of other deep cycle group 24 batteries in terms of their life cycle.
The Vmaxtanks SLR85 features an AGM electrolyte suspension system, which is basically a system that consists of absorbed glass mat (AGM) of a high porosity that totally absorbs and contain electrolyte. No silica or any other contaminants used. Also, the alloys used in making this battery are custom built and are of military-grade. Overall, the SLR85's solid design enables it to withstand even extreme weather conditions.
In terms of durability, the SLR85 gets the extra strong ABS container that reduces case bulging and plate warping, ensuring long life and high performance. Like its predecessors from the company, this battery comes equipped with safety release valves, designed to ensure that there is never an excessive accumulation of gas within the battery. Because of its sealed, non-spillable, and non-hazardous construction, the battery is approved for mobile, maritime, and air travel.
Maintenance is a popular concern for many people who don't place looking after their batteries at the top of their to-do list. Thankfully, this battery is 100% maintenance free as there's no need to add water or check its specific gravity during the float service life. And just in case you're wondering how long this battery will serve you, the company pegs its expected service life at 8 to 10 years in float service applications.
As far as reserve capacity goes, this battery has a whopping 190 minutes of extra power to make sure you're not stranded when you need to recharge. The SLR85 also has a low self-discharge rate of just around 1-2 percent per month at room temperature, compared to other AGM batteries with a discharge rate of 2-3 percent and lead-acid batteries with a 15-20 percent discharge rate.
While the SLR85 offers top-notch performance and long cycle life, it is important to note that it doesn't do well as a starting battery, not even for very short periods. Such use can significantly shorten its operating life.
In all, if you like being out on the water for hours, this battery is one you might want to consider
Pros
Non-hazardous construction
AGM design
Extremely low self-discharge rate
Cons
Not ideal as starting battery
Not totally weatherproof