Owning a Ford is to be assured of an extremely reliable vehicle but with a bad battery, it can be very frustrating. One of the standout features of both the Ford Explorer and Expedition is the large number of electrical features that can sap the power from a sub-standard battery.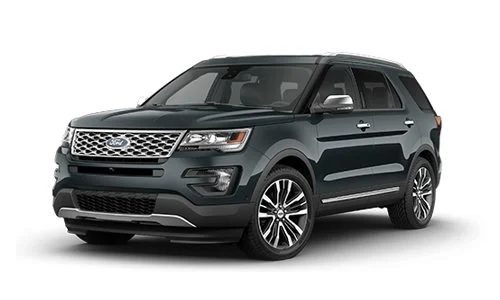 Back in the day, the life expectance of a battery was over five years. But nowadays the sheer number of electrical components found in any one car has reduced this to three years even for a really good battery.
Best Batteries for Ford Explorer & Expedition: Our Top 5 Picks
There are so many different batteries on the market these days that it can be difficult to narrow down the right one for your specific needs. So we've done the homework for you, basing our search on several factors including real buyer reviews, cost, durability, brand trust, and power output.
1. ACDelco 65AGMHR Professional AGM Automotive BCI Group 65 Battery
High density negative paste, improves performance and increases battery life
Enhanced life alloy/Silver Calcium stamped alloy increases cycle life and improves performance
Calcium Lead positive grid, maximizes conductivity and allows for low resistance
Robust Envelope Separator with puncture-resistant back, allows for increased acid circulation and prevents shorts. Improved acid circulation, helps the battery to remain cool, and extend battery life.
Vent cap design that resists acid leakage
Specifications
AGM design
Weight: 45.8 pounds
Non-spillable design
Dimensions: 11.8 x 7.5 x 7.4 inches
CCA: 775
Reserve Capacity: 150 mins
Vibration resistant
Made in the USA
3-year unlimited mile warranty
Our review
One of the first things to consider when choosing a battery is the starting potential and this high-powered battery has 775 cold-cranking amps, which means that it will start with ease even under extreme weather.
The CCA of the ACDelco 65AGMHR also means that it is very rugged, and can also work well for other heavy vehicles like trucks and buses as well as your chosen Ford. Another major advantage of the ACDelco 65AGMHR is the fact that it comes pre-charged by the company. Simply install it in your Ford then immediately crank your engine.
Its non-spill design makes it perfect for exploring rough terrains without worry about leakages, primarily due to the vent caps which prevent acid leakage. The terminals are also resistant to corrosion, contributing to increased performance and conductivity of the battery.
It comes with robust separators which ensure low resistance for added safety for you and your family. A ribbed design helps to improve the circulation of acid so that the battery remains relatively cool even after long hours of use.
What we like
It has a longer shelf life because of the deep cycle design.
Longer lasting than Optima batteries.
Value for money.
Performs well in extreme weather conditions.
Spill and leak proof.
Vibration resistant.
What we dislike
2. Odyssey 65-PC1750T Automotive and LTV Battery
Cold Crank Amp (CCA)- 950
Better warranty: Limited 3 and 4 year full replacement warranty – not pro rata
Includes SAE Automotive terminals
Mounting flexibility: Non-spill able design, vibration resistance- design protects against high impact shock and mechanical vibration
Extreme temperature tolerant- Operating temperatures from -40 degree Celsius (-40 degree Fahrenheit) to 45 degree Celsius (113 degree Fahrenheit).
This item is not for sale in Catalina Island
Fit type: Universal Fit
Specifications
AGM design
Fast recharge between 4 and 6 hours
CCA: 950A
Reserve Capacity: 145 mins
Weight: 58 pounds
Service life span: 3 to 10 years
Non-spillable design
400 cycles at 80% discharge depth
Vibration resistant
Made in the USA
3-year limited and 4-year full replacement warranty
Our review
The Odyssey 65-PC1750T battery is considered to have strong starting power compared to many others on the market and comes with pure virgin lead plates, which provide increased power and optimized recycling due to a larger plate surface area.
Additionally, it lasts three times as long as its closest competitors with around 400 cycles at a discharge depth of 80 percent. Its AGM design makes it one of the longest-lasting batteries on the market currently while preventing spillage.
The Odyssey 65-PC1750T was built for heavy vehicles like trucks, antiques, and off-roaders so, regardless of whether you drive a Ford Expedition or Explorer, or any other heavy vehicle, you should have no worries with this battery.
The design spec includes brass terminals that are resistant to corrosion, an internal gas recycling mechanism and high conductivity. It also has flame-retardant cell containers, internal cell connections that vibration-proof and an automatic relief valve.
What we like
Very long shelf life.
Phenomenal CCA at 950A so there is no fear of low starting power.
Very durable.
Spill-proof.
Extremely low self-discharge rate.
Tin-plate brass terminals.
Pure virgin lead plates.
What we dislike
There are hidden clauses within the warranty.
3. NORTHSTAR Pure Lead Automotive Group 65 Battery NSB-AGM65
Pure lead AGM technology delivers exceptional CCA ratings and reserve capacity cycling ability
Quick starting every time
Cycles over 900 times to 50% depth of discharge
Proudly made in the USA at our state-of-the-art battery plant
Advanced AGM construction means no water levels to check or terminals to clean
Specifications
AGM design
Weight: 65 pounds
Fast recharge
Dimensions: 11.8 x 7.32 x 7.44 inches
CCA: 930A
Reserve Capacity: 135 mins
Vibration-resistant
Non-spillable design
More than 900 cycles at a discharge depth of 50%
Made in the USA
4-year free replacement warranty (manufacturer defects alone)
Our review
The NorthStar NSB-AGM65 also comes with an AGM design like the batteries mentioned above. It is easily one of the easiest batteries to maintain on the market with copper-clad connectors as well as a built-in handle.
One of the major selling points of this battery is a high CCA and reserve capacity that allows you vehicle to start even in extreme weather conditions. The casing is tightly sealed to avoid any spills or leakages regardless of terrain.
This battery also boasts vibration-proof capabilities and was designed using the fast-charge technology. At 50 percent discharge depth, it can hit more than 900 cycles with a very low self-discharge rate.
What we like
Solid build.
Arrives fully charged.
One of the best on the market.
Vibration and corrosion-resistant.
Spill-proof.
Tight packaging.
What we dislike
Quite costly compared to the other batteries on this list.
4. Deka 9A65 AGM Intimidator Battery
Best Overall
Cold Cranking Amps (CCA): 750
Group size: 65
Polarity: Left positive
Battery End Type: Top post
Size:: 12″ x 7.375″ x 7.625″
Specifications
AGM design
CCA: 775A
Dimensions: 12 x 7.4 x 7.6 inches
Amp Hour Rate: 75Ah
Size: 65
Reserve Capacity: 150 mins
Warranty: 12 months
Our review
The Deka 9A65 battery comes with an enhanced electrolyte suspension system, which uses a special glass mat to absorb more electrolyte than many of its competitors. Some of the features of this battery that make it suitable for a Ford are the high CCA, fast-charge technology and vibration-proof design which ensures better performance.
It is high-powered to cater for the extra electronics in your Ford, and has the ability to provide twice the endurance under extreme conditions as well as a long shelf life so it can be used for a variety of heavy-duty vehicles, including vans, trucks, and SUVs.
What we like
It requires no maintenance.
Spill-proof.
Vibration resistant.
Performs better than flooded batteries.
What we dislike
This battery can be affected by over or undercharging.
5. Delphi BU9065 MaxStart AGM Premium Automotive Battery
Extended cold cranking amps delivery means more power for today's demanding electronics
Group 65 battery with 750 CCA (cold cranking amps) and 150 R. C. (reverse capacity)
20x the vibration resistance of conventional batteries
Superior vibration resistance, optimized component compression , and fortified posts, straps and welds
Fit type: Vehicle Specific
Specifications
AGM design
Weight: 47.5 pounds
Dimensions: 10.6 x 10.4 x 8.2 inches
Voltage: 12 volts
CCA: 750A
Reserve Capacity: 150 mins
Vibration-resistant
Our review
The Delphi BU9065 MaxStart's CCA capacity will easily meet the electronic needs of your Ford, and its rugged design ensures it is resistant to vibrations means you can drive on the roughest terrains without being scared of spills or leaks.
The battery also comes with fortified posts, welds, and straps as well as optimized component compression, and has superior corrosion resistance capabilities. It also comes with a manifold venting system.
In a nutshell, this battery will start exactly when you need it to, has a low self-discharge rate and is perfect under any weather condition.
What we like
Spill-proof.
Vibration and corrosion-resistant.
Perfect for rough terrains.
Low self-discharge rate.
What we dislike
Low shelf life compared to its competitors.
Wrap-up
It seems obvious that a good battery will help you to get the most out of your Ford Explorer or Expedition. We know that it is really difficult finding one these days considering the number of batteries on the market and the number of factors that you have to think about when making your choice. We are sure that with any of these batteries, you've got yourself a great buy.
If you are looking for batteries about The Ford Escape you can check out our related post here.