Group U1 batteries are among the most popular BCI group sizes. These specialized batteries are generally used in lawnmowers, golf carts, small marine engines, mobility scooters, and other machines that are powered by mini engines. They are smaller than regular car batteries, typically measuring around 8.3 inches (L) x 5.1 inches (W) x 7.25 inches (H).
Group U1 batteries have cold-cranking amps that range between 200 and 430CCA, reserve capacity between 30 and 50 minutes, and charge capacity between 31 and 42Ah. They are also available as start/stop (thin plate) or deep cycles (thick plate) batteries.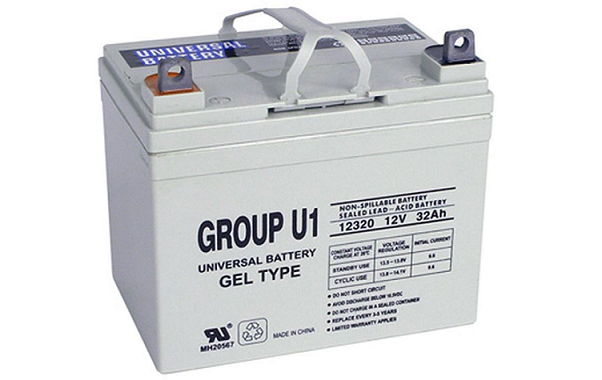 Best Group U1 Batteries: Our Top 5 Picks
The market abounds with Group U1 batteries by several different brands. And it can be overwhelming as you try compare and decide which option to go for.
In this post, we have put together a list of the best group U1 batteries — carefully selected by our research team based on performance, technology, cold-cranking amps (CCA), durability, brand trust, and buyer reviews.
Now, let's cut right to the chase!
1. Vmaxtanks V35-857
Dimensions: L=7.7" W=5" H=6.1"
Heavy Duty Grids: VMAX heavy duty lead tin alloys provide an extra margin of performance and service life in either float or cyclic applications, even after repeated over discharges.
Maintenance Free Operation: There is no need to check specific gravity of the electrolyte or add water to VMAX tanks during float service life. In fact, there is no provision for this type of maintenance.
RECOMMENDED CHARGER: VMAX BC1204 12V 3.3Amp
The Vmaxtanks V35-857 is one of the well-made deep cycle batteries in its category. It is perfect for applications like sport kayaks and small boats, and it weighs only 25 pounds, which is light enough not to be a burden when you need to transport it.
A notable selling point of the V35-857 is that it is compact, measuring 7.7 x 5 x 6.1 inches. That means you can comfortably store several of them in your battery bank so you can easily reach them whenever you need to.
Design-wise, the V35-857 uses an Absorbed Glass Mat (AGM), making it completely spill-proof to eliminate worries about flammable fumes leaking or contaminants. As a result, this battery has been approved for mobile, maritime, and air travel. In effect, you won't need any maintenance operation like checking the acidity of the electrolyte or adding water.
The battery's grid structure features plates are made from custom military-grade alloys and duty tin, allowing it to provide an extra margin of performance and service life in either float or cyclic applications. You can expose it to vibrations without damaging its cells or experiencing a sharp decline in performance.
It also comes with safety release valves with automatic reseal feature to prevent the accumulation of harmful gases while the ultra-strong ABS containers protect the tightly packed plates, delivering the V35-857 in a 100 percent maintenance-free package. The manufacturer claims that this battery is weather-proof, so you should have no problem operating it even in the harshest weather conditions.
Coming to its performance, the V35-857 comes with cold-cranking amps (CCA) of 300, so you can crank your starter motor at 300A for thirty seconds before the voltage falls below 10.5V. With a rating of 35Ah, this battery can run for up to 75 minutes on reserve capacity and you can expect to get 4-6 hours service from it on a single charge. According to Vmax, you can run this battery down before you charge them, a feat you can't attempt on its rivals in this segment.
Its major drawback is that you cannot charge it except you purchase a specific charger as using a generic charger will damage the battery quickly. However, the manufacturer includes a benefit placate its customers: it can withstand frequent charging and discharging to deliver a long life span.
Overall, the V35-857 is a preferred choice for many as it comes with a maximum power density as well as impressive deep cycle capabilities.
Pros
Lightweight
Charges faster
Compact and portable
Long life span
Can be charged with as little as 3A
Cons
Costs more than a regular battery
It requires a special charger to charge properly
2. Mighty Max Battery ML35-12
ML35-12 SLA is a 12V 35AH Sealed Lead Acid (SLA) rechargeable maintenance free battery.
Dimensions: 7.76 inches x 5.12 inches x 7.01 inches. Listing is for the Battery and Screws only. No wire harness or mounting accessories included.
SLA / AGM spill proof battery has a characteristic of high discharge rate, wide operating temperatures, long service life and deep discharge recover.
Rechargeable battery that can be mounted in any position, resists shocks and vibration. Long lasting high performance in high and low temperatures.
Backed by a 30 day refund policy and full 1 year warranty.
The Mighty Max Battery ML35-12 is a reliable deep-cycle battery that is of premium quality and it comes at an excellent price. With a measurement of 7.68 x 5.16 x 7.13 inches, this battery is small and portable but don't let that fool you: the ML35-12 has sufficient power capacity for various tools and devices.
Weighing just 23 lbs, this battery isn't heavy as it weighs only a fourth of batteries in its group and its loop handle makes it easy to move around. It uses absorbed glass mat (AGM), meaning the electrolytes are spread over the absorbent fiberglass to prevent leakage.
Extra advantages of the AGM design in the ML35-12 are that there's little need for maintenance and that the battery can work well in unfavorable conditions. Because this battery is a sealed lead-acid (SLA) – which is also referred to as valve-regulated design – there's minimal risk of overheating since the gases can safely escape.
In terms of its construction, the ML35-12 features a heavy-duty calcium-alloy grid, making it possible for it to withstand vibration and shocks. Also, the battery is less prone to corrosion due to its durable housing, and you can also be sure that this battery won't disappoint you due to temperature variation at any time. You can even mount it in any position you like; this won't affect its work.
Going further, the ML35-12 comes with thicker plates that allow for deeper discharge than other batteries without fears about running out of power too soon. When stored, the battery has a slower discharge rate than regular batteries when not used.
It is ideal for a wide range of applications including boat motors, solar, cranking battery, golf carts, electric vehicles, etc.
Unlike some conventional batteries, this battery is compatible with other chargers but just be sure not to charge it with too strong currents to prevent damage. Also, the battery charges really fast and you can charge it fully in no time. However, keep in mind that the package doesn't come with wire harness or other mounting accessories.
Like all products made by Mighty Max, this product comes with a 1-year warranty so you don't have to be afraid to give this battery a try. In all, if you're looking for a top performer that can survive multiple discharges, this battery is worthy of your consideration.
Pros
Great performance in all temperatures
Valve regulated design
Gets recharged in quick time
Lightweight
Pocket-friendly
Cons
Not suitable for large applications
Doesn't hold charge for too long
Doesn't include any hardware for mounting
3. Universal Power Group UB12320
This is an AJC Brand Replacement for a Universal Power Group UB12330 U1 Lawn Mower and Tractor Battery
Factory activated, this battery arrives fully sealed, charged and ready for action
Maintenance free AGM technology, no need to add acid or water ever
Cold Cranking Amps: 300
Voltage: 12V (12 Volts), Terminal: NB
If you're looking for an excellent replacement U1 batteries pack, the UB12320 is an excellent option you should check out. This 12V 35Ah battery from Universal Power Group is a user-friendly model that comes with a number of features and is suitable for use as a backup battery, mobility scooter battery, and a host of other applications.
It is a sealed Gel battery, meaning silica gel was added to its construction, turning the acid into a solid mass that makes the battery spill-proof. Because of this feature, you can transport the UB12320 via air or ground without hazardous material restrictions. Thankfully, the battery comes with handles to aid transportation and safe placing. Even more, you can install this battery in an upright position or on its sides and use it for long without checking or adding water to it.
And should you decide not to use this battery for some time, you have no reason to fret as you can store the battery for up to 9 months at 25C (77F) but then you will need to charge it afresh when you're ready to maintain optimum performance. If you're storing it in a space with a high temperature, then the time interval will be shorter.
Keep in mind that this is a sealed Gel battery, which is quite different from sealed AGM batteries. They have different charger profiles, so you can only use Gel chargers for this 12V 35Ah battery because chargers designed for AGM batteries will overcharge it and this might lead to damage. Also, new gel batteries require a break-in period of about 2-3 weeks before they start functioning at full capacity, so be sure to use and recharge it until the period elapses.
The manufacturer claims the UB12320 can last 3-5 years and they back-up the battery with a 1-year warranty.
Pros
Sealed gel design
Valve regulated and spill-proof
Maintenance-free
Cons
Quality isn't the same as AGM batteries
A little heavy
4. Universal Power Group UB12350
UPG # D5722 UB12350 12V 35Ah. Pack of 2
Dimensions: 7.75 inches x 5.19 inches x 7.13 inches. Weight: 22.50 Lbs
SLA/AGM maintenance free, spill proof battery
Rechargeable battery that can be mounted in any position, resists shocks and vibration
1 Year Warranty
The UB12350 is another incredible sealed lead-acid (SLA) U1 battery from the Universal Power Group that can serve a wide variety of purposes including watercraft, backup systems, security, emergency lighting, solar, engine starters, golf carts and more. Basically, they can be used for an assortment of engine employable machines as they're multi-reason by design.
It combines absorbent glass mat (AGM) and gel technology, involving microfibers separators, which acts as sponges by completely absorbing and trapping electrolytes. This design makes it possible for the battery to be operated in any position as well as in any environment, including in close proximity to people and sensitive equipment. The reason is that the UB12350 doesn't release hazardous fumes since the gases are processed from within.
The UB12350 is valve-regulated, which is sometimes simply called "sealed", so there's no need to add water during the life of the battery as the content cannot be spilled. Its solid construction also makes the battery sturdy enough to resist vibrations and shocks. And you don't have to worry about cleaning the terminals every now and then as this battery is corrosion-resistant. In spite of its build quality, the battery is not only compact but also lightweight, weighing 23.2 lbs.
In the area of its capabilities, this battery has a cold cranking amps (CCA) rating of 315 and you can always recharge it after use. Although it has a low discharge rate of 3 percent per month, it is recommended to charge the UB12350 every four to six weeks to keep the cells topped up and active, especially the colder months.
Thankfully, it doesn't work with a specific charger, which means you can make do with just about any charger. Compared to traditional flooded batteries, the UB12350 has a longer lifespan and a better performance than some options on the market.
The battery comes with a 1-year warranty for issues that can be traced to defects from the side of the manufacturer in terms of material or workmanship. Overall, the UB12350 offers outstanding performance in delivering reliable power for critical applications at a fair price. It is easy to install, holds charge for long, and boasts a long lifespan.
Pros
Lightweight
Excellent price
Completely leak-proof and spill-proof
Holds charge well
Cons
These are replacement batteries alone, so you have to use your existing wires and cables
5. Chrome Battery 12V 35AH
BATTERY TYPE: 12 Volt 35 Amp Hour sealed lead acid battery with T3 terminal is a rechargeable, SLA battery
VERSATILE FIT: This 12V 35AH battery fits in a variety of applications, ranging from mobile scooters, wheelchairs, solar panel systems H: 6. 46 in L: 7. 68 in W: 5. 12 in
TOP TECHNOLOGY: The Acid inside is constructed with Absorbed Glass Mat technology allowing for a low-maintenance and spill proof battery, Patented sealed post prevents corrosion which gives extended battery life
EASY APPLICATION: Chrome Batteries come fully charged and ready to go once delivered, Simply connect your battery to the application and you are ready to go
Replaces: U1,D5880, EP33-12, PG-12V35FR, RA12-33, RA12-33EV, SLA1155, SLA1156, SLA12330, UB12350FR
The Chrome 12V 35AH is heavy-duty construction, deep cycle, sealed lead-acid battery. It is specially designed to serve a multipurpose fit and can be used for a wide range of applications like lawn tractors, mobile scooters, household alarm systems, etc. Being a heavy-duty battery means it can supply high amounts of power while being stable.
This battery is the workhorse of all the batteries as it is constructed with lead calcium alloy and absorbed glass mat technology, which allows for maintenance-free operation. It uses fiberglass mat separators and high cell compression that extends the battery life by delivering superior vibration resistance even in the most extreme conditions. Another advantage of its design is that it can be mounted in any position.
You also get some other impressive features when you purchase the Chrome 12V 35AH, such as the patented sealed post prevents corrosion, which gives extended battery life. Then there's the tough and durable ABS plastic case that enables the battery to withstand abuse, vibrations, and shocks and serve you for as long as possible. It is spill-proof and leak-proof.
With the Chrome 12V 35AH, you get as much as 20 hours of power to carry out your projects and you don't even need to get it charged when you get the delivery as it comes fully charged so you can install it straight out of the box. Being a rechargeable battery, you can charge it multiple times.
Going further, this Chrome battery boasts a cold cranking amps (CCA) rating of 180 for the first 5 seconds so you can use it to crank 12V 35AH engines after which it drops to a steady 35 amps, which is one of the most powerful, highest amp per hour capacity that you can find on the market. It also promises an impressive performance for a long time; just make sure you don't overcharge it as this can negatively affect it.
You can expect this battery to serve you for at least 3 years without hassles and to demonstrate their confidence in their product, the manufacturer offers a 60-day no questions asked money-back guarantee along with an 18-month warranty. Long story short; this battery is one that you can count on as it delivers great performance at a very affordable price.
Pros
Has versatile applications
AGM technology
Supplied with full charge
Tough exterior
High amps
Cons
Conclusion
In short we went over the picks for the best Group U1 batteries on the market now. Overall the five we have listed here are all great choices for you to go with so do no hesitate to much to get your equipment up and running.